Judge Phil Gilbert addresses the man standing behind his bench. "How do you feel?"
Scott Walker's polished brown loafers shift slightly beneath him. "I'm pretty excited right now. It's hard to stand still," Walker says.
When he appeared before Gilbert 18 years ago, a young man in his early 20s, he was handed a life sentence in federal prison for his role in a drug conspiracy in Arizona and Southern Illinois. The other six co-defendants indicted, as well as two others charged in related cases, were all set free years ago, including the man the government identified as leading the crime ring.
"Good luck to you Scott and Godspeed," Gilbert says.
After nearly two decades behind bars, the hearing that resulted in him walking out a free man lasted just a little more than an hour.
Oct. 26, 1971
Scott Walker is born in Herrin. He's the baby of the family, and has three older sisters.
1978
Walker's parents divorce when he is 6.
In a case document, Walker recalled a day in kindergarten when he remembers attempting to talk about troubles at home between his mom and dad during show-and-tell. The teacher took him into the hallway and said, "We couldn't talk about that stuff." This is the first time Walker remembers being embarrassed, and after that, he began "feeling ashamed" at personal issues, he previously told his lawyers. 
1980
Walker's father dies in a motorcycle accident.
"Losing his father at such a formative age was very trying on Scott," a case document reads. He was eight at the time. His mother and stepfather took him to counselors and specialists but without much impact.
Overdosing on opioids, a classification that includes heroin and prescription painkillers, i…
1984
Congress passes and President Ronald Reagan signs The Sentencing Reform Act of 1984. The act creates the U.S. Sentencing Commission, which three years later created a formula for determining acceptable sentencing ranges for judges based on types of offenses, and history of the offender.
1986
Congress passes the Anti-Drug Abuse Act of 1986, which further tightened the screws on drug abusers and dealers. The legislation called for more sophisticated policing intended to smoke out kingpins. This gave rise to law enforcement partnerships such as the Southern Illinois Enforcement Group.
Congress also included mandatory minimums in this law. 
These laws kicked off the so-called War on Drugs, even though studies suggest drug use was declining in the United States by the late 1980s. The country has dramatically increased the number of people locked up since these laws were enacted.  
1987
Around the age of 15, Walker began experimenting with marijuana, and then relying on it to cope emotionally. He eventually turned to more aggressive and dangerous drugs, such as LSD, cocaine and methamphetamine. During his senior year at Herrin High School, he dropped out for a third and final time.
1988
Around this time, Walker, at the age of 17, moves to Arizona, where his mom and stepdad had relocated. Walker said that when he moved to a larger city in Arizona, he found drugs even easier to access. Working as a grocery store bagger, Walker met a co-worker who was able to get him access, a case documented stated. 
1992
Phil Gilbert becomes a federal judge for the Southern District of Illinois, having been appointed to the bench by President George H.W. Bush. Since 2013, Gilbert has been on "senior status."
He is a self-described conservative judge who, in his own words, "has never shirked from ensuring that criminal transgressions are met with significant sanctions."
1993-1995
Walker began to purchase small quantities of drugs in Arizona and take them back to Southern Illinois for re-sale, primarily to make money to support his meth addiction, the record indicates. Walker was transporting about a pound of weed, and an ounce of meth, and said he would sell the marijuana and use most of the meth. He used the money he made to fund his habit.
1996
Walker is implicated in a conspiracy to distribute and possession with the intent to distribute various drugs.
July 9, 1997
A federal grand jury returned a superseding indictment against Walker and six co-defendants related to drug trafficking.
He also was charged with carrying a small caliber handgun and a shotgun during and in relation to the alleged offenses. His co-defendants and two charged with related crimes all accepted plea deals and were released between 2001 and 2011. 
Walker did not accept a plea deal, and according to case documents, may not have been offered one by his defense attorney, in error. Therefore, he faced a jury trial.
Monday
You have free articles remaining.
The judge asks Walker if he would like to address the court. He expresses that he is sorry, and has spent years reflecting on the ways he hurt his family, and the community. 
CARTERVILLE – Illinois Department of Corrections Acting Director John Baldwin said on Thursd…
"The person I was when I was 25, 20 years old. I'm repulsed by some of the actions I committed when I was that age," Walker said. He's read more than 1,000 books while in prison, and received several career certificates. 
Judge Gilbert said that when Walker appeared before him 18 years ago, he was an immature, cocky, brash, know-it-all who thought he was "bullet proof." But Gilbert said he has followed Walker's prison stay from afar, and was impressed that he kept himself out of trouble, not having received any infractions behind bars.
March 3, 1998
A federal jury in Benton returns verdicts of guilty on counts related to the drug allegations. 
1999
At his sentencing hearing following the guilty verdicts, Judge Gilbert gives him life in prison. Gilbert explains to Walker that this life sentence is out of his hands, dictated by Congress and the then-mandatory federal U.S. Sentencing Guidelines.
Walker had never served time in prison before, and never had been convicted of a felony prior. But he racked up points for the amount of drugs he sold, being a leader of an offense involving more than five people, using minors to commit the offenses, obstructing justice, and for possessing a firearm during the commission of a drug trafficking offense, even though the verdict was not guilty to the gun charges. That made his offense level a "43" — the top of the scale — demanding life behind bars, and leaving the judge no other options. 
Gilbert said that day, after he left the courtroom, he went to his desk and buried his head in his hands. "I was an emotional wreck," he said.
In an interview earlier this week at her Herrin home, Walker's mother, Brenda Shelton, said she remembers sitting through the grueling trial, and then at the sentencing hearing, saying a prayer: "God, please let this judge see him for who he is, not what they've made him out to be."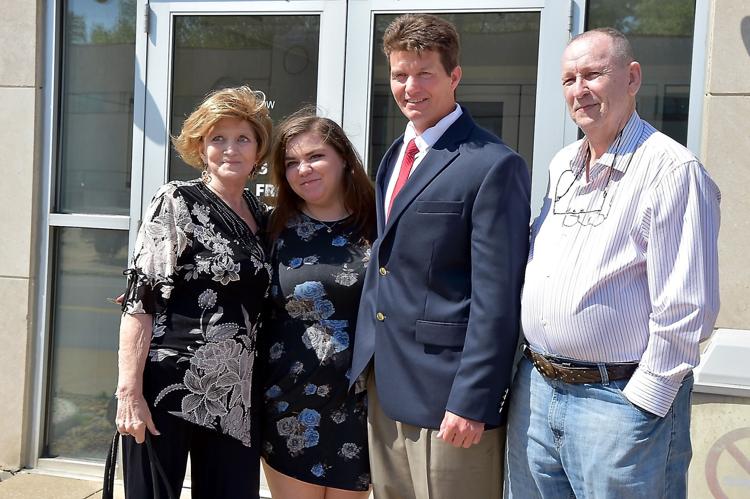 When Gilbert stated her son was receiving life, Shelton said she knows God was with her. She felt a peace beyond understanding, she said, that one day Monday would come — she just didn't know when or how. 
2002
David Zlotnick, a one-time federal prosecutor and presently a law school professor central to Walker's release, receives a grant from the Open Society Institute (now the Open Society Foundations) founded by investor and philanthropist George Soros. As a prosecutor working in Washington, D.C., Zlotnick said he was often troubled by the fact that sentences for nonviolent, drug-related crimes were becoming equal to or often greater than those for violent crimes, and worked in the mid-1990s with a group called Families Against Mandatory Minimums, or FAM.
His grant-funded project was to research judges who felt they had sentenced offenders to an unfair length of time under the mandatory minimums. Walker's case was initially discovered through an inmate survey sent by FAM, and then Zlotnick pulled Walker's sentencing transcript, and confirmed with Gilbert that this was a case the judge had wrestled with for years.
Though Zlotnick was not taking on those inmates he researched as clients, Walker asked if he could write to him, and he did throughout the years. Zlotnick said Walker's story tugged at his heart, and he eventually got involved in a bigger way. Zlotnick reached out to another former prosecutor who was a partner at a large law firm, who recruited Darin Schultz to take on the case. Along with his now-wife Christina Vitale, the husband-wife duo stood beside Walker in the courtroom on Monday.
2005
The Supreme Court decides in U.S. v. Booker that the federal sentencing guidelines should be just that — guidelines, and not mandatory. But the decision is not retroactive.
2008
Barack Obama is elected president. As a candidate, Obama had expressed his belief that some of the drug sentences handed down since the 1980s were too harsh, and led to overcrowded prisons. 
2011
On Feb. 28 of this year, Judge Gilbert writes to Obama, asking that he consider commuting the sentence of Walker. In his letter to the president, Gilbert described the day he sentenced Walker as one of the "most difficult moments of my judicial career." Zlotnick also writes a letter, and his lawyers prepare an extensive petition (from which most of the facts presented in this article were taken). While Obama has issued a number of commutations and pardons, Walker has not been among them.
2014
As the country's sentiment on drug policies shift, the U.S. Sentencing Commission responds by reducing penalties for many nonviolent drug crimes. By the summer of 2014, it was decided that would apply retroactively. This led to the early release of about 6,000 federal prisoners in November 2015. Walker was not among them, but the change meant his sentence was reduced from life to 30 years.
2016
Walker and his team of lawyers remain hopeful for a commutation of his sentence, but as Walker was passed over in several rounds, they began looking for other solutions. Upon his release at the end of his reduced term, Walker was going to be set free without supervised release. That's because supervised release was not a consideration in 1998 when he was sentenced to life.
Given this, a motion was filed to vacate and correct Walker's sentence. As a term of his release on Monday, Walker was given three years' supervised release, which Judge Gilbert said was a win-win because it prescribes Walker to maintain some accountability to the government during a transition period into society. Jim Porter, the acting federal prosecutor for the Southern District of Illinois, agreed to the deal.
Monday
Cars zoom down West Main Street near the Benton Square. Walker, dressed in a dark sports coat and slacks — a far cry from his prison wear, and looking more like the lawyers who enter and exit those doors every day — steps outside the Federal Building & U.S. Courthouse.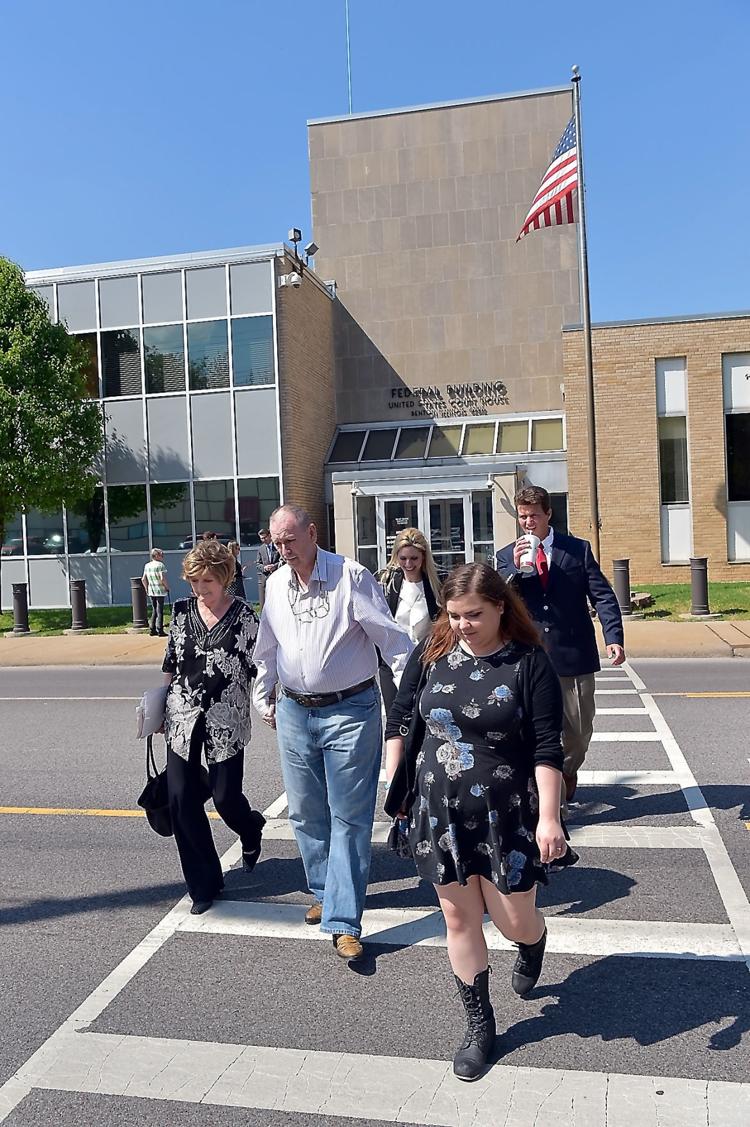 The warm sun greets him. So does a family friend with an Arby's vanilla milkshake. There are requests for pictures, with mom and stepdad, his sisters, and his daughter Rae-Le Walker, who was 5 when he was sentenced. She's 23 today, and has put off her wedding so that her dad can walk her down the aisle. 
Zlotnick, the law professor central to Walker's Monday release, gives them the magic word to say on three. "One, two, three … Freedom!" he says.
"Freedom" Walker, who is 44, mouths as his picture is captured on a smartphone, a device that hit the consumer market in a big way several years after Scott reported to his first prison, the federal "super-max" in Florence, Colorado, reserved for the worst of the worst.
That night, he gathered around the table with his family for a celebratory dinner.