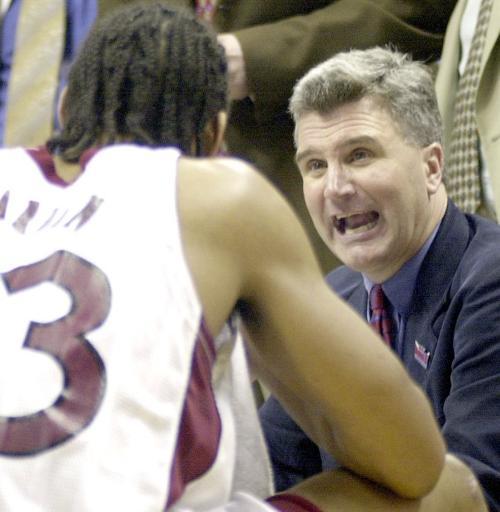 CARBONDALE — Bruce Weber can be SIU's next men's basketball coach if he wants to come back to Carbondale, according to an anonymous source close to the search.
Weber, who took the Salukis to two NCAA tournaments and 103 wins between 1998-2003, is the school's top candidate to succeed Chris Lowery and has received an offer from SIU. The university is awaiting his decision before moving onto the next candidate, according to the source, who requested anonymity because he was not authorized to talk about the search. If Weber says no, the Salukis' search committee has as many as eight candidates, mostly associate head coaches at Division I programs, that it has already interviewed, some more than once.
Weber, 55, left SIU in 2003 to go to Illinois, where he went 201-101 in nine seasons. He led the Fighting Illini to the national championship game in 2005, losing to North Carolina, but after going 55-66 in the Big 10 Conference the last six seasons, was fired March 9. He is owed $3.9 million from Illinois to buy out the last three years of his contract.
Illinois went 17-15 overall and 6-12 in the Big 10 this season. Weber trails only Lou Henson (423-224) and Harry Combes (316-150) in career wins at Illinois. He is seventh in wins in SIU history.
Lowery, a former assistant under Weber at SIU and Illinois, was fired after eight seasons earlier this month. He is owed more than $1.5 million to buy out the remaining two years on his contract.
Sources told the Decatur Herald & Review, the Champaign News-Gazette and ESPN.com that Weber was one of SIU's top targets shortly after he was let go earlier this month.
Monday, ESPNChicago.com said Weber was expected to interview for the vacancy and was a top target by the school, citing an anonymous source familiar with the situation.
SIU Athletic Director Mario Moccia declined interview requests last week and has said he will not talk about the search until it is completed. Moccia previously said he wanted to complete the search by the weekend of the Final Four of the NCAA tournament, which is scheduled for March 31-April 2.
Wisconsin associate head coach Greg Gard could be one of the search committee's next targets if Weber says no. Gard, a member of coach Bo Ryan's staff for 11 years, is a candidate for the SIU vacancy, according to the Milwaukee Journal Sentinel. Gard declined to discuss the opening after Wisconsin's second-round win over Montana in the tournament.
"I'm not going to talk about anything right now," Gard told the paper. "We'll just wait and see what happens."
Gard was at Wisconsin-Milwaukee for two years, 1999-2001, as an assistant coach when SIU Chancellor Rita Cheng was a member of the faculty there as an assistant professor of accounting.
On Twitter: @Todd_Hefferman