CARBONDALE – Whether one is looking to start a new business, or needs expertise and advice about an existing business, the SIU Small Business Development Center at SIU offers a wealth of resources.
Greg Bouhl, the center's director, said experts are available for business owners and prospective business owners to offer guidance on such topics as understanding state and federal legal requirements, securing financing, reviewing financial statements and creating operational plans, human resources, marketing and doing business internationally.
A class for newcomers called "Starting a Business in Illinois" costs $15, and after that, ongoing one-on-one advising is available at no cost. The business center is financed by a mix of state and federal dollars, and supported in part by the university's general operating funds.
The following information is provided by the U.S. Small Business Administration.10 Steps to …
"The depth of knowledge our advisors have is very outstanding and hard pressed to get paid consultants for that," Bouhl said.
The definition of a small business is one with under 500 employees, Bouhl said. The center has worked with businesses of a variety of sizes, from one- or two-person shops to those with more than 100 employees.
Bouhl said he thinks some people wrongly believe the center is only for startup businesses – and there are many services for people just jumping in – but he said a multitude of services also are available for existing companies that, for example, might need to retool their business model in the face of changing economies, technologies and consumer habits, or are looking to expand locally or internationally.
The center, in its 32nd year, helps roughly 600 clients annually, Bouhl said.
LouAnn Elwell, of Cobden, owner of Southpass Beads & Fibers, is one of those clients who has leveraged the resources of the center in order to parlay a hobby, which began when she couldn't find a pair of dangly earrings she wanted, into a money-making venture. Elwell has been in business since 2002, selling jewelry-making supplies online out of her home. She started on eBay and has since transitioned to Etsy for the bulk of her online business.
Q: What was your first job and what did you learn from it?
At that time, Elwell said she attended the class on how to start a business because she wanted to make sure she did everything correctly. Elwell said instructors taught her in the class things such as how to secure a business tax identification number and other legal requirements.
About five years ago, she decided to open a store in her home. Jewelry-making enthusiasts from across Southern Illinois, as well as tourists visiting the wineries, visit her home in Cobden, where the front of the house has been turned into the business, she said. Elwell also offers classes, which take place around the dining table in her home. While she hopes to expand in the future, Elwell said part of the charm is the homey feel of the store and classes, with the feel of visiting a friend's home as opposed to a sterile storefront. Presently, she said, center experts are helping her with development of a website.
Bouhl said the small business center also works closely with SIU's Small Business Incubator program that strives to help researchers take new discoveries and technologies from the lab to the marketplace. Incubator office space is located beside the small business center so that the two can work hand-in-hand, Bouhl said. Researchers are experts in their craft, Bouhl said, but they don't always have the specific set of skills necessary to turn an idea into a profit.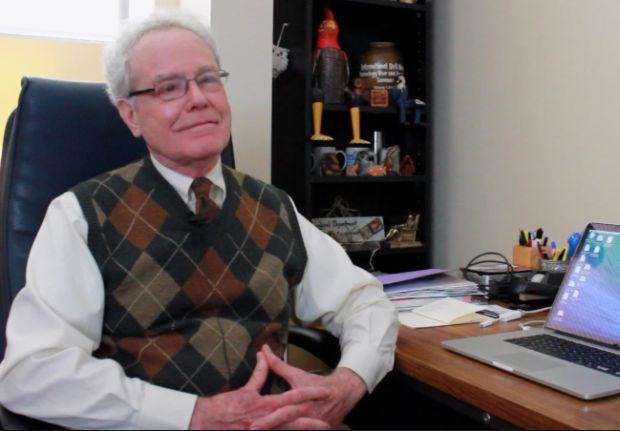 Hurley Myers, a co-owner of DxR Development Group, based in Carbondale, said that's exactly why he sought out the help of the incubator and small business center. Myers is a professor emeritus with the SIU School of Medicine who holds a doctoral degree in cardiovascular physiology.
The business that Myers runs with his partners sells software that uses virtual patients to teach and assess the diagnostic and clinical reasoning of medical students, providing real-time feedback to students and their professors while also tracking progress. Myers got his start inside SIU's incubator in 1992.
"I knew nothing about business," Myers said. "When you asked, 'Did they help?' I would say absolutely." Myers said as his business has continued to evolve and change over the past 25 years, Myers said he continues to touch base with the business center with meetings every six months or year.
Nothing requires that a business owner take all of the advice the experts give, Myers said, but the conversations help him to brainstorm, see things from other perspectives, and formalize his plans knowing he's thought everything through. As the company began selling internationally, Myers said the center helped his business navigate all applicable laws.
618-351-5079
On Twitter: @MollyParkerSI ​