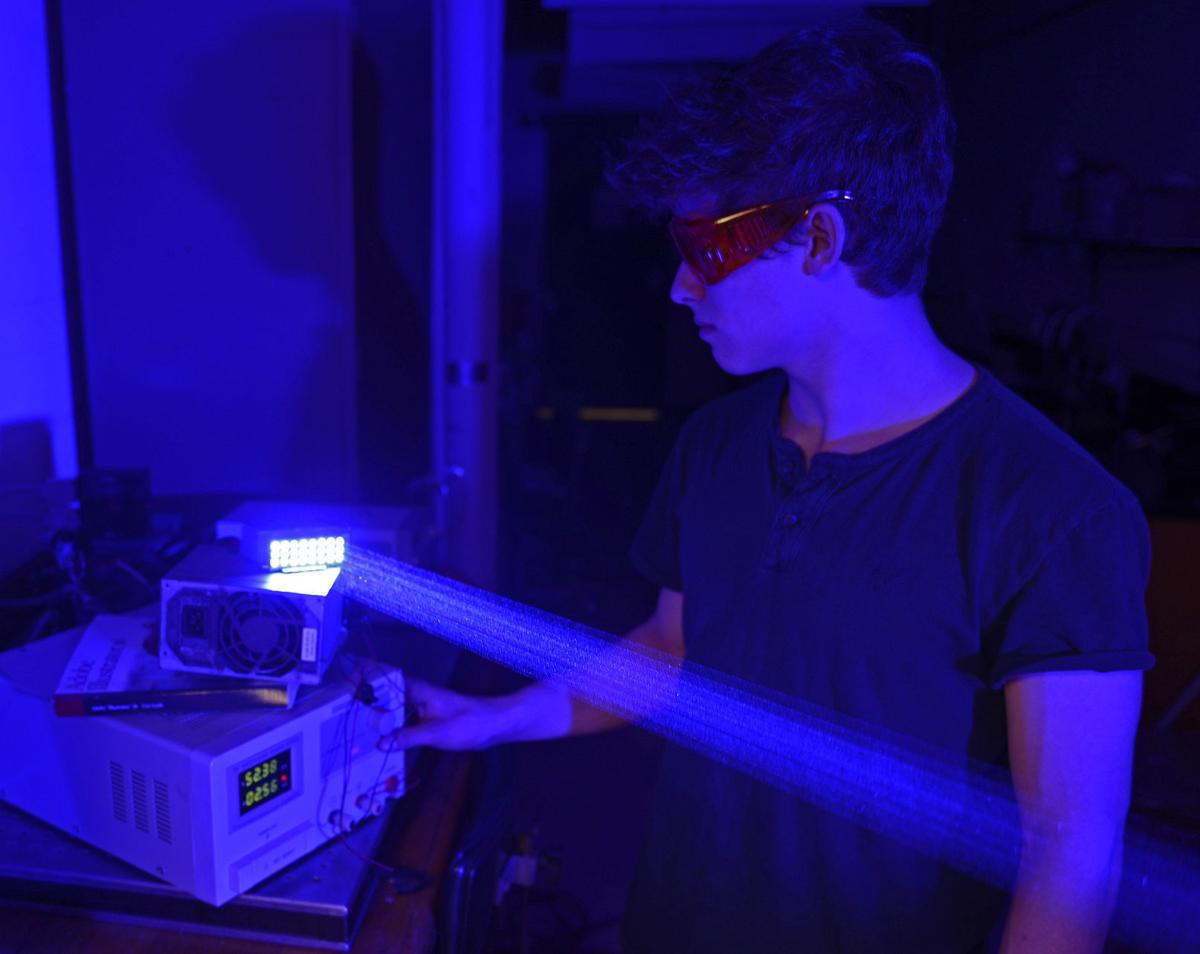 CARBONDALE --The 40-watt laser gun is so strong that if Drake Anthony were to remove his goggles, he would be blinded instantly.
But neither fear nor danger has ever slowed the Southern Illinois University senior, and he isn't going to let it now. Camera rolling, Anthony introduces the laser's features to the millions of viewers destined to watch this two-minute video clip. Then, he takes the device for a spin.
"Danger is an understatement for this thing," Anthony says, looking into the camera as he clicks on the battery-powered laser. A wide beam of red light illuminates the screen, and the rest of the room turns blue. "There's no, no good reason for anybody to own something this powerful, but because it wasn't illegal for me to build, I decided to build it anyway."
Anthony, also known as "styropyro" or "The DIY Laser Guy," has turned his laser passion into a veritable YouTube empire. The chemistry major's channel boasts 241,000 subscribers, and several of his videos have gone seriously viral. The 40-watt laser gun video, his most popular, has amassed nearly nine million views since Anthony posted it this past summer.
But for Anthony, a 23-year-old from rural Goodfield in central Illinois, it's not Internet stardom or pyromania that make lasers so attractive — though he admits a penchant for fire drew him to them in the first place.
What really excites Anthony is the science behind the beam.
"From a theory perspective, it's beautiful," he said. "It uses physics, it uses quantum physics, chemistry, good things of math, engineering. It's just this conglomeration of all the best things that humans have come up with."
Anthony was 12 when he first learned about lasers in science class. After that, a "Googling binge" inspired him to purchase a green laser pointer for about $55. He opened it up, broke it, and saved up for a new one. On his second try, he managed to increase the pointer's power. From then on, he was hooked.
"There was just something that was so science fiction about it," Anthony remembered. "I could have a laser with a bright beam that's just visible in mid-air. It looks like a lightsaber or a hologram or something."
As he built brighter, more powerful lasers, Anthony's videos highlighted each device's burn capabilities. In split seconds, his 40-watt laser gun lights steel wool, paper and a piece of wood on fire. It pops balloons taped his parents' garage door.
Red, circular scars on Anthony's hands and arms remind him of the moments when things didn't go quite right.
Still, he strives to up the ante. For one of his next big projects, Anthony is hoping to build a laser canon, which "could be nuts," he said.
As he amasses clicks, Anthony also brings home some much-appreciated cash. Advertisements for Geico, Belvedere Vodka and other products preempt his videos. Though Anthony can't say how much he brings in, the revenue helps pay for college.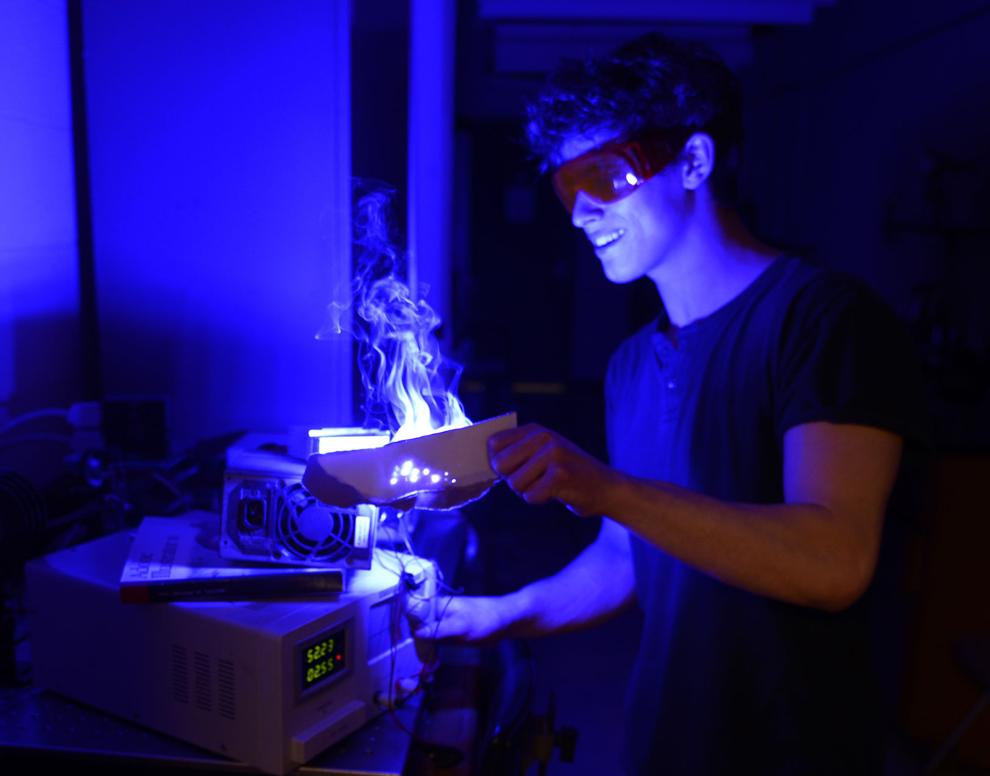 "It's been good for that," he said. "I can, you know, live without having to go deep in debt."
Anthony's passion seems to have paid off academically, as well. He's been accepted to the University of Rochester's top-ranked optics PhD program. At SIU, he works in Professor Boyd Goodson's lab, researching ways to sensitize MRI tests. He hopes to turn his passion into a career in research.
It's the research-heavy videos that remain his favorites. Though his followers are giddy for powerful laser guns and anything with "light saber" in the title, Anthony thinks back to a video he made five years ago, just after graduating high school.
He purchased a few broken, old medical lasers, tore them down, cleaned them up and rebuilt them.
"It was the first time I ever read really into the theory of lasers, and I got some of those lasers rebuilt," he said. "That felt really good. I do have a video of that on YouTube, there's almost no views on it."
"The lasers don't blow anything up," he added. "They're just blue. They're weak and they're blue. But it's a sky-blue that's pretty, and it was an accomplishment."
618-351-5076
@SHalaszGraham​