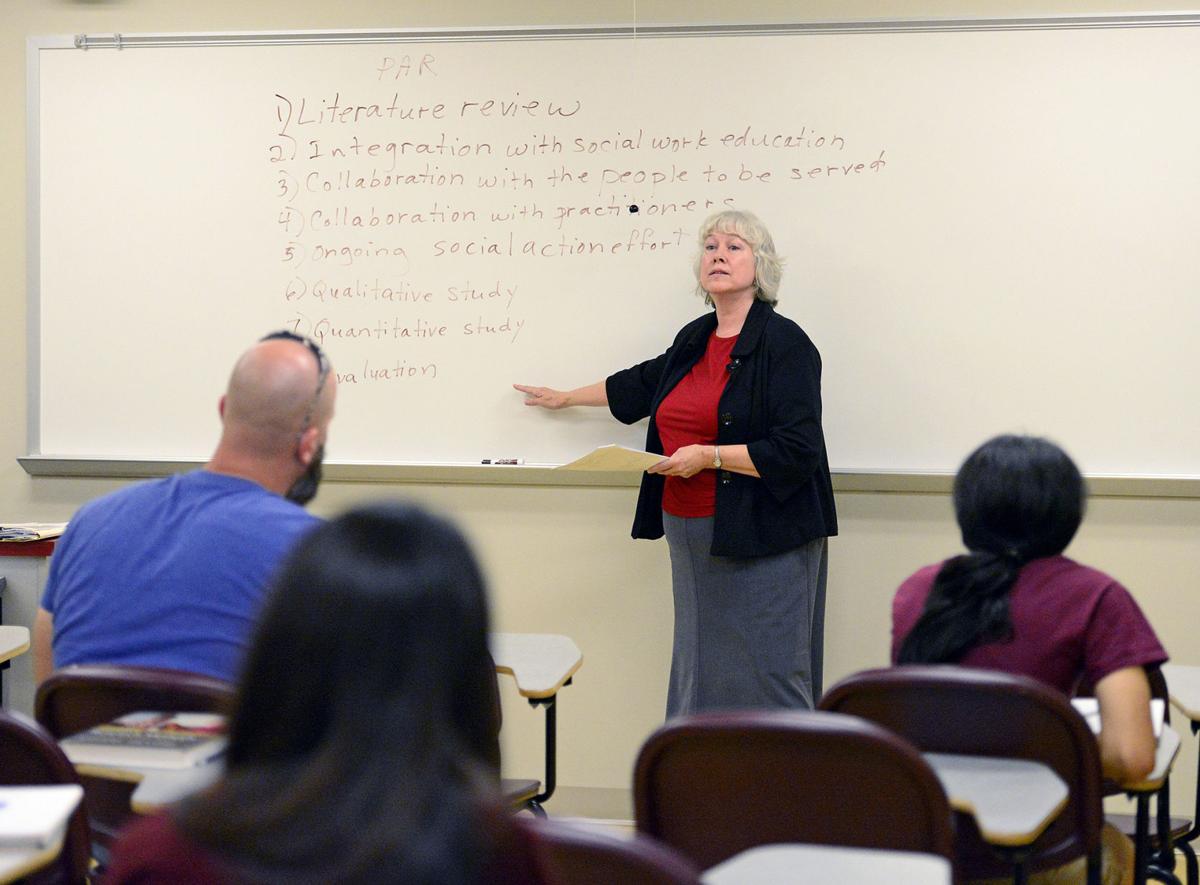 CARBONDALE — Devyn Imhoff said she's heard of officials in one city giving a one-way ticket to people who are homeless, shipping that person to the next town, along with any social and physical baggage.
Imhoff, a junior social work major at Southern Illinois University, hopes that the work she'll be doing with people who are homeless in Carbondale will help others to stop shifting that responsibility and plainly see the people in need in their midst.
"Hopefully, we can do more with this project," Imhoff said.
Imhoff is one of a dozen students in SIU Professor Dona Reese's Methods of Social Research class this fall. Over the next few weeks, Imhoff and fellow students will move out into the community to meet people who are homeless in this service-learning project.
The students are working on their questions, which will include ascertaining who are the people who are homeless; what are the causes of their homelessness; how do other programs work that serve the homeless; how are people who are homeless treated by the professionals who serve them; and what should this greater community do about the issue.
Reese's students will collect data, write it in report form and present it to members of the Sparrow Coalition, an association of representatives from private and public entities who came together this year to address issues of poverty, in particular, homelessness. Reese is a member of the Sparrow Coalition.
Beyond the classroom
The findings will have important bearing on the city and its budget, as it deals with members of this population, in one way or another, such as in terms of incarcerating or housing people who are homeless and who may have mental issues, Reese said.
"It will save Carbondale money, and I think we will make some lasting change to reduce this problem," Reese said.
A related but separate effort by the SIU School of Social Work has a graduate student stationed at Carbondale Public Library, helping to address the needs of some visitors who might be homeless, Reese said. The idea came from libraries in large cities, where concerned officials decided to open up a place to address the needs of the homeless, who frequently visit libraries.
You have free articles remaining.
"We are going to make a recommendation to the Sparrow Coalition, based on our study," Reese said. That presentation is planned for Dec. 9. Coalition members can then use the information in strategies they develop to continue addressing the issues surrounding homelessness and poverty.
For instance, Reese is not sure whether the issue will come up, but she has concerns about the way some restaurants throw away cooked food that has been sitting for a while. She'd like to see some of that food, perhaps, made available to people who are homeless and/or hungry. National chains like Panera Bread funnel surplus food back to its area homeless and hungry populations, through its Day-End Dough-Nation and In-Kind Donations program.
Sparrow Coalition founder Marleen Shepherd is anticipating the outcome.
"It is really significant that these social work students have the opportunity to make a difference in the lives of those in need while they learn," Shepherd said. "The results of their work won't just sit on a shelf somewhere. They have the potential to directly benefit the community in a time of real need." Poverty in southern Illinois, she said, has been increasing over the last few years, and the budget stalemate is already forcing agencies to cut back and even close their doors.
"Now more than ever, we need collaboration among institutions to address this pressing problem," she said.
Energized students
Several students expressed excitement at being part of such a hands-on project.
One of them is Lauryn Staley, a 21-year-old from Marion. Staley recounted an encounter she had in summer 2014 at Dairy Queen with a man she believed was homeless. He asked her for money, and she told him she only had change, giving him what was about 75 cents.
"And he threw it back at me," Staley said. "He was just like, 'You really think that I want this?' So he was kind of appalled that I gave him change."
She feels that if she was in his position, she would have been more gracious and accepting of the change donation.
Blair Stephenson, a senior social work major from St. Louis, said she has helped out in soup kitchens and food pantries in the past. She said she doesn't have a preconceived notion of what a homeless person looks like and knows that they come from all socioeconomic backgrounds, races, ages or religion.
"I hope that we just really make a difference in the community and can come up with some really strong ideas that we can put into action," Stephenson said. "(We're) not just talking about it, but being about what we really want to do to help."
http://thesouthern.com/news/local/boys-and-girls-clubs-discuss-child-poverty/article_27ae12ec-8ed1-5c93-bcaf-2a9a13c3f67f.html