CARBONDALE — Dre'Shean Payne, head coach of the Carbondale Middle School boys basketball team, did not like what he saw when he and assistant Kobe Lewis-Moss checked grades before the season.
Several kids were in danger of academic ineligibility, so Payne posted on Twitter looking for a tutor for his team.
Alaysia Brandy was the first person to respond.
Many know Brandy as the cheerleader who has taken a knee during the national anthem at SIU football games, to protest police brutality against African-Americans. She's also a pre-med student, with minors in chemistry and Spanish, who strives to stay active in the Southern Illinois community she adopted when she came to SIU Carbondale.
"There were a lot of Fs and Ds going around," when she first met with the team in August, Brandy said. She recruited two friends from school, Tyeshia Ballard and Nekya Hall, and set a schedule with the boys: Every Wednesday, the women would tutor the team from 3 to 5 or 5:30, before basketball practice.
They brought pizza and Gatorades, and honed in on tough subjects, like math and writing. But Brandy, Ballard and Hall knew making a lasting impact on grades required changing some boys' attitudes about school
"It was about how to get them to be more enthusiastic about learning, and not just 'I need to pass for basketball,'" Brandy said.
Brandy, Ballard and Hall made their study hall a safe space, she said, where no one was mocked for low grades, and every improvement was encouraged.
Then, Brandy devised a reward she knew the players would respond to.
"I told them, 'As a cheerleader I can get you in the games for free and you can meet any of the (SIUC basketball) players. The people who started off with As, you can get this perk now, and everyone else can work up to it,'" Brandy said.
By the end of the season, the boys were clamoring to have their grades announced to the tutors and the rest of the team during the weekly grade check.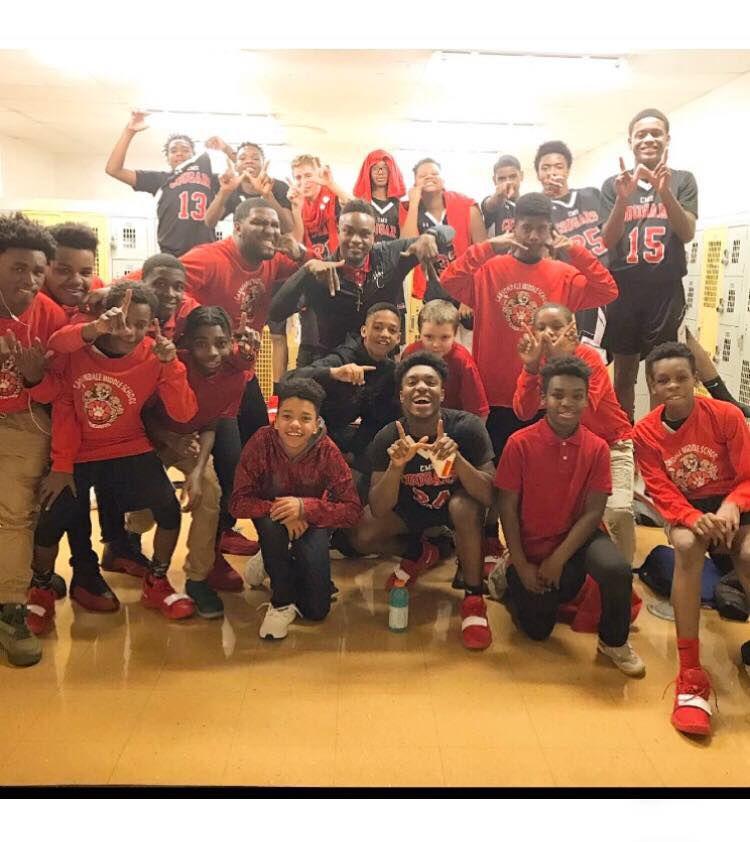 "They were even betting me, 'I bet I can get this B up to an A before I see you next week,'" Brandy said.
Inevitably, as the students got to know Brandy, they learned about the activism that has made her a prominent and controversial figure at SIUC and the surrounding community.
In 2017, three Saluki cheerleaders, Brandy, Ariahn Hunt and Czarina Tinker, began taking a knee during the national anthem, continuing a protest against police brutality toward African-Americans started by NFL quarterback Colin Kaepernick.
You have free articles remaining.
Keep reading for FREE!
Enjoy more articles by signing up or logging in. No credit card required.
The cheerleaders were celebrated by some in the stands, and booed by others. They were honored by the Carbondale Branch of the NAACP, and they received death and rape threats online.
A few months after the protest began, the cheerleaders appeared to be the targets of a change to university pregame policies, later reversed, that kept their squad hidden from the crowd during the national anthem. They met with then-Chancellor Carlo Montemagno, to discuss diversity on campus and racial inequality.
Brandy was the only one of the three cheerleaders to return to the squad for the 2018-19 school year.
Again, this fall, she took a knee. And again, she weathered the criticism.
Many of his players were aware of Brandy's activism on campus when they met her, Payne said. They asked her what it felt like to protest at the games.
"They thought she was doing what was right, keeping it peaceful, not letting anything get to her," Payne said. "A lot of them really looked up to her."
Describing her experience to a team of young, mostly African-American boys, Brandy felt she'd come full-circle, she said.
"When I'm doing this I'm just in a little corner, and Carbondale isn't that big, so I wouldn't expect anything I'm going through to be discussed in their classes," Brandy said. "But it was. Being in the black community, this is how we build unity and we build each other up. It starts with our students."
Brandy doesn't think she'll be in Carbondale forever, but as long as she is, she'll stay involved, she said.
"I'm not from here, but I live here. And this is our world," Brandy said. "When I do community service, whether it's this or picking up trash in the community with Project Love, I want to help in every way I can."
Brandy, Hall and Ballard were such a hit at the middle school that the girls basketball team has asked for their help next season.
Brandy also intends to return to the SIUC cheerleading team next year.
"We have to try out each year, and I do plan on trying out," Brandy said. "Will I make it? That's the question. I feel my skill level is what it needs to be, but different people might choose the squad for different reasons."
If she makes the team, Brandy doesn't foresee an end to her protest.
"As long as these injustices continue, I will continue to support the movement that Colin has started," Brandy said. "I believe in what's happening. It has people talking about our issues, instead of a protest that's easier to swallow or brush under the rug."