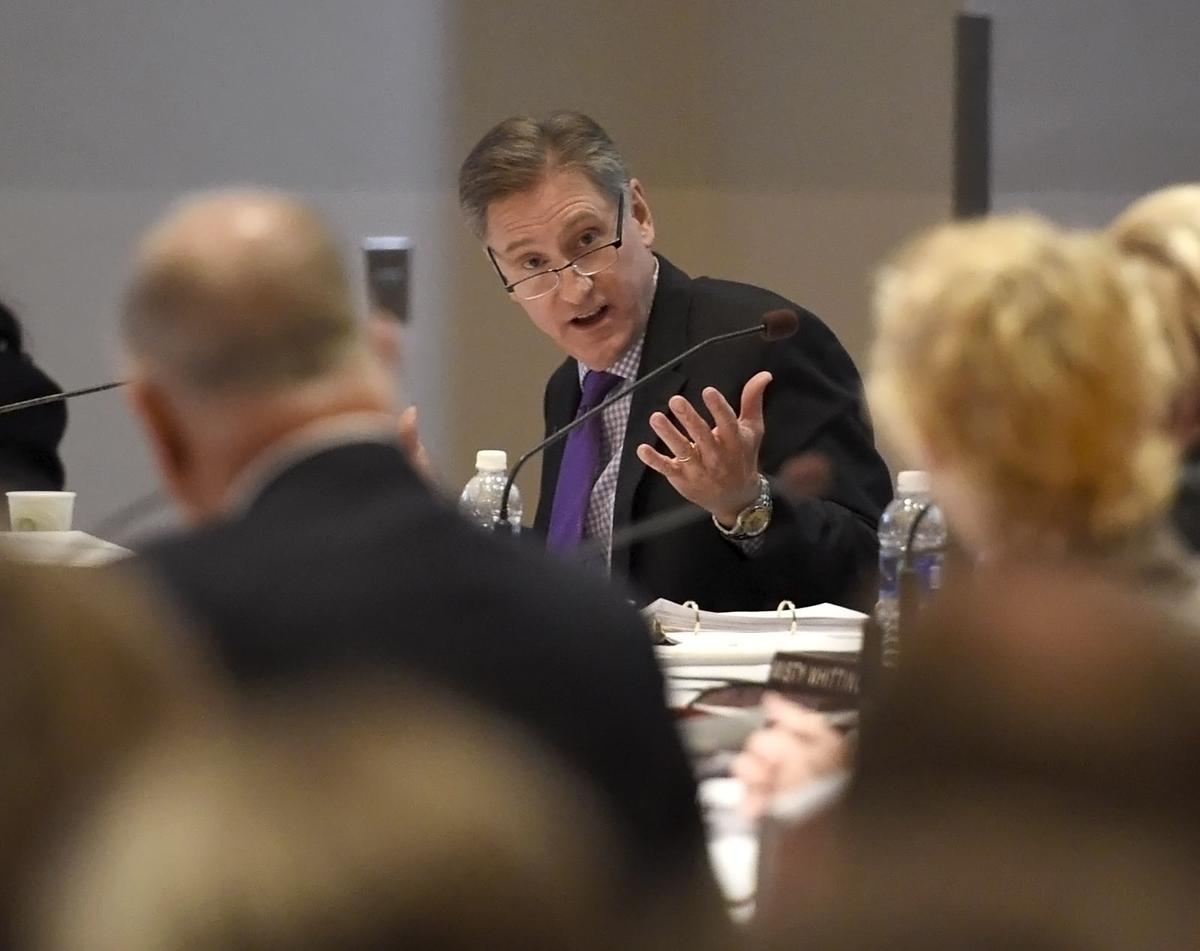 CARBONDALE — Shortly after the Southern Illinois University Board of Trustees voted down a proposal to shift millions of dollars to the Edwardsville campus this past spring, the chancellor of SIU Edwardsville sent out a bombshell announcement: A state representative would soon introduce legislation to split up the system.
A little over an hour later, SIU President Randy Dunn forwarded the announcement to his wife with a short message. "It's on now. Xoxo," he wrote.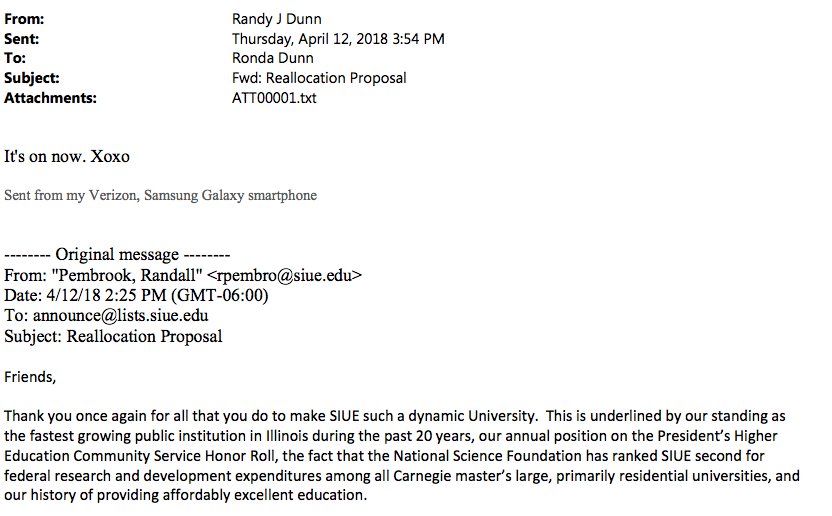 For Dunn, who represents both Edwardsville and its sister campus, Carbondale, the April 12 board vote and separation bill filing represented what appears to be the culmination of several months of planning and working closely with Edwardsville officials.
The documents, which relate to campus funding allocation or reallocation and pending legislation for the SIU system campus structure, were released Thursday after multiple trustees called for them to be made public.
Scores of emails indicate that Dunn counseled SIU Edwardsville Chancellor Randy Pembrook throughout the development and unveiling of the reallocation proposal while leaving Carbondale officials and the full Board of Trustees in the dark. As far as the documents show, Dunn did not provide any corresponding guidance to the SIU Carbondale chancellor on the matter.
Dunn also coordinated outreach to media and legislators to drum up support for the reallocation, and he might have used skewed data to support it.
But Dunn knew the reallocation wouldn't pass. In an April 9 email to Pembrook, he wrote that the vote would be going forward despite the recent appointment of a Carbondale-affiliated trustee.
"Will be a 4-4 I assume, which does not pass. But making a run at it," Dunn wrote. "And let all the fires be lit…big time."
Funding issue led to divisions
The issue of how to split up SIU's state appropriation came to the fore in the past year. Carbondale, which has been struggling with declining enrollment, has historically received a bigger piece of the pie than the Edwardsville campus, which is now growing steadily. SIUC is a doctoral university with a Carnegie research designation, while SIUE offers master's programs.
Documents show that Dunn was developing models for state appropriation reallocation as early as July 2017. According to notes by Bill Winter, SIUE's budget director, the SIUE Chancellor's Council considered Dunn's weighting factors to determine funding allocation for undergraduate, master's and doctoral degree programs at a July 19, 2017 meeting. (Dunn's weighting factors were regarded by one SIU official as skewed in Edwardsville's favor — a point that will be addressed later in this story.)
The Board of Trustees first reviewed the matter of funding allocation at its March 9, 2018, retreat at Touch of Nature in Makanda, where it unanimously agreed to commission an external study of the funding formula.
But on March 30, the full board agenda for the upcoming April 12 meeting was posted online, and it contained Item GG, a proposal to shift an initial $5.125 million from Carbondale to Edwardsville in the coming fiscal year.
Dunn appears to have worked to get Montemagno fired
Five days after learning of Item GG, Montemagno pushed back against the proposal, both publicly and privately. He put up a post on his blog, and he sent a memo to the board secretary, which was to be passed on to the trustees; Dunn was CC'd on that email.
Both messages primarily served to outline the potential economic impacts of the proposed reallocation. Montemagno argued that implementing such a change to the funding formula could take more than $39 million from the local economy, and he requested that trustees consider delaying the decision until an analysis was conducted by an external consultant.
"I do not fault my colleagues at SIU Edwardsville for making a case that they believe is in the interest of their institution. However, I feel strongly that a sudden, unexplored plan to advance one institution while damaging another is not in the best interests of the SIU System, any institution that is a part of it, or the Southern Illinois region," Montemagno wrote in closing.
Dunn fired back a rebuke later that evening, including Board Chair Amy Sholar in his reply.
"I have read your attached memo," Dunn wrote. "It is misleading at best and insubordinate at worst."
He admonished Montemagno for sending the memo to the trustees without consulting him. Dunn said he had tried to support Montemagno's leadership.
"But if it's now your decision to essentially ignore the chain of command as spelled out explicitly by Board policy, or implicitly by any common understanding of organization structure, then so be it. However, also understand that in doing so, you risk losing my support for your chancellorship," Dunn wrote.
Montemagno responded the following afternoon.
"I am sorry this has caused an issue between us that was never my intention," Montemagno wrote. "I felt strongly that I had a fiduciary responsibility to my campus to submit a detailed response to SIU Edwardsville's request on the funding shift."
Montemagno said there had been no consultation with him before the public posting of the board matter, and that he was "perplexed as to why I was not brought into the conversation to provide input especially with respect to the adverse effects that this proposal could generate."
He said he hoped they could "work collaboratively with each other and SIUE as we advance both institutions."
Dunn forwarded his rebuke of Montemagno to John Charles, SIU's executive director for governmental and public affairs, who responded, "He is Rasputin. Sad folks are so invested in him lock, stock & barrel. Just going to make it that much harder to pick up the pieces no matter what happens. Will be an interesting meeting to say the least. Hang in there."
"Indeed a perfect description," Dunn wrote back to Charles. "It's a colossal mess, but our present majority of 4 is going to have to stay solid and not deviate from their direction and thinking at this point."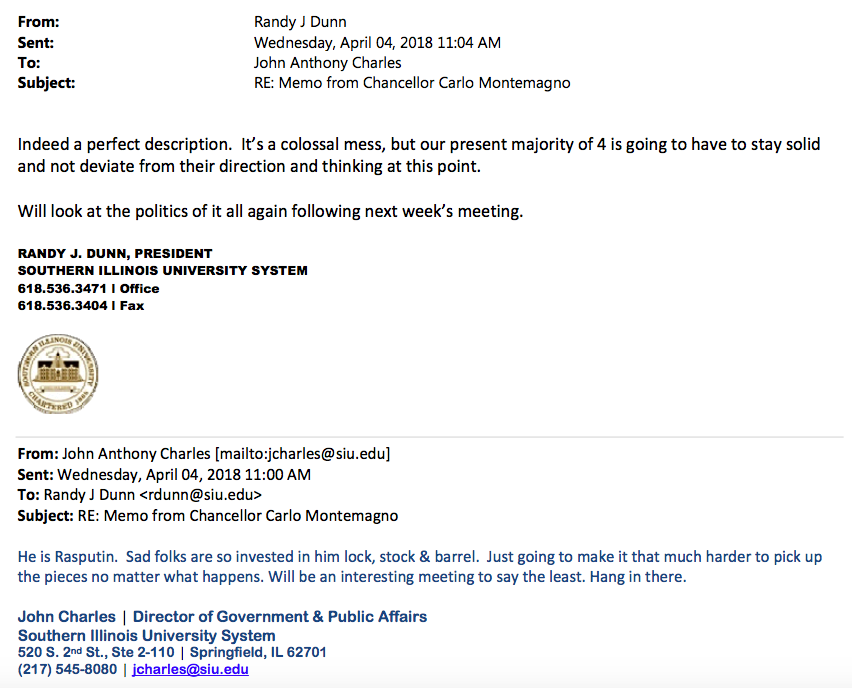 On April 4, Dunn appeared to lay the groundwork for Montemagno's removal. He sent Montemagno's blog post to Sholar and said it would be "enough to end his career as chancellor" in some systems.
"As we have talked: There must be a unambiguous decision from the Board on where this goes from here. There's either a clear understanding that gets established regarding the chain of command coming out of next week's meetings, or he proceeds unfettered doing more of this stuff which will then lead to my recommendation to remove him from the chancellorship (even if with 4 votes) sometime after the close of the spring legislative session," Dunn wrote.
Dunn wrote that the chancellor was "publicly dumping on the Trustees who will vote in support of the reallocation, just as much if not more than he is me."
He advised Sholar to share the information with "like-minded Trustees," but only individually, so as not to violate the Open Meetings Act.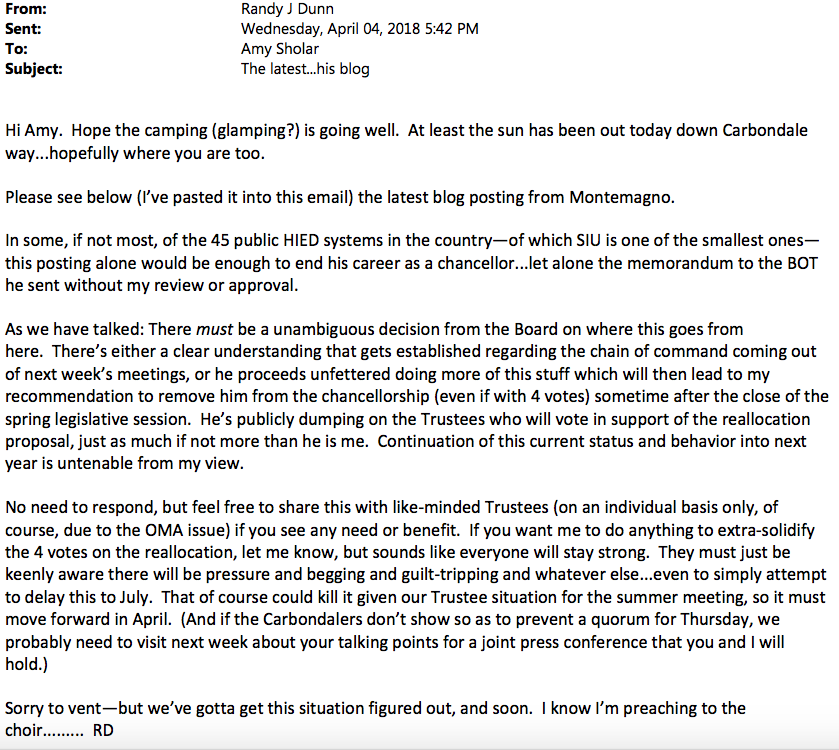 The day before the April 12 meeting, Dunn exchanged emails with an SIUE associate professor. The pair joked about Montemagno and speculated about his firing.
"However, I don't think there is sufficient Trustee support at this time to make such a move," Dunn wrote. "Not yet anyway. But with the news stories that broke today by the DE as well as the Canadian Broadcasting Corp., I'm not sure how he continues to maintain much semblance of support," referring to reports about the closure of Montemagno's Alberta lab and his supervision of a nephew as a graduate student.
Dunn guided SIUE chancellor every step of the way
Emails show that Dunn served as an adviser to Pembrook throughout the development of the reallocation proposal, counseling the Edwardsville chancellor on political maneuvers. He also encouraged some of Pembrook's communications with State Rep. Jay Hoffman, D-Swansea, who filed the separation legislation.
On March 1 — prior to the governor's appointment of Tom Britton, a retired SIU Carbondale vice chancellor, to the board — Dunn told Pembrook to try to get an Edwardsville trustee named.
"You are meeting w/ Jay Hoffman tomorrow, yes? Whenever…drive home the point that you need his help getting the vacant Trustee seat filled with a metro east person," Dunn wrote. "While the gov's office isn't going to listen to Jay…Jay knows the people who the gov's office will listen to on this one. We might end up with Ed Hightower, who knows, but he is 100 times better than the 4th who the Carbondale T'ees are trying to get named…" Hightower is an SIUE alumnus and previous vice chair of the SIU Board of Trustees.
The next day, Pembrook gave Dunn an update on the funding split issue ahead of the March 9 board retreat, which Pembrook was unable to attend. Dunn said he didn't want to use Pembrook's PowerPoint, arguing that he could make the case for funding reallocation without going into heavy detail. "Like a grand jury for now: Make just enough of the case at first to get the go ahead and move forward from there. We'll end up getting a consultant likely to put the 3rd-party expert label on it."
Also on March 2, Pembrook told Dunn he had spoken with several local politicians and state legislators, most likely about the reallocation effort. "They seem supportive and said they would try to help," Pembrook wrote.
"Good…full court press at this point," Dunn responded.
About a month later, Dunn coached Pembrook on how to handle the presentation of the reallocation to the board. "See if (BOT Chair) Amy (Sholar) has any other guidance, but as always, less is usually more on these presentations," he said near the end of the email.
On April 10, two days before the full board meeting where the reallocation was to be considered, Dunn told Pembrook to reach out to Hoffman to find out when the separation legislation would be filed.
"Do other politicians know about Jay's upcoming action?" Pembrook asked. "If so, do we know if they are supportive? If not, should we give them a heads up?"
Dunn responded that State Reps. Monica Bristow, Katie Stuart and LaToya Greenwood and State Sens. William Haine and Andy Manar knew about the action, and he said Charles was also expected to "loop in" State Sen. James Clayborne.
"You have freedom to come out in support since Carlo went well off the reservation by going on public record repeatedly to decry the reallocation. Full-on for you too, now," Dunn told Pembrook.
"Let your team and employee leaders be ready to respond quickly once Jay drops the bill," Dunn advised in another email. "Information out to Foundation, alumni, and other externals too. You have no constraints on working on this…your public comments…etc. Let it all roll."
In another thread of emails on April 10, Dunn told Pembrook how to counter Montemagno's arguments about the reallocation during the board meeting. "Just as hard and just as pointed," he wrote.
The following day, Dunn helped Pembrook edit the message to the SIUE campus community announcing the separation legislation. They had correctly predicted the reallocation wouldn't pass.
Pembrook asked whether he could say that Dunn and the four Edwardsville-affiliated trustees, including Sholar, were supporting the separation legislation.
"Don't say that any of us (me, Amy, etc.) supports the bill yet," Dunn advised. "Rather, you can say the proposed dissolution takes it out of the BOT's decision making hands and will now be dealt with fully as a function of the legislative process."
On April 16, Dunn forwarded Montemagno's blog post about the system separation to Pembrook and nudged him to respond: "Simply wanted you to see what CM had out there on his blog. You may wish to do something w/ it to counter in your communications that go forward…up to you." Dunn said he would forward any additional information and made a specific suggestion on how to counter one of Montemagno's arguments.
The emails show that Dunn also advised Pembrook on how to prepare for an April 19 House Higher Education Committee hearing about the separation legislation. He invited Pembrook and Jerry Kruse, the dean of the SIU School of Medicine, to the hearing, but there's no indication he informed Montemagno of it.
Dunn's office appears to have been directly involved in development of separation legislation
Emails from SIU system lobbyists who report to the president indicate that Dunn's office had a role in developing the separation legislation.
On April 10, two days before the board vote on the reallocation, Charles told Dunn that staff would be working on the bill.
"Staff working on the bill. We printed it off today. It is a 121 page technical mess of separating everything out. Not a simple Carbondale you go your way, Edwardsville you go yours. The SIU System is very intertwined in state government.
"Not sure how quickly this thing can get done," Charles continued. "Best bet may be Jay acknowledging he's going to be advancing the bill. Still trying to get their release. Waiting in Committee to get a chance to speak to Manar. Still need to get Clayborne. Will do that before leaving in the morning."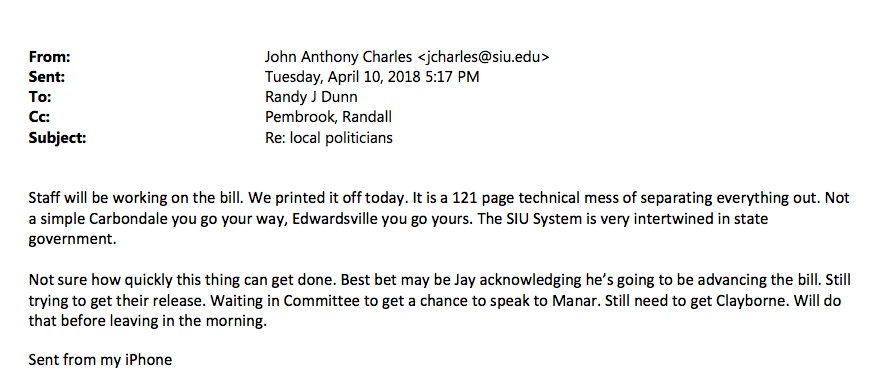 On April 23, Charles sent an email titled "Split FAQs" to Dunn and Mark Kolaz, an SIU system lobbyist. "Anything egregiously incorrect?" Charles asked.
The document appears to consist of talking points for Metro East legislators supporting the separation legislation. It includes questions like "Isn't this going to be a huge blow to the Southern Illinois economy by taking dollars away from those communities?"
"I think that depends on how Carbondale manages the dissolution of the system," the response to that question reads. " … As someone who represents the Metro East, I would say that it's time for greater investment in our economy — especially at a time when the main driver of that economy, SIUE, is on an upward trajectory. Let's strike while the iron is hot."
Long-simmering tensions within the Southern Illinois University system came to the surface this week after an opinion column took aim at the system president's handling of a recent state funding reallocation proposal.
On April 17, Dunn and Sholar released a joint statement saying that they were taking a neutral stance on the legislation to dissolve the system.
But in an April 26 email to retired SIUE Interim Chancellor Stephen Hansen, who offered to serve as the consultant to review the funding formula, Dunn appears to have held a different view.
"I appreciate the offer and you would have done well with it, but this has moved to a new plane, unfortunately. We may have arrived at the time where the split just needs to take place because I don't think it's going back in the bottle after this. May not be this year or next…but I think it's where the natural outcome of all this eventually leads," Dunn wrote.
Dunn courted favorable media coverage for reallocation, split
Dunn also helped orchestrate an editorial in the Belleville News-Democrat advocating for the funding shift. On March 28, he counseled Pembrook about the pitch and timing of the editorial.
"BND folks will need time to run their traps with the info you provide…have their ed board meet…write it up. To wit: You could start the process now, they just have to understand that nothing can be made public until sometime AFTER the agenda is posted in a couple of days," Dunn wrote.
Pembrook's staff reached out to the Metro East newspaper about the funding split on March 29 — before the Board of Trustees and SIUC chancellor were aware of the reallocation item.
After the Belleville News-Democrat editorial was published, Dunn and Pembrook exchanged seemingly celebratory emails about how the story was trending.
In a statement posted on his blog earlier this week, SIUC Chancellor Carlo Montemagno said the initial reallocation would be equal to the layoffs of 110 faculty and staff and could threaten the university's financial stability.
After The Southern ran the story "SIU Carbondale chancellor, legislators urge against proposal to shift funding to Edwardsville," Dunn emailed Pembrook, Charles and Sholar on April 7 to tell them to think about getting SIUE's marketing and communications director to push a story with the Belleville News-Democrat getting Metro East legislators on the record to counter The Southern's article.
"Story needs to run before meeting to counter this a little and keep to the script we have. Otherwise will contribute to a narrative that Edwardsville got rolled," Dunn wrote.
A few minutes later, he suggested getting a reporter to reach out to U.S. Rep. Mike Bost, whose district includes the Metro East. "Mike needs to be made to own this one," Dunn wrote.
Administrator raised questions on weighting factors used in reallocation
Notes by Winter, the SIUE budget director, from meetings in summer 2017 reference weighting factors that were eventually used in the reallocation proposal. The weighting factors determined the cost of different degree programs to account for the differences in SIUC's and SIUE's missions. In the notes, they are attributed to Randy Dunn.
Dunn's weighting factors consist of a 1.0 multiplier for undergraduate, a 1.2 multiplier for master's and a 1.4 multiplier for doctoral. In all the notes and correspondence released by the FOIA office, there is no indication that those weighting factors were based on any sort of model.
Emails suggest that Duane Stucky, SIU's senior vice president for financial and administrative affairs, was not consulted about the reallocation proposal until March 26, while he was on vacation. Dunn asked Stucky to look over the board matter via email.
"I am a little surprised at their weighting factors," Stucky wrote to Dunn in response to the board matter. "Years ago, I recall using factors as high as 4 for doctoral cost vs baccalaureate. I think the IBHE (Illinois Board of Higher Education) cost data might provide comparison."
In his reply to Stucky's objection, Dunn wrote that the proposal would be a Phase 1 funding shift only, pending a full study of the funding formula.
Seven minutes after receiving Stucky's reply, Dunn emailed Pembrook privately to tell him that Stucky had not suggested anything "major that is going to create any re-do in methodology or approach."
On May 1, Stucky sent an email to Matt Baughman, Montemagno's chief of staff, to express his concern about the weighting factors.
"Is there anyone at all that is raising questions about the funding formula SIUE used versus what should be used?" Stucky asked. He attached a Nevada System of Higher Education report from 2012 for reference, which weighted doctoral programs between 5 and 8.8.
"You'll note Bill Winter used weighting factors of 1 1.2 and 1.4 in his calculations. You can see how those factors are dismally low for graduate education," Stucky said.
— Isaac Smith and Alee Quick contributed to research for this report.
618-351-5082
On Twitter: @janis_eschSI