CARBONDALE — When the Southern Illinois University Carbondale Rec Center had a pesky problem that threatened to become a big expense, it turned to the university's College of Engineering for help. And the college turned to its students.
The little anchors that support the Rec Center swimming pool's lane dividers were wearing away. And the part manufacturer had gone out of business.
"We would have had to have something custom-manufactured or had the pool retrofitted," said Jamison Tryggestad, who tends the swimming pool at the Rec Center. "Either option was likely going to be expensive."
Rec Center staff reached out to Bruce DeRuntz, a professor in the Department of Technology, who asked two engineering students, Nick Sjoberg, of Huntley, and Kyle Wente, of Teutopolis, to lend their 3D printing expertise to the project.
The two carefully measured the existing anchors, and created an intricate computer model for the replacement part.
Then they 3D-printed six replica pieces, using hand tools to finish them to fit perfectly into the 880,000-gallon pool's walls.
Now those green anchors are in the hands of Rec Center personnel, ready to be used when the old pieces give way.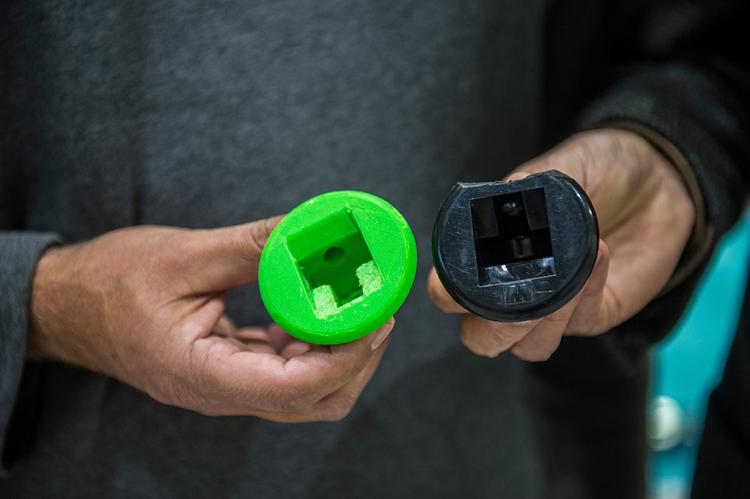 And SIUC saved a bundle, thanks to the pro bono help from its students.
"We probably only used $3 to $4 in materials for each piece," Wente said, plus the $800 printer that was already on site, one of many dotted around the university.
This is not the first time students have pitched in to solve problems around campus.
"It's been a longtime tradition," said John Jackson, an SIUC professor currently housed in the Paul Simon Public Policy Institute.
""There's always been a volunteer spirit," at SIU Carbondale, Jackson said, with students working to maintain the university, and the Carbondale community.
"When the derecho struck ... you can't imagine how destructive it was," Jackson said, referring to the devastating storm that hit Southern Illinois in 2009. "Students did a major part of helping to clean up after that, particularly in Thompson Woods, and contributed many hours of volunteer labor across campus."
More recently, students' contributions have come through campus organizations, class projects and thesis work.
"As we've been shrinking, the university has really trying to step up its hands-on experiential learning," said Marj Brooks, associate professor of zoology at SIUC. "More and more, across campus, the average faculty are younger. Not to belittle experience, but we've got people coming in with fresh, new ideas, and I've found people in upper administration to be incredibly receptive, when I put forward a project."
Currently, Brooks is supporting three teams of engineering students who are working on algae problems in Campus Lake as part of their senior design projects.
Eventually, the solar-powered fountain will be part of a larger array that will serve as an obstacle course for paddle-boarders and kayakers.
"This is a really cool project between zoology, aquatic ecology and engineering design," Brooks said. "Students are designing new ways to play and exercise in the lake that will either aerate the lake, cool it off, or help sequester nutrients," to combat the harmful algae.
In the works are numerous solar-powered fountains, several on-land stationary bikes connected to pedal-powered fountains, and a new mini-wetland designed and built by Brooks's freshwater ecology students, on the east side of the lake.
"We planted a wide variety of wetland plants," Brooks said, some purchased from a local nursery, and others transplanted from existing wetlands.
"The idea is that the greater biodiversity in that section of the lake will help break down nutrients faster," discouraging the algae that plagues it, Brooks said.
Future students will build on the project, designing experiments to measure the benefits of the wetland, when compared with other areas of the lake that display less biodiversity.
Through it all, Brooks was able to show students how a wetland functions, and how it can be bolstered. "It's a lot of fun working with these students," she said.
A few miles from campus, at Touch of Nature, SIU Carbondale's 3,100-acre forest and outdoor classroom, two graduate students, Molly Maxwell and Isaiah Tanner, used their graduate thesis work to start a project that could be a major boon to the local economy.
CARBONDALE — A long-awaited $200,000 grant from the Illinois Department of Natural Resources has been handed over to Touch of Nature, SIU Carb…
They led Touch to apply for a $200,000 state grant, to construct Southern Illinois' first mountain bike trails.
In all, the project has attracted over $250,000 in grants and donations, and is poised to make major advances soon, as the state recently announced it would release the funds.
"The more that it grows, the more people will want to be involved and will jump on board," Tanner told the Southern. "The community wants to see this happen."
Sjoberg and Wente, the students who fixed the pool anchor problem, have also been at the forefront of implementing 3D printers in SIUC's engineering program.
"When I came to SIU, I noticed we didn't have any printers, and I worked with Dr. DeRuntz to select and purchase the first one," Sjoberg said.
The College of Engineering now has at least four printers, Sjoberg said, and there are others around campus, including machines open to the public in Morris Library.
"Students are relying on them more and more now, and we've got a lot of people trained to use them," Sjoberg said.
The student-run SIUC Robotics Team even helps the university acquire the costly filament that the printers use to produce objects.
Students took the lead in securing a partnership with a company called MakerGeeks, which regularly donates product samples to the university, plus excess filament from its production runs.
"We just reached out to as many companies as we could," Sjoberg said. "They've been a big help."
Someday, Sjoberg hopes to run teaching lab or a makerspace, "helping students learn how to do cool stuff like this," he said.
Compared to the possibilities, solving the pool anchor problem was nothing major.
"It was kind of day-to-day stuff for us," Sjoberg said.