CARBONDALE — A top administrator at Southern Illinois University has left a high-paying post to which he was hired improperly by former SIU President Randy Dunn.
Since July of 2017, Brad Colwell had been SIU's vice president of academic affairs, charged with "interfac(ing) with the university's president and the two main campuses on all issues relating to student issues and academic programs," per the SIU System office's website.
But questions were raised about Colwell's employment by a December 2018 investigation from the Illinois Office of Executive Inspector General, which found Dunn had broken university rules to hire Colwell and two employees at SIU Carbondale, who are no longer with the university.
In Colwell's case, Dunn created and signed a search waiver to appoint him outside SIU's hiring standards, which required an open, competitive search considering multiple candidates.
Dunn never informed the SIU Board of Trustees that Colwell's position required a candidate search or that a search waiver would be used, the OEIG found, yet he falsely represented the board's consent to issue the search waiver.
"No one else was considered for this position, the position was not posted, and no search was conducted," investigators concluded. "The position was simply given to Dr. Colwell."
In the wake of the findings against Dunn, Colwell is leaving the system office.
You have free articles remaining.
Keep reading for FREE!
Enjoy more articles by signing up or logging in. No credit card required.
"Through a mutual decision made with President Dorsey, Dr. Brad Colwell has returned to a teaching position on the SIU Carbondale campus," said John Charles, spokesman for SIU Interim President J. Kevin Dorsey. "There will be a search for a new vice president of academic affairs. In the meantime, Dr. Jim Allen will serve as acting vice president until a new one is chosen, pending board ratification at its next meeting."
Colwell is now assigned to the Department of Educational Administration and Higher Education at SIU Carbondale, where he holds tenure, confirmed SIUC spokeswoman Rae Goldsmith.
Colwell began at SIUC in 1996 as an assistant professor, earned a full professorship in 2005 and served as department chair from 2004 to 2008.
Colwell and Dunn were colleagues in the department in the late '90s and early 2000s. They also worked together as educational consultants, Dunn told OEIG investigators, and Colwell served as an adviser to Dunn's wife, Ronda Baker Dunn, in her doctoral studies at SIUC.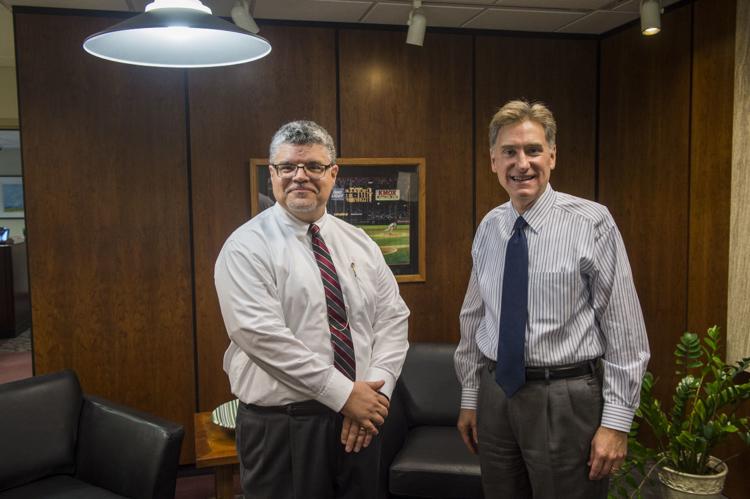 Colwell served as interim chancellor of the Carbondale campus from September 2015 to July 2017, when the late former Chancellor Carlo Montemagno was hired.
Allen, who will replace Colwell, is an emeritus professor in the SIU Carbondale history department, who previously served as associate provost for academic programs at SIUC.
Colwell could not be reached for comment via phone or email.