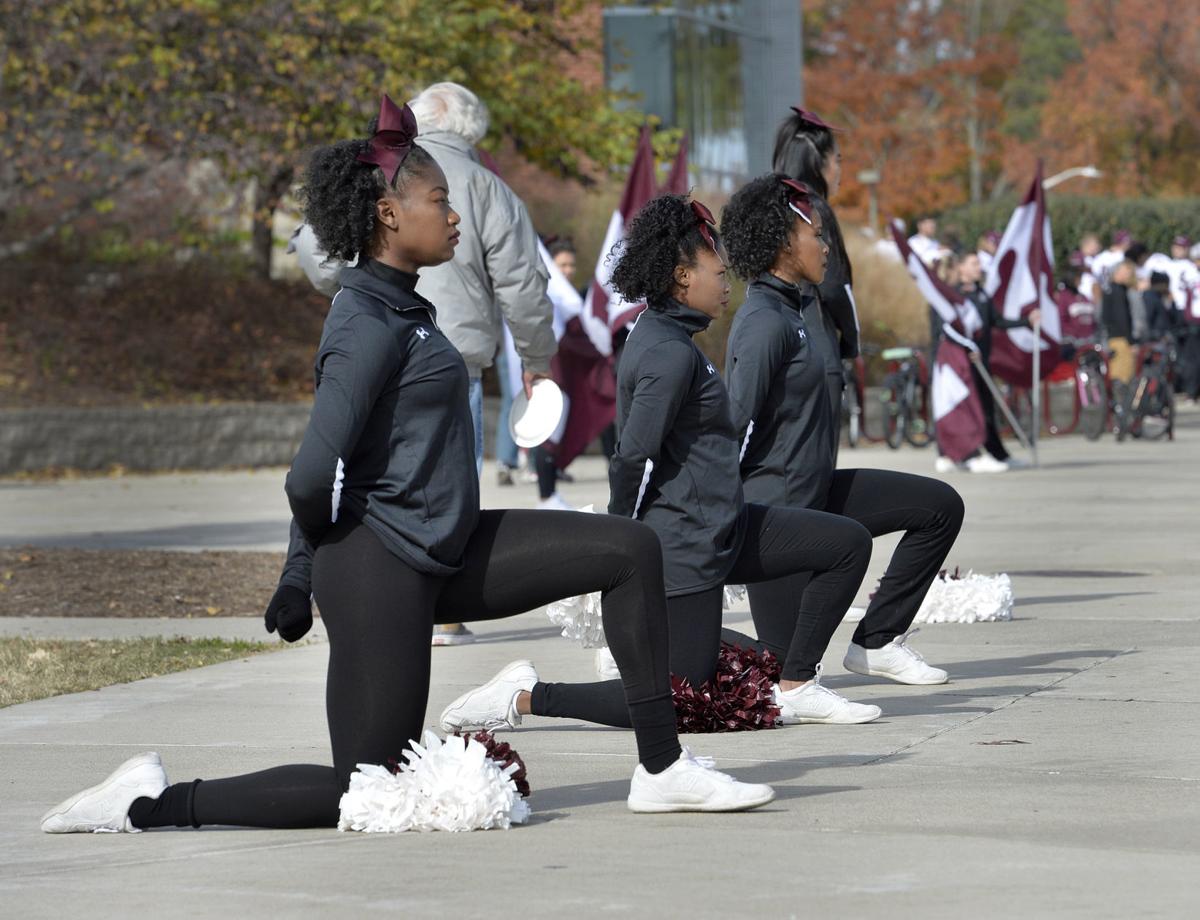 CARBONDALE — Weeks after three Southern Illinois University cheerleaders made headlines for taking a knee during the national anthem, a change to pregame protocol has removed them from the field.
Alaysia Brandy, Ariahn Hunt and Czarina Tinker first began kneeling in protest of police brutality at a Sept. 30 SIU vs. University of Northern Iowa game in Saluki Stadium.
SIU Director of Athletics Tommy Bell said cheerleaders will now be stationed at the entrances to athletic facilities.
"Our spirit team members, which includes cheer, dance and mascots, will be stationed at the entrances to our facilities, where they will greet and welcome customers to our events. They will also thank fans for attending the games at the exits afterward," Bell said in an email Friday evening.
Bell did not say the change was made in response to the cheerleaders' protest, which sparked a backlash — Brandy, Hunt and Tinker received "death threats and sexual assault threats" over social media.
"Our spirit teams have greeted customers at the entrances in the past, so this is not a new procedure for Athletics. In fact, we had a consultant review our game operations last year, and one of his recommendations was to make arriving to a game an event in and of itself," Bell said.
The three cheerleaders, all sophomores, said in a phone interview that they were not aware of the change to pregame ceremonies when they missed the national anthem for the first time at a volleyball game three weeks ago.
"We were taking longer than normal to get out on the court, and when we thought we were going to be doing the national anthem, the game started," Hunt said.
You have free articles remaining.
Puzzled, they asked their coach about the change, and they were told to "focus on greeting fans and pumping up the team before the game," Hunt said.
According to Hunt, Tinker and Brandy, however, there aren't any fans around to greet outside the stadium while the national anthem is playing before football games. They said they have been stationed under the stands at basketball games and in a separate room next to the court at volleyball games.
"For football, we're already there three hours before the game. We're down there in Saluki Row, we're cheering the whole time, meeting with people, taking pictures, so how much more do we need to pump up our fans? And even for basketball, we're not even doing anything; we're literally just standing behind the wall. So they're doing this just to silence us," Hunt said.
Brandy said the change was "discrimination and targeting."
"… The university went about it trying to keep it a secret from us, because they knew there would be an uproar because this is against our constitutional right to protest," Brandy said.
Taking a knee during the national anthem at sports games became a form of political protest against systemic racism and police brutality after Colin Kaepernick, then-quarterback for the San Francisco 49ers, took up the practice in 2016.
Even though they're no longer in plain view of fans during the anthem, Brandy, Hunt and Tinker have continued to kneel.
"I still take a knee because my cause still matters to me. Just because they try to silence me does not mean I have to stop what I'm doing," Tinker said.
"Everybody seems so patriotic in the sense that they're representing their flag and the national anthem, but (they) can't respect our constitutional right to peacefully protest, which is all we've been doing," Hunt said.
618-351-5082
On Twitter: @janis_eschSI