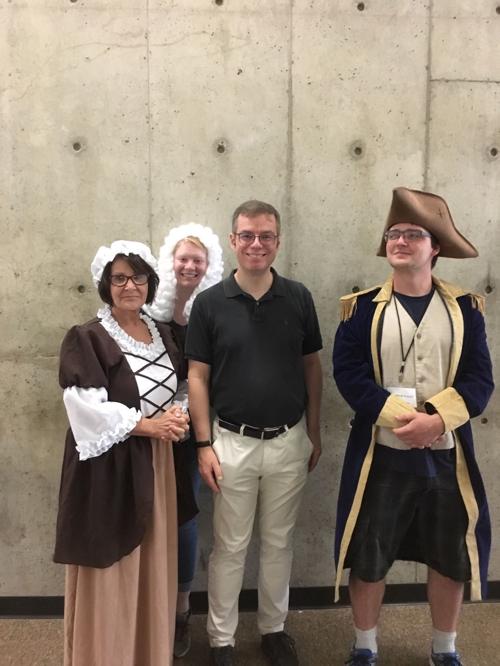 Boasting almost 30 majors and 40 minors, College of Liberal Arts (CoLA) students are exposed to a broad swath of human knowledge and experience — from history to sociology to languages, and from psychology to politics to fine arts and more.
The strength of our college is our people: From world class teaching and research faculty to our 65,000 living alumni around the world. The College of Liberal Arts is all about connecting with a diverse student body, including many first-generation college students.
Case in point: During SIU's recent Day of Giving, a group of SIU alumni endowed two Balance Education, Experience, and Reality (BEER) scholarships, from more than 1,000 unique donors, a disproportionate number of whom were CoLA majors. These alumni gave back to the institution that helped them get their start in life. They remember the good times in Carbondale and are helping the next generation of students who will track the same pathways from Morris Library to Mae Smith to Quatro's, PK's and other places too numerous to mention.
Active learning in the classroom
A big part of the Saluki experience is the classroom — and learning skills that translate into successful lives and careers. Susan Patrick Benson, associate professor of theater, tells her drama students, "Luck is when preparation meets opportunity."
Preparation in the liberal arts can mean many things. Kathleen Schmidt, assistant professor of psychology, encourages students to stay active in the learning process — rather than passively listening to lectures. All of which creates "a quality liberal arts education that provides students with knowledge and skills that transcend a particular career path."
Joe Sramek, associate professor of history, uses a teaching approach called "Reacting to the Past" that involves background research and role-playing. His history classrooms are packed, and students more engaged, Sramek said, as this pedagogy "teaches alternative points of view," and given the interactivity involved, students "want to know how the game unfolds."
You have free articles remaining.
Preparation for future careers
Craig Engstrom, associate professor of communication studies, also takes an interactive, student-centered approach.
"Real-world scenarios and case studies guide the classroom experience so that students are already doing the kind of thinking that they will need in their professional lives," Engstrom said. "Students are learning the hallmarks of a liberal arts education … while also preparing for professional success as competent interpersonal communicators."
Engstrom's students find lucrative careers in public relations, business-to-business sales, social-media marketing, HR, nonprofits and more — including an array of Fortune 500 companies.
Brione Lockett, an SIU graduate student in health education, instructor in Africana studies, and student trustee on the SIU Board, enjoys teaching to a diverse student body.
"We all understand that people are cut from different cloths but, when those pieces come together, everyone is wrapped and you get that comfortable feeling when you are at a place that looks and feels like home.
"When you're here, you're family."
Now that SIU is celebrating its 150th anniversary, we invite all CoLA alumni and friends to join our current students and their families on Saluki Row for the Saluki Family Weekend tailgate on Sept. 14 and for Homecoming on Oct. 19. Join us for food, fun, drinks and surprises.
As always, come for the party — and stay for the education.
Meera Komarraju is the interim provost and vice chancellor for academic affairs at Southern Illinois University Carbondale.