Analysis | SIU Funding Shift Controversy
Documents appear to show SIU president kept Carbondale in the dark on funding shift
CARBONDALE — Long-simmering tensions within the Southern Illinois University system came to the surface this week after an opinion column took aim at the system president's handling of a recent state funding reallocation proposal.
The opinion piece by SIU Carbondale faculty member Kathleen Chwalisz, which ran in The Southern Illinoisan on Thursday, accused SIU President Randy Dunn of purposefully keeping the Carbondale chancellor in the dark about a plan to transfer $5.1 million in state appropriations funding from SIUC to SIUE.
Three state legislators have called for Dunn's ouster. At a news conference on Friday, Dunn said he has no plans to resign.
Chwalisz wrote that she acquired budget-related documents through the Freedom of Information Act proving that Dunn manufactured a justification for the proposal, which narrowly failed to pass the Board of Trustees at its April 12 meeting.
Analysis of the documents, which were provided to The Southern by Chwalisz, reveals that Dunn worked with Edwardsville officials on the proposal in the days leading up to the April 12 board meeting.
Another document that was provided to the newspaper by a trustee appears to undermine Dunn's explanation for not briefing the Carbondale chancellor on the proposal.
Chwalisz, a psychology professor at SIUC, stepped down as president of the Faculty Senate earlier this year and is now co-chair of the group's budget committee. She said she filed the FOIAs because she thought it was clear that the SIUE campus had a head-start on gathering data to support the funding shift.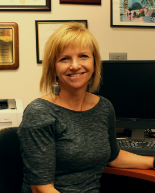 "I think the main thing is that I feel like we're playing catch-up, because it's clear that they've been working on this for a long time," Chwalisz said.
Chwalisz said she filed the FOIA requests with the SIU system office, SIUC and SIUE on April 24.
Development of proposal with Edwardsville
Dunn has come under fire for allegedly colluding with Edwardsville officials to develop the proposal to initiate a first-phase funding shift of $5.1 million for Fiscal Year 2019. Citing internal emails, Chwalisz charged him with actively concealing the matter from SIUC Chancellor Carlo Montemagno.
Rae Goldsmith, SIUC's chief marketing and communications officer, told the newspaper that Montemagno had not been briefed on any of the details of the proposal until the agenda was released to the public on Friday, March 30.
Goldsmith said Montemagno did not wish to be interviewed for this story, but referred the newspaper to his May 17 blog post.
"I am, of course, dismayed and disappointed by what appears to be an active, deliberate effort to undermine the Carbondale campus and, by extension, the entire SIU system. The process and lack of transparency did not serve us or our colleagues at Edwardsville. I must add that the disrespect to Carbondale's faculty, staff and community is especially disturbing. However, these concerns are best addressed by the Board of Trustees and system leadership," Montemagno said.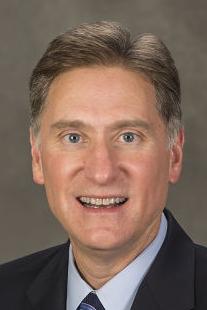 Dunn has maintained that he didn't deliberately keep the matter from Montemagno. He has said that he intended to brief the SIUC chancellor on the details on March 30 before the agenda was released, but that Montemagno canceled the meeting.
The documents provided by Chwalisz reveal that Dunn was in communication with SIUE about the development of the funding shift proposal at least as far back as March 19, when he held a private meeting with Chancellor Randy Pembrook, SIUE Budget Director Bill Winter, Vice President for Academic Affairs Brad Colwell and Vice President for Financial and Administrative Affairs Duane Stucky.
According to notes on that meeting, cited in Chwalisz's editorial and included in the FOIA documents, "Dunn opined that the amount of transfer shouldn't be so large as to be easily rejected yet so little as to have no meaning. Ultimately, he suggested a number around $5 million.
"He said Chair (Amy) Sholar was in favor of proceeding as a first phase of shifting funds," the notes read.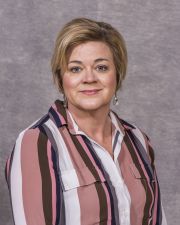 Sholar — who was also a target of Chwalisz's criticisms in Thursday's editorial — said in an interview with The Southern on Friday that the board chair and president typically discuss items before they go on the agenda, as required by the board's bylaws.
"In terms of any kind of hide-the-ball or 'gotcha,' there was none of that. I simply talked to the president, we discussed the agenda items and then from an operational standpoint he goes back to the campuses and they work through this," Sholar said.
According to Dunn, Montemagno was not present for a March 21 "sign-off" meeting, where senior administrators put together the board agenda for the upcoming meeting.
Dunn said two of Montemagno's staff members were present: his chief of staff, Matt Baughman, and his chief budget officer, Judy Marshall.
The reallocation proposal was not listed on the working agenda at that point, but Dunn said he spoke with Baughman and Marshall after the meeting to let them know that it might be coming.
"I talked to them (Baughman and Marshall) after the meeting to give them at least a first heads' up that this request had been made from Edwardsville, that I was open to entertaining the request, to looking at the materials that might justify a small reallocation. I had indicated to them at that time — I was not giving them any kind of instruction that they had to share that or deliver that message to the chancellor, but I assumed that they would," Dunn said at the news conference Friday.
Dunn stated that point again later on.
" … I shared with staff the fact that this was what was being looked at and those amounts, while I said I would meet with him (Montemagno), I certainly didn't prohibit them or suggest that they shouldn't go share the information, which I'm assuming took place, in that overall dollar range," he said.
A longer version of the March 19 meeting notes cited in Chwalisz's editorial, provided to The Southern by Board of Trustees Vice Chair Phil Gilbert, casts doubt on the president's claim.
"Upon returning to campus, in subsequent discussions with Matt, I learned that Dunn had called Matt Baughman and Judy Marshall aside after the 3/21/18 Board signoff meeting and revealed that the matter was about reallocation (I don't think he mentioned an amount). Matt and Judy felt compelled not to tell the Chancellor because the President had instructed confidentiality," the notes read.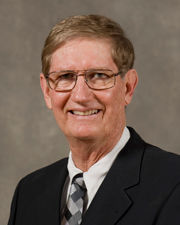 Gilbert said the notes were taken and provided to him by Stucky, who could not be reached for comment Friday afternoon.
Goldsmith, the SIUC spokeswoman, backed up this narrative.
"The president specifically directed the Carbondale staff who were present not to share the information with the chancellor," she wrote in an email Friday evening.
Edwardsville leaders began having serious conversations about reallocation in March 2017, after SIUE gave SIUC a $35 million loan during the budget crisis, according to Pembrook. (That loan has since been repaid.)
Asked whether it was appropriate that SIUC was left out of the development of the proposal, Pembrook simply said that the matter was an extension of the discussion about appropriations funding at the board retreat in March.
"So the specifics of that, what it would mean to have a weighted formula and how that might relate to enrollment, that was simply an extension of that conversation," Pembrook said.
60/40 split
During a meeting with The Southern's editorial board two days before the board vote on the funding shift, Dunn said he stood by the inclusion of the reallocation item on the board agenda because the board's operating policy had dictated a 60/40 percent split in appropriation distribution between SIUC and SIUE since at least as far back as 1979.
He argued that over the years, that distribution had been skewed by state cuts and losses of certain programs, and that the proposed adjustment would not even bring the distribution back to 60/40.
On Friday, Gilbert told The Southern that he had immediately doubted the veracity of Dunn's claim and that he has spoken with several former board members who told him they had never heard of a 60/40 allocation.
Since the publication of Chwalisz's editorial, Dunn has been widely criticized for an April 4 email to Pembrook, Winter and Stucky.
In the first email in that chain, Winter provides Dunn, Stucky and Pembrook with calculations of the impact of a 60/40 state appropriation distribution between SIUC and SIUE. He writes that the shift in state appropriation from SIUC to SIUE to adjust to that level would come to about $5.6 million.
"Exactly what I was looking for," Dunn responds. "So, theoretically speaking…the proposal even SHORTS SIUE about a half-mil just to get us back to the 60/40 split!"
Pembrook responds to Dunn's email, but the message is almost entirely redacted in the FOIA documents.
Next, Dunn writes back that a reference to the 60/40 split "is simply to shut up the bitchers from Carbondale who are saying loudly we shouldn't even be doing the $5.125M at this time."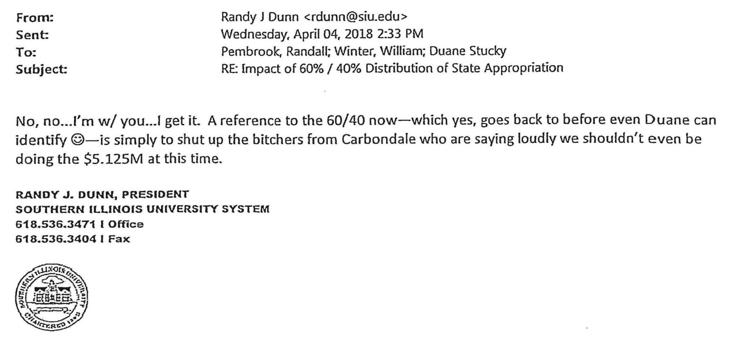 Dunn has since apologized for the "inartful language" in the email.
Figures provided by Dunn at Friday's news conference, along with documents from the SIUE budget office, do not show any indication of a longstanding 60/40 appropriation distribution between the two campuses.
Excluding the School of Medicine — based in Springfield, but affiliated with the SIUC campus — SIUC has seen an average of 64.2 percent of the state appropriation since 1973, while SIUE has seen an average of 35.7 percent, based on analysis of the Edwardsville data.
In a statement issued Thursday, Dunn said "there is no written policy directive designating a Carbondale/Edwardsville 60/40 split," and called it "an aspirational goal."
"To me, that makes it worse. He's dug himself in deeper," Gilbert told The Southern. "Where did this come from? Whose aspirational goal was it?"
At Friday's news conference, Dunn said it is time to discuss an equitable funding model.
"My focus really is more on looking at that history of appropriations and suggesting that, in having to look at the health of the system as a whole, Edwardsville has an appropriate argument to put forward," Dunn said.
Separation legislation
In her editorial, Chwalisz accused Dunn of fabricating the $5.1 million figure for tactical purposes in order to lay the groundwork for legislation to split up the SIU campuses. That bill was introduced by State Rep. Jay Hoffman, D-Swansea, after the proposal failed to clear the Board of Trustees on April 12.
At the news conference on Friday, Dunn flatly denied this accusation.
"This is not my legislation. Let's be very clear about this. This is not legislation that we asked to have introduced, we being system or individual campuses. This is not something that was seen as a response at SIU to however that vote would go … this was rather giving voice to the frustration that I had been indicating to numerous people was out there in the Metro East," Dunn said.
Dunn did know the legislation was coming, based on the meeting notes for the March 19 meeting with Colwell, Stucky, Pembrook and Winter.
"Dunn also said this (the reallocation proposal) will somehow put the 'Carbondale trustees' in a spot since voting against it will be used as ammunition by the group that is developing the SIUE separation legislation," the notes read.
Sholar told The Southern she knew there was talk about the separation legislation the week of the board meeting but didn't know for certain until after it came out. She said she has maintained a neutral stance on the bill because the board has not yet discussed it.
The board is now scheduled to discuss the legislation at a special meeting May 30. Gilbert said that he and trustees Joel Sambursky and Shirley Portwood called for the special meeting.
Reallocation issue 'not going away'
Sholar said she does not feel Dunn's actions were inappropriate, and that the needs of the Edwardsville campus had to be considered.
"I think if you would speak to anyone on the Edwardsville campus, they would tell you that it would have been unfair not to put the reallocation on the agenda, and that for 20 years this discussion's been simmering, and it hasn't occurred. It's frustrating to me that Carbondale feels that it was treated unfairly, because Edwardsville has the same argument," Sholar said.
She said she believes that each campus should have equal representation and should have a voice — including Edwardsville.
"It's a balancing act with a system. There are three campuses, and the interests just don't align every time," Sholar said.
Pembrook echoed those sentiments.
" … I do think that the role of the president, the role of the trustees, is to try to create a strong system, and so the idea of looking at allocations and how those allocations can be modified to strengthen the institutions, I think that's absolutely a part of the responsibility of the trustees and the president," Pembrook said.
The agenda for the special board meeting on May 30 includes a closed session for board members to discuss "appointment, employment, compensation, discipline, performance, or dismissal of specific employees."
Dunn said Friday that he does not anticipate that his employment will be affected. He said that regardless of what happens, the battle for an equitable funding distribution between the two campuses will continue to pose an issue.
"Whether I'm in the role as president or not, by my own hand or someone else's, this question is not going away," he said.
618-351-5082
On Twitter: @janis_eschSI