"There was a side agreement that this board did not know about in terms of its terms and conditions," trustee Phil Gilbert said during Friday's session. He said System President Randy Dunn sent an email saying there would be no secrets when it came to Montemagno's contract.
CARBONDALE — An ethics inquiry into the hiring of Southern Illinois University Carbondale Chancellor Carlo Montemagno's daughter and son-in-la…
"But there were secrets," Gilbert said. "My point is that in future administrative hires, there are no secrets."
Other trustees also expressed displeasure that negotiations happened outside of what the board voted on.
"I was stunned when I read that," trustee Shirley Portwood said in response to Gilbert. Board secretary Joel Sambursky said what he read about in the news was not the contract he voted for.
"The board needs to be aware of all agreements and approve all agreements because we were all blindsided, at least I was, and I know the chair told me she wasn't aware of it until Dec. 8," Gilbert said.
Dunn weighed in, saying things needed to be different in the future.
"Everything in the future will be entered into in writing," Dunn said. "If it's not here, we are not doing it."
Montemagno also on Friday updated the board about the progress of his controversial reorganization process.
The chancellor came armed with a flowchart showing which proposed schools were at what stage — those stages being 90- and 120-day review processes, revisions, faculty and graduate councils approval and Illinois Board of Higher Education approval.
"It's moving along smartly," Montemagno said of the overall progress.
Trustees drilled down into the weeds with the chancellor regarding how the reorganization process will work once the proposed changes make it out of committee.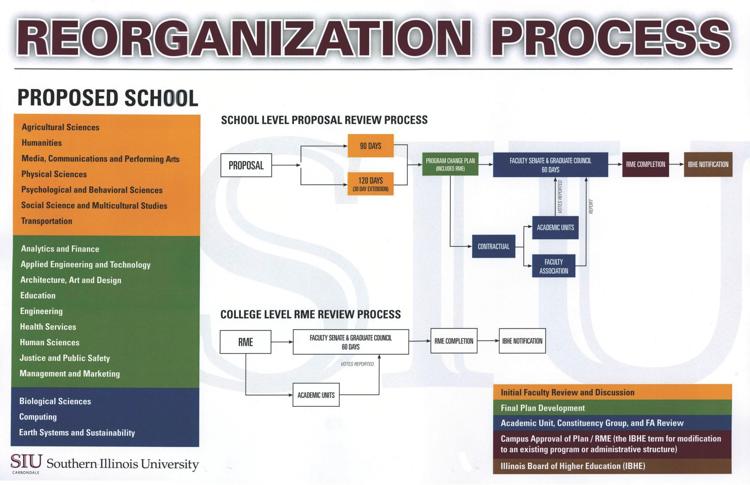 Sambursky asked Montemagno if this process follows contractual agreements with faculty, to which the chancellor said it did. Sambursky said that he was not sure what feedback he should give because the process had itself already been approved.
Board chair Amy Sholar asked would happen if the board voted down a proposed plan or reasonable and moderate extension (RME), a part of the IBHE process to make changes at higher education institutions.
Montemagno said should this happen, they would try to establish what it was that brought the negative vote, and go back to the drawing board to try and rectify the board's issue.
"Are there any departments that we aren't touching?" Sholar asked.
"No, not right now," Motemagno replied. He said that as soon as he says he's not touching one department, that everyone would want the same treatment, and nothing happens.
Sambursky said he couldn't get behind anything that didn't, in his eyes, move the university forward. He said it would be hard for him to support something that just maintained the status quo.
CARBONDALE — A Southern Illinois University Carbondale group says the findings of a recent survey demonstrate the controversial nature of Chan…
"Certainly my hope is this process doesn't plan through and we end up leading to being back to where we started," Sambursky said.
Montemagno said he anticipates about 20 RMEs to be brought before the board, with the first arriving by spring.
Addressing questions about what would happen if some departments are slow-moving with their approval of portions of the reorganization, Motemagno provided an example.
He said, for example, creating "college X" that might house 15 departments under, with five departments each coming from different schools. He asked the hypothetical question that if two RMEs go through and one does not, what happens to those five departments?
Simply put, he said, those departments may end up waiting for a school to be created.
"It's the process we are going through," Montemagno said. "We are redrafting and rebuilding SIUC," he said, adding that he thinks of it in terms of "pre" and "post-eclipse."
Before the regular meeting, radio and television professor Jay Needham announced to the board during the public comments portion that the School of Art and Design — as well as parts of the College of Mass Communication and Media Arts and other creative schools — had come together to form the initial plans for what could be the "creative college," though he said they had not decided on a formal title.
Needham described the process as an "exciting faculty-driven initiative." Montemagno also expressed enthusiasm about the proposal.
Trustees also took up discussion about the possibility of SIU pursuing opportunities in Sangamon County to build a satellite law campus. Dunn said he had been in preliminary talks, but did not want to go further without the board's general approval.
There were concerns expressed about potential cannibalization of SIU's already existent law school. However, Dunn and Montemagno both said there are opportunities to develop a new program at the satellite location that would only add to the school's portfolio, for example, offering opportunities for lawmakers and capital employees to seek continuing law education from the facility.
When asked about potential costs for the new location, Dunn said he had ideas that "were not ready for prime time."
Montemagno said if this is something the university is serious about, they needed to engage law school faculty as soon as they could. Dunn agreed.
Trustees also discussed how to engage faculty and students in increasing retention and bringing in more diverse applicants both from potential students as well as from potential faculty, staff and administrators.
Portwood, after addressing the board on the issue, asked trustees to think on three questions.
"Why did you select the university you attended, why did you stay and why did others drop out?"
The board's next regularly scheduled meeting will be on April 12 at SIUC.