SPRINGFIELD — Shortly after delivering his first budget address as governor, J.B. Pritzker put on a Saluki baseball cap, and met with about 20 SIU Carbondale students in his office.
They asked questions, took photos, and presented Pritzker with a bag of Saluki gear. In total, the students met with some two dozen state lawmakers Wednesday, according to organizer Clay Awsumb, president of the SIUC Graduate and Professional Student Council, and a doctoral student in sociology.
"Other universities are showing up in Springfield pretty consistently, and we didn't have anything scheduled in terms of a student lobbying day or legislative day," Awsumb said. He teamed up with Undergraduate Student Government President Toussaint Mitchell to get some face time with state leaders.
"Our students are doing great stuff and that needs to get back to our legislators," Awsumb said. "Being able to talk with our legislators directly is hugely valuable, especially to coincide with such a major event for the legislature and government."
The trip was student-led and student-funded, with both the undergraduate and graduate student governments chipping in on the travel and food expenses.
But the success of the first-ever Salukis in Springfield student lobby day depended on teamwork, Awsumb said.
Murphysboro State Rep. Terri Bryant pitched in, calling Pritzker's office to arrange the meeting and photo op with the students. Downstate Sens. Dale Fowler and Paul Schimpf both took out time for meetings.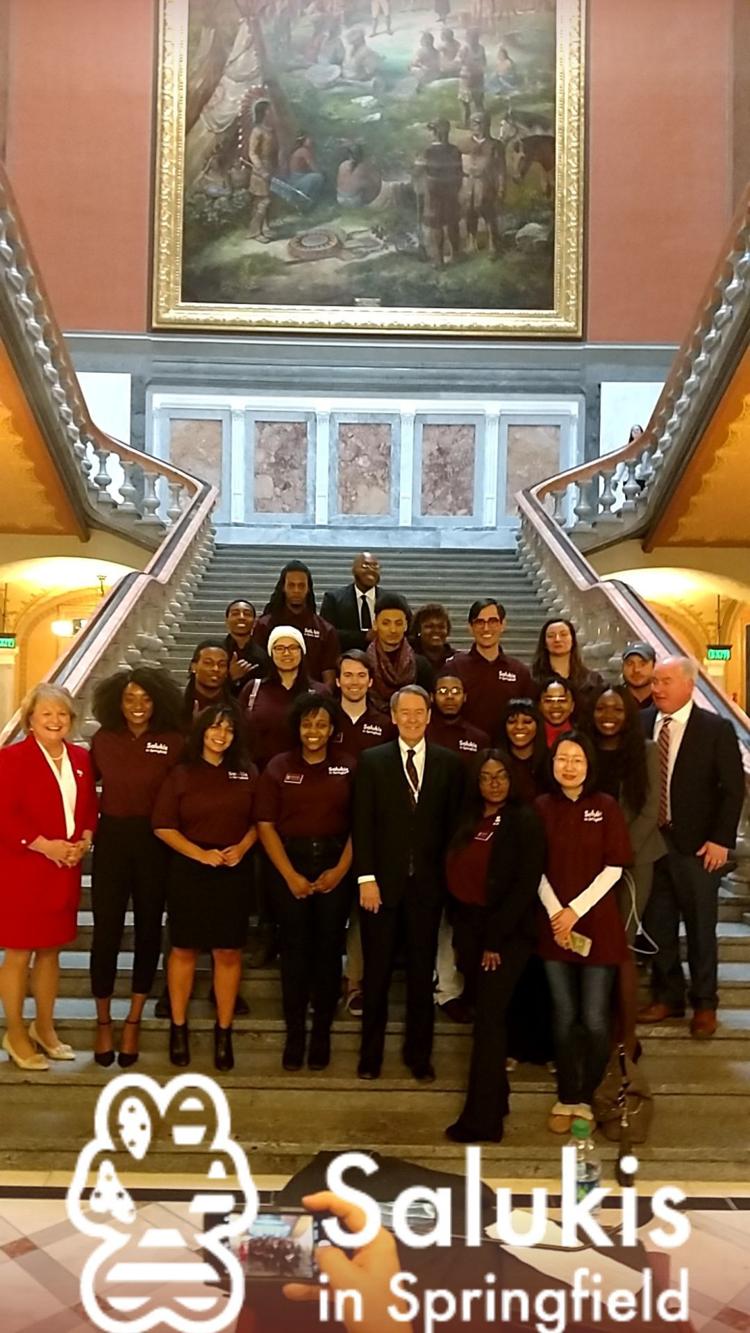 The SIU Office of Government and Public Affairs lent the students a space to watch the budget address, and helped introduce them to lawmakers. SIUC Student Trustee Brione Lockett used connections in Springfield to pull even more lawmakers in.
"It's great for students from the university to engage with our legislators, learn about the budget process, watch the speech and be in the capitol," Awsumb said.
Still recovering from an over-$70 million shortfall during the 2015-2017 budget impasse, and hoping for support for expensive construction and building repairs, SIU Carbondale has a lot riding on Pritzker's budget.
And the students did their part to spread the university's name, bringing 130 gift bags and leaving them at the office of every lawmaker they visited.
"I think we went by every office in the Stratton building," Awsumb said, which houses many representatives and senators.
Participants were drawn from both levels of SIUC's student government, and the greater student body was invited by email to join the trip, Awsumb said.
Awsumb was especially pleased with the warm reception from the many Saluki alumni working at all levels of state government.
"The alumni that were working in the capitol, whether at the legislature or in the capitol building, everyone reached out and made the experience special," Awsumb said. "It was great seeing all those Salukis already in Springfield."