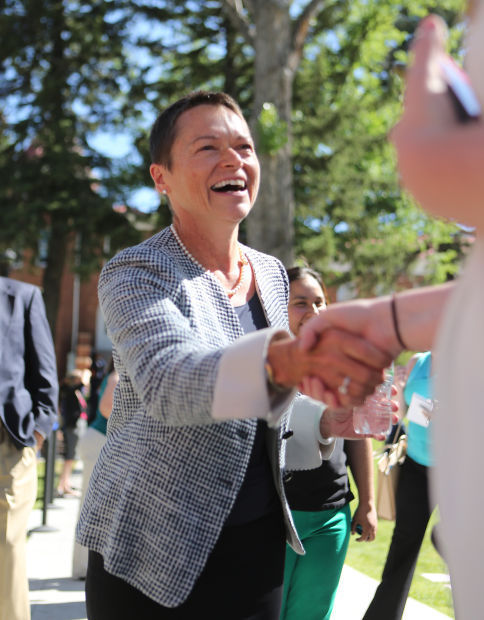 Rita Cheng, who served as chancellor of Southern Illinois University Carbondale from 2010 to 2014, has "put public monies at potential risk of misuse" in her current job as president of Northern Arizona University by failing to correctly report travel expenses, according to an investigation by the Arizona Office of the Auditor General.
The report flagged more than $40,000 in travel expenses for both Cheng and her husband during NAU's last fiscal year, which ended June 30, 2019.
"When executive management does not follow established policies, including compliance with documentation requirements, they set an unfavorable tone that policies do not need to be followed," the report stated.
According to Cheng's contract as NAU president, approved by the Arizona Board of Regents in June 2014, her benefits and travel reimbursement would be "comparable to other NAU employees." The board also authorized Cheng's husband, Tom Cheng, employed at NAU's W.A. Franke College of Business, to travel with her to various events as long as the expenses were not paid with state funds.
The $40,277 of travel expenses flagged as inappropriate made up 62% of all travel NAU paid for Cheng and her husband in FY 2019, including business-class airfare tickets, personal travel and excessive hotel room rates, plus valet parking and room service, according to The Arizona Republic.
Not only did employees fail to verify documentation for Cheng's travel, the report stated, but procedures were not in place for someone outside the President's Office to review travel plans, and documentation was "generally unorganized and unnecessarily complicated."
"NAU staff believed they were complying with all travel policies when preparing the President's travel expense summaries for processing, and were unaware that the documentation they retained was inadequate in terms of best practices," Wendy Swartz, associate vice president for the NAU Comptroller's Office, said in a statement.
NAU paid $30,641 for both business- and first-class tickets for Cheng and her husband to Russia, as well as two replacement business-class tickets. For another event in Israel, NAU purchased a $5,862 round-trip business-class ticket for Cheng's husband to attend with her, even though a sponsor offered to pay for two coach tickets or a business-class ticket if only Cheng attended.
NAU also paid for 13 hotel stays — a total of $1,751 — where room rates exceeded the maximum rate set by the state and $2,023 in expenses not allowed by the university's policies, including visas to Russia, early flight check-in fees, valet parking, room service and a duplicated hotel reimbursement. NAU also inappropriately paid for five trips that included personal travel, but did not have documentation to show whether it increased the overall cost of the trip.
"The Arizona Board of Regents is aware of the items described in this report and have told us that they believe there was not an intentional misuse of funds," NAU stated in a response to the findings, with the explanation that each trip was intended to advance the institutional mission of the university.
NAU stated the business-class tickets for the Russia trip were appropriate for the length of the flight and the rigorous schedule of the trip, and that replacement tickets were purchased after a carrier-caused delay. The trip itself led to new research and student exchange partnerships with multiple Russian institutions, the Republic reported.
Cheng's expensive hotel rooms were attributed to travel to Phoenix during Arizona's spring legislative session "when there is peak demand." As for personal travel, the response stated that cost analyses were completed by staff, but documentation was not retained.
In October, when the university received the Auditor General's report, Cheng reimbursed the University $179 for the duplicate hotel stay, while the Northern Arizona University Foundation, which is privately funded, reimbursed NAU $37,785 for the airfares to Russia and Israel, visas to Russia and early check-in fees.
Cheng has since indicated she will repay the foundation for the difference between coach and business-class tickets for the Russia trip, The Arizona Republic reported on Tuesday.
"I felt like this needs to get behind us," Cheng told that publication. "I need to take responsibility for the lack of documentation pertaining to the ticketing of my travel, and I'll be repaying the foundation for the cost of difference between the business and coach travel."
Meanwhile, the university has assured that public funds were never at risk of misuse.
"NAU has already used this as an opportunity to take steps to review and improve university business processes and practices related to travel to ensure that transactions are properly documented and accounted for," Swartz said.
In a corrective action plan required by the Auditor General, NAU has moved approval of travel summaries to the office of the university's Chief Financial Officer, required that travel expense summaries be completed separately for Cheng and her husband, and is providing additional training for employees.
In the wake of the report an Arizona state lawmaker, Rep. Walt Blackman, is drafting legislation that would require public officials to fly coach in all circumstances, and pay any upgrade costs themselves, the Republic reported.
As of January 2018, Cheng's base salary as NAU president is $475,000.
— Gabriel Neely-Streit of The Southern contributed to this report.
Be the first to know
Get local news delivered to your inbox!