CARBONDALE — New Southern Illinois University President Daniel Mahony will begin his tenure much the same way he began at Winthrop University in South Carolina in July 2015: With concrete strategic planning.
In his first year at Winthrop, Mahony assembled "action groups" of faculty, staff, students, community stakeholders and administrators to study key challenges, from recruitment, to faculty retention, to campus culture. Then, his administration crafted a 10-year plan, with yearly benchmarks for improvement in each of those areas.
"At the end, there will be a scorecard and there will be clear metrics and we will measure our progress and we will report when we don't hit our goals," he said. "The same will happen here."
Mahony won't officially leave Winthrop to join SIU until March. But he'll begin assembling action groups well beforehand, he said Thursday in his introductory news conference.
He was attracted to SIU by the magnitude of the job, he said, as the university serves about four times as many students as his current institution, with a budget six to seven times the size.
He was also attracted by the vital role SIU plays in its communities.
"The opportunity for impact here really was greater than I've seen anyplace else I've ever worked," he said.
Mahony will begin his presidency in Carbondale, he said, and hopes to teach a class during the Fall 2020 semester, "History and Current Issues in College Athletics," which he has taught alongside administrative duties at previous universities Kent State and Winthrop.
Then, Mahony said, he'll relocate to Edwardsville and do the same: Spend a semester living, teaching and learning the administrative ropes there.
Ultimately, Mahony expects he'll probably live in Springfield, he said, where he'll be best positioned to do the legislative advocacy that is expected to be a key task.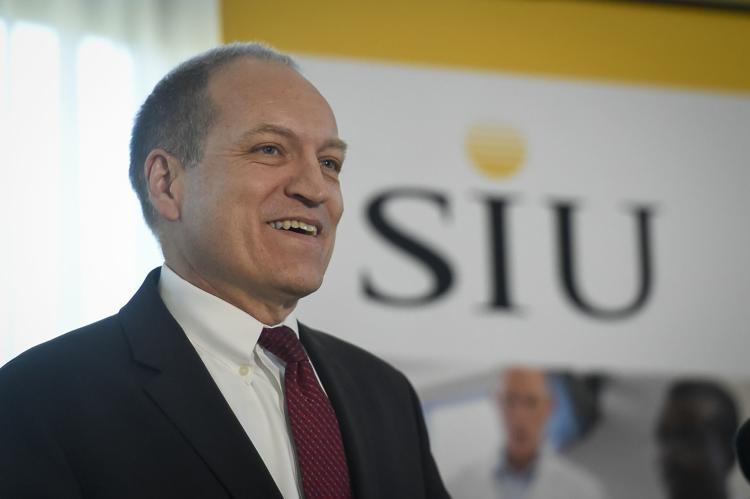 Traditionally, the SIU president has made their home in Carbondale, the flagship institution, working out of the Stone Center at SIUC. However, Mahony's predecessor, Interim President J. Kevin Dorsey, also made his primary office in Springfield.
Upon taking office, Mahony said he'll immediately involve himself in the search for a "good partner" to be the next chancellor of SIU Carbondale, and will fill top positions in the president's office.
"Everyone talks about my vision or me being a visionary. I'm much more of the perspective of we do that as a group, " Mahony said. "I want people that are collaborators … that share the same vision and direction that I have. I don't want people that are 'yes' people, but I want people that are on board."
Mahony was not yet prepared to say what he envisions as the "right size" for SIU Carbondale, but expressed pleasure with the university's recruitment improvements early in the 2020 cycle, and outlined several of his preferred strategies to boost enrollment.
"What's happening here with some of the enrollment challenges is certainly not unique to this area," he said. "This is the new normal for 90% of the universities across the country."
In the face of increased competition for fewer students nationwide, Mahony emphasized the importance of investing in several "destination programs" at each university — iconic degree programs that attract national interest, like SIUC's aviation program.
He also described his work to modernize Winthrop's marketing strategy.
"We've really been much more strategic and data focused on where we spend our time and resources with our recruiters," he said. "It's doing things that meet our students where they are today."
Though he is touted as an enrollment expert, Mahony presided over slight enrollment losses at Winthrop. The university shrunk from 6,109 students in Fall 2016 to 5,865 this year.
A "big chunk" of that loss can be attributed to a significant improvement in the university's four-year graduation rate, Mahony explained Thursday, which is largely attributable to changing student profiles.
"We're seeing more and more students come in with more college credit," he said. "They are graduating much more quickly."
Counterbalancing overall losses, Freshman enrollment increased 8% this year at Winthrop, he added.
You have free articles remaining.
Mahony has not yet examined in detail the academic restructuring in process at SIU Carbondale, but said he has experience making tough decisions to consolidate academic departments.
"At Kent State, I got there, we were six departments and schools, I redid that my first six months into four schools, consolidated it some. We probably saved anywhere from $300,000 to $500,000" in annual administrative costs, Mahony said. "In the long run it was not just the cost savings. It was a better operational model than we had.
"If you're not looking at what you can do to save administrative costs, you're probably not doing your job as a university administrator. That's just a reality of where we are."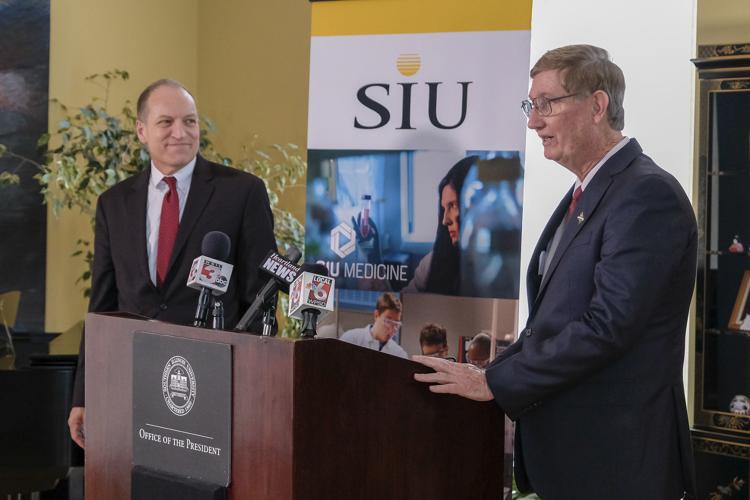 Mahony will also immediately seek ways to consolidate administrative services across the Edwardsville and Carbondale campuses, he said.
Come March, he expects to be a regular presence in cafeterias on the SIUC campus, he said, lunching with students and faculty, just as he does at Winthrop.
"That's one of the most fun parts about the job," he said. "I will definitely bring that same energy here and hope to make those connections."
Reallocation study inches forward
In its Thursday session, the SIU Board of Trustees advanced its reassessment of the balance of state funding allotted to each of its campuses.
Since about 1975, state funds have been allotted on a roughly 64%/36% split between Carbondale and Edwardsville — about $91.4 million and $53.8 million respectively in Fiscal Year 2018.
However, as SIUE's enrollment has grown to eclipse SIUC's, leaders have advocated a more equal allocation.
Using data from the Illinois Board of Higher Education Cost Studies, which reflect the cost per credit hour of imparting different subjects at different universities, a committee led by SIU VP for Financial and Administrative Affairs Duane Stucky has developed a preliminary methodology to rebalance funding.
The framework factors in the changing enrollment balance between SIUE and SIUC and the differing costs of instruction at each campus, as SIUC, a Carnegie-classified high research doctoral university, offers more expensive, research-intensive graduate and doctoral programs than its sister school.
The methodology will be tested and refined over the next two-and-a-half years, the Board decided Thursday as administrators, including the incoming president, ensure it accurately reflects the expenses and enrollment of each campus.
Meanwhile, the board will continue a policy established in July — splitting all new state funding evenly between the two campuses — for the next two years.
A 5% increase in state funding this year from the administration of Gov. J.B. Pritzker led to about $1 million more awarded to SIU Edwardsville on the 50/50 split.
Some trustees feel the current timetable to rebalance funding is still too slow.
"We've been talking about this now for two-and-a-half, three years. I think it's time to address it," said Trustee Amy Sholar. "It doesn't promote growth. It doesn't promote fiscal responsibility."
Independent of the funding balance, SIUC's budget struggles require faster action, said Trustee Ed Curtis.
"We're going to be in a world of hurt in two-and-a-half years if we don't make some very steep cuts," he said. "You understand that your enrollment today at Carbondale is substantially less than the infrastructure that was built for this campus. Two-and-a-half years, to me, in higher education is an eternity."
Appointments, honors and departures
The Board confirmed the appointment of Meera Komarraju as SIUC's permanent Provost despite several campus groups' objections to the search process that selected her.
Generally, the university conducts national searches for positions of high rank and importance.
Instead, Chancellor John Dunn conducted an exclusively internal search, which critics called rushed and unfairly advantageous to Komarraju. Other speakers, including Board Chair Gilbert, praised Komarraju, who has served as interim provost for the last 18 months, as fully qualified for the job.
For his part, Interim President J. Kevin Dorsey plans to gradually refocus his work as Mahony takes over, he indicated.
"I'm trying to get back into teaching," said Dorsey, a former dean of the SIU School of Medicine. "We're going to be playing it by ear, I think."
And, via unanimous resolution, the board recognized Glenn Poshard with the honor of President Emeritus of SIU. Poshard is the second-longest serving president in the university's history, after Delyte Morris.