CARBONDALE — Southern Illinois University Carbondale students and their families on Wednesday descended onto campus from around the state and country for the first of five student move-in days. While the campus move-in rite of passage looks a bit different this year, students are optimistic as they start their college journeys.
Nursing runs in Trinity Moore's family — her mother is a nurse, her aunt is a nurse and her older sister is a nurse. Moore, of Chicago, said applying for SIU Carbondale's new nursing program was a no-brainer, and she was "excited" to find out she was admitted into the program's first cohort.
"I'm excited about starting hands-on with the nursing program, learning new things and materials," Moore said. "I picked SIU because I wanted to stay in-state and SIU had a really great nursing program. This was my number one school to go to — I was really excited when I got in."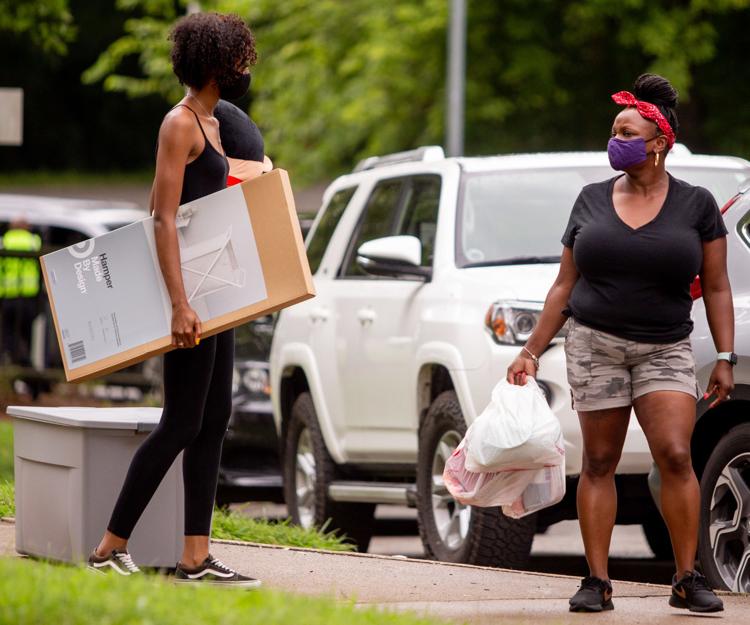 Benita Jones, Moore's mother, teared up while she said she was excited for her daughter and being able to "keep up the tradition" of nursing in their family. "This is a new experience for her, especially with the pandemic," Jones said. "I just know she's in good hands, so I'm glad she decided to stay here. She got offers from other places, but she decided to go here because it's a home away from home, you're not really far — I'm just really excited for her."
Jones said the conversation with her daughter about what she should do for college was "very tough," especially because she works as an emergency room nurse in Chicago and sees the impact of COVID-19 on a regular basis. But, she said she was relieved the university is taking precautions, and sooner than later they are "going to become a normal part of life," and eventually "second nature."
Lisa Ray, a two-time SIU graduate from Streamwood, shared similar sentiments with Jones as she prepares to help her daughter, Gabrielle Byers, move into the dorms on Thursday. Ray said there has been a "range of emotions" within her family throughout the past several months, especially when her daughter's high school experience was moved online due to the pandemic. But, she found the possibility of continuing the Saluki tradition in her family exciting.
Throughout the pandemic, Ray said she and her daughter have been living life while following safety precautions, "whether that's mask-wearing or spraying down and sanitizing the room," and as long as others take care of their personal responsibilities, she said students should be able to "still have some of those (college) experiences."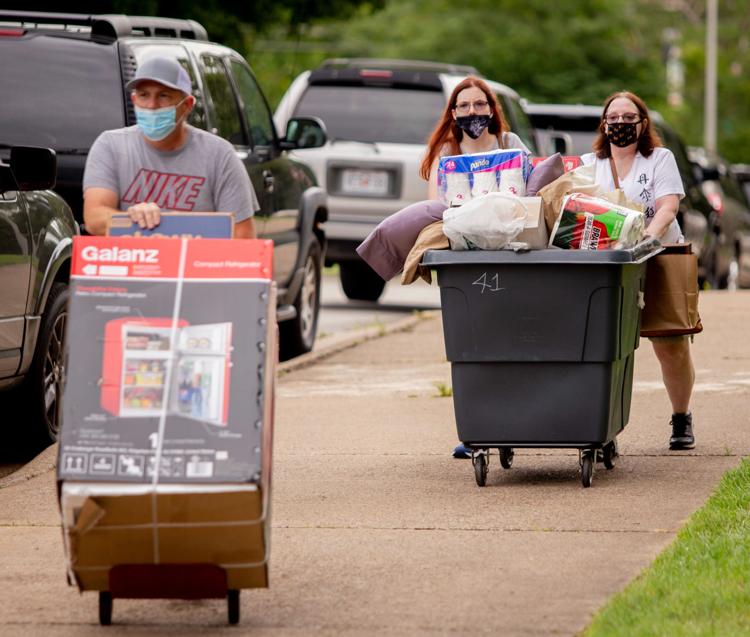 Byers said because her last semester of high school was moved online, she knew she "wanted to take the risk and have a change in scenery," and is moving to campus with the understanding that "at least I've done this; I get to start this and if they do shut it down, I'm trying to mentally prepare myself for it."
Despite any uneasiness, Ray said she feels "excited" for her daughter and knows the university will do everything it can to ensure students are safe. "I think I feel less nervous about (my daughter) going somewhere that I feel like is home," she said. "You know the campus. You know how you felt there and it all makes me feel a little relieved."
Amid rising COVID-19 numbers in Jackson County and Southern Illinois, university housing has put in protocols to attempt to mitigate the spread of the virus on campus.
In an attempt to spread families out during the move-in process, students have been assigned move-in dates and times based on where their rooms are located and how far they live from campus. New students move in on Wednesday and Thursday, while returning students living on campus move in Friday through Sunday.
Additionally, students were given the option to live in a single room this year. The university is using all residence halls on campus this year, including Thompson Point, University Hall and Mae Smith, Neely and Schneider Halls — commonly known as the "towers."
During move-in, a student and up to two family members drop off the student's belongings in designated areas located near each residence hall. People will maintain a social distance of 6 feet and wear a mask at all times until they are in the student's room with the door closed.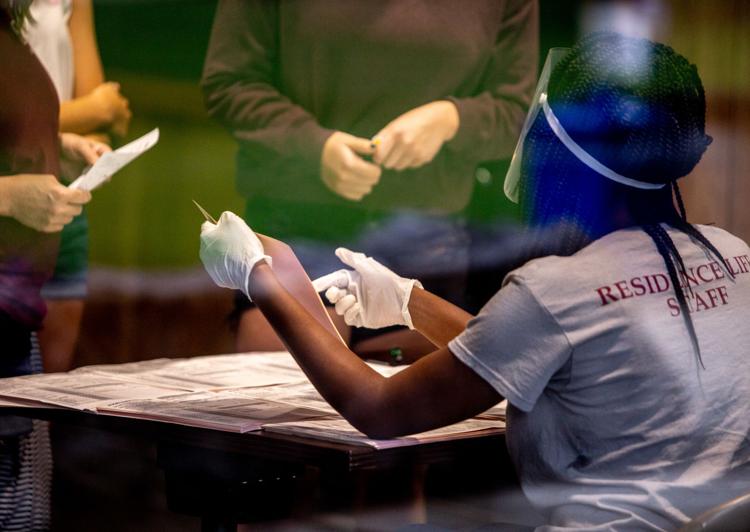 Only students will be allowed in dining halls during move-in this year for public health reasons, according to University Housing. The university is also sponsoring a variety of events for students during the annual Saluki Startup and Weeks of Welcome. Many events are modified to fit gathering restrictions, including virtual event options.
This will be a "very different, but very exciting fall semester," SIU Carbondale Chancellor Austin Lane said during an Aug. 7 virtual campus update. As COVID-19 cases rise in Jackson County, the university is taking additional caution and enforcing guidelines such as mask-wearing, social distancing and enhanced cleaning protocols, according to university officials.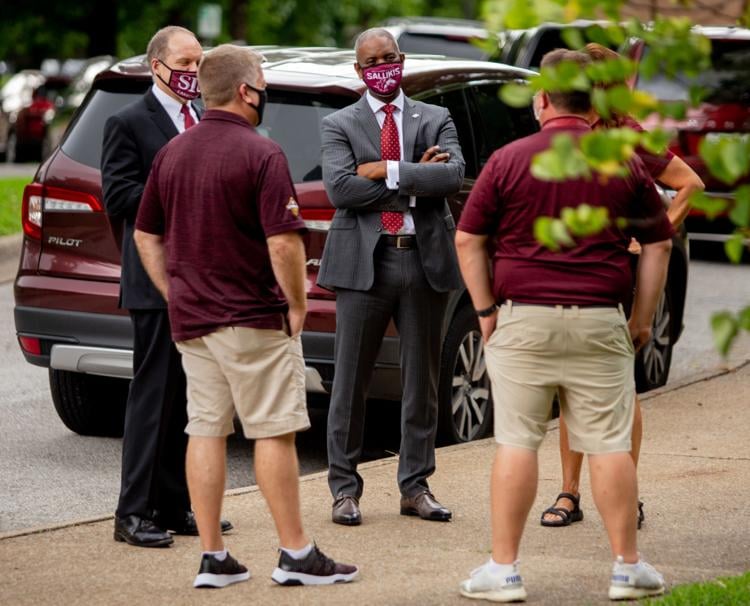 "We'll try to have some semester here in the fall that we think is going to be as successful as we make it," Lane said during the update. "We'll do it in a way that's safe. We'll do it in a way that's respectful of everyone's emotions, and, again, we'll try and beat this together."
Dan Mahony, SIU System president, said it is "exciting to have students back on campus," and while this year's move-in looks a little different, he's happy to see so many new students take an exciting first step into the college experience. "It's different. Usually I'm lugging stuff up seven flights of stairs and helping the parents with moving, but I can't do that this time," he said. "But, if this is as close to normal we can get, we'll take it."
Mahony said parents should be reassured the university will be getting messages out to students that'll be in their best interest, including how to follow COVID-19 safety measures. When assessing the pandemic situation, the system president said he thinks about it as a parent because he also has a son who is a junior in college. "I've been watching this from the community perspective and kind of always judging it on what ... I would feel safe with my own kid."
Lane is in a similar position. He has a daughter who is a college senior and a son who is a freshman. He said he and Mahony have "been through this" before and "have experience knowing what people are feeling and dealing with." In addition to the campus leaders going around residence halls and talking to parents, the university's student affairs team is out and about making it "a little easier" for some of the families and trying to ease their concerns.
"It's just an exciting time and I know it's an emotional time — parents have to say goodbye to their kiddos. They're anxious about them doing well and so I just want them to know we're here for them," Lane said. The chancellor's advice to new students is to "connect, ask questions and if you need help — go and get it." He added students should feel free to reach out by email at chancellor@siu.edu or stop by and chat at Anthony Hall if they need anything, because he and his team are "dedicated" to student success and an easy transition to college.
Masked move-in at SIU Carbondale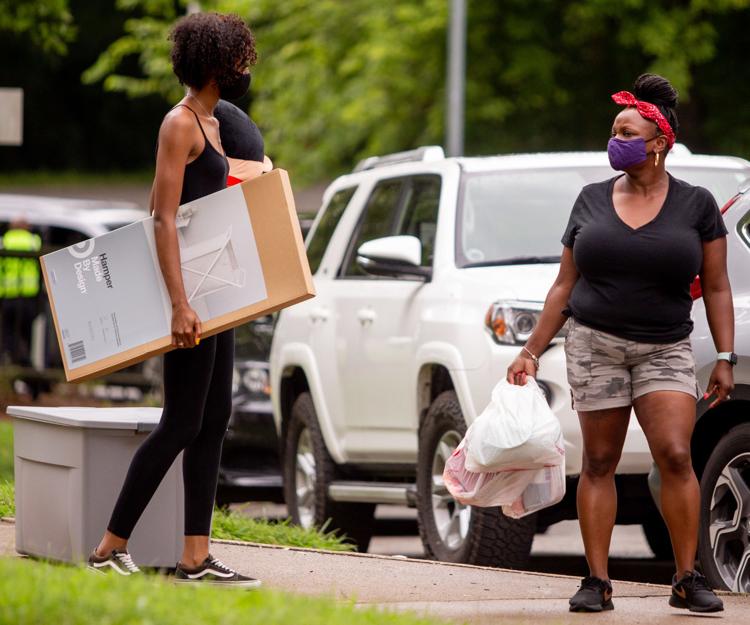 Masked move-in at SIU Carbondale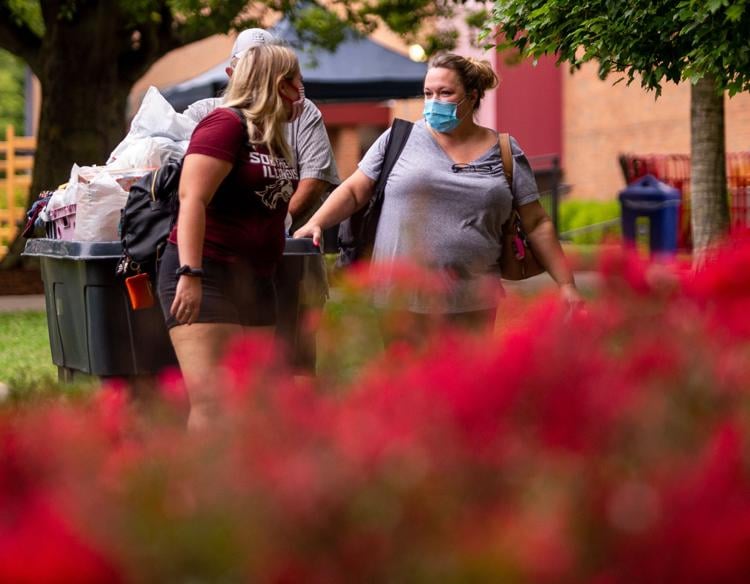 Masked move-in at SIU Carbondale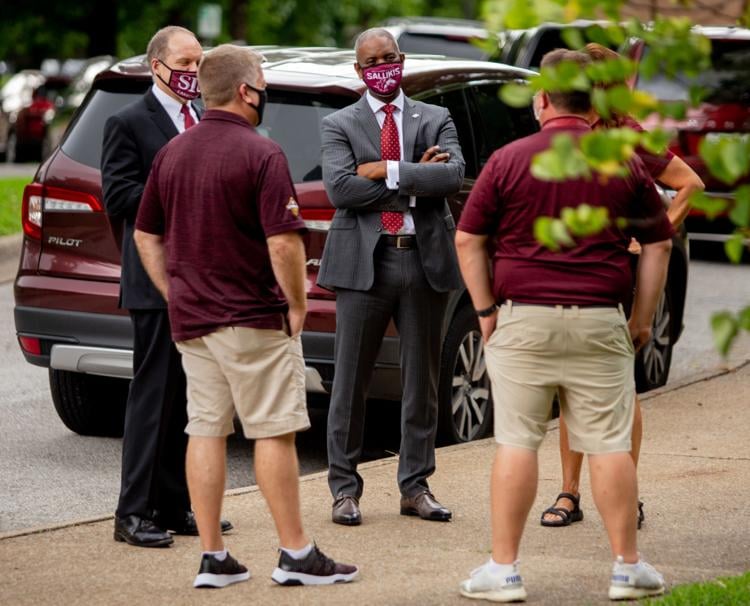 Masked move-in at SIU Carbondale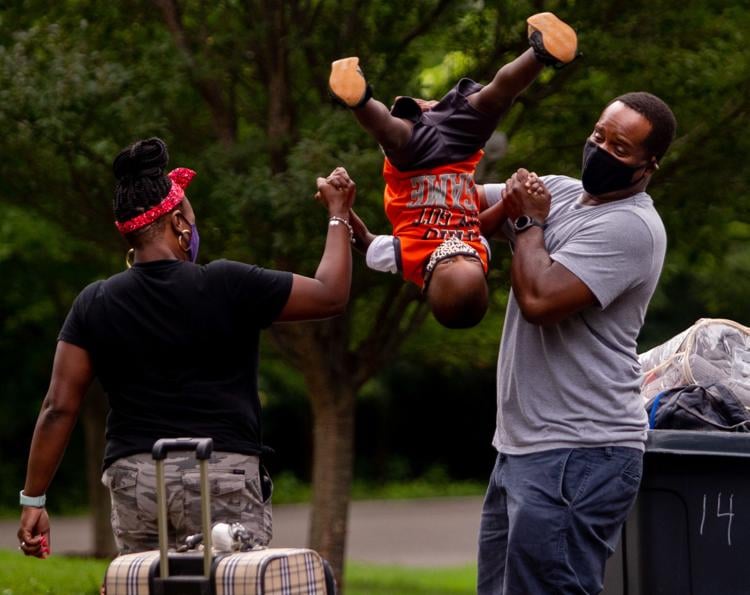 Masked move-in at SIU Carbondale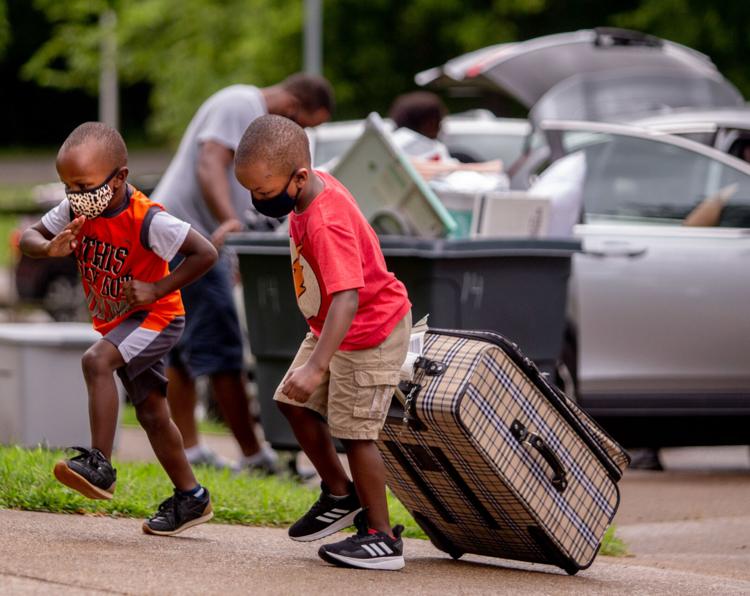 Masked move-in at SIU Carbondale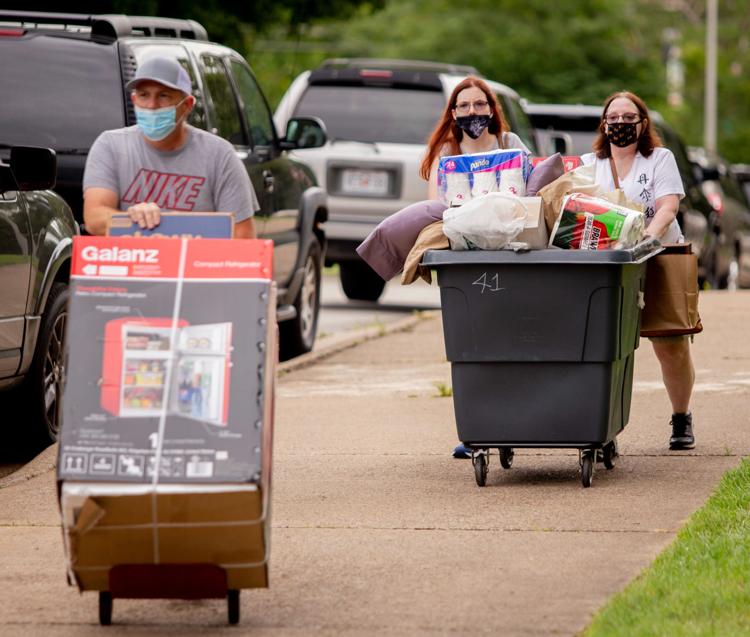 Masked move-in at SIU Carbondale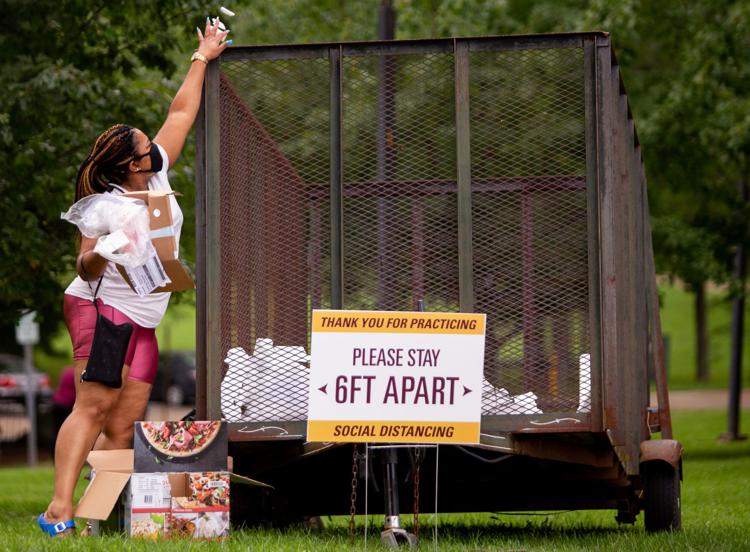 Masked move-in at SIU Carbondale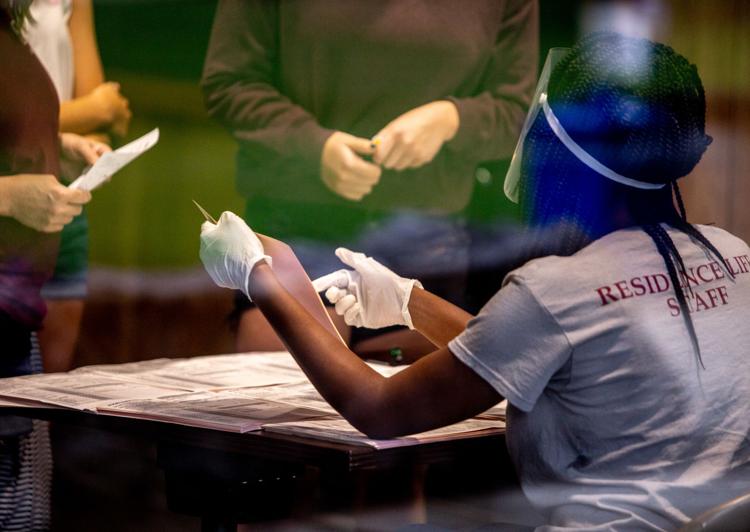 Masked move-in at SIU Carbondale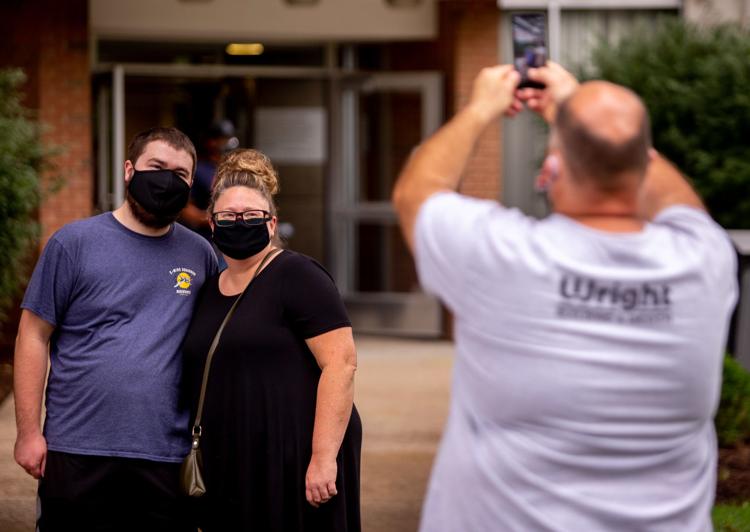 Masked move-in at SIU Carbondale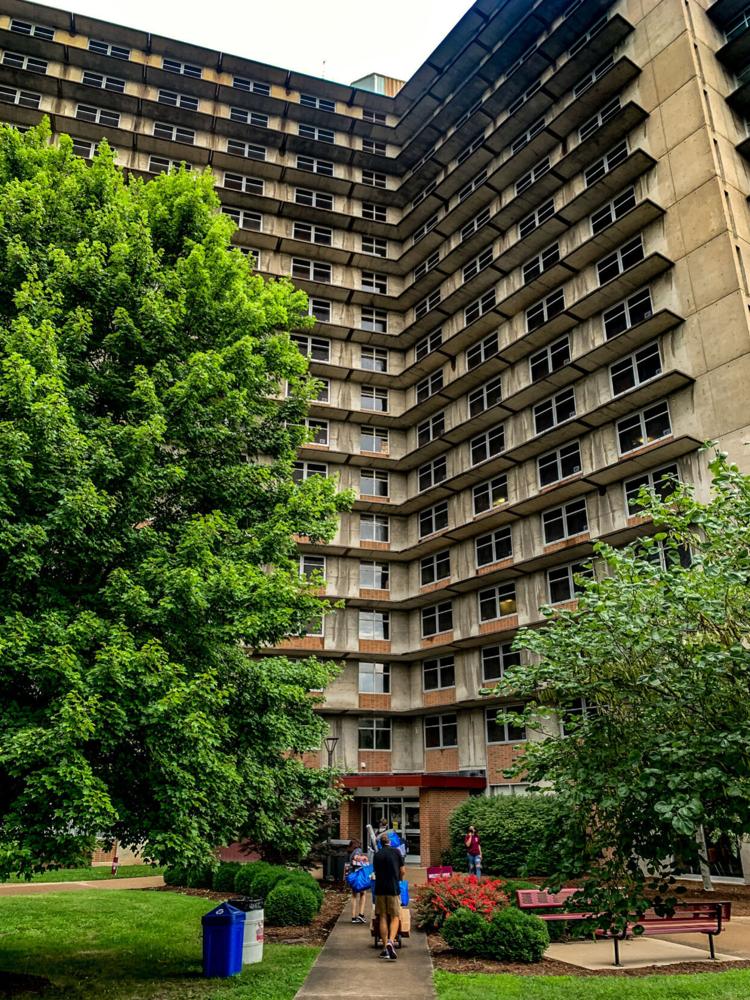 Concerned about COVID-19?
Sign up now to get the most recent coronavirus headlines and other important local and national news sent to your email inbox daily.