CARBONDALE — Georgia Doss has a spot on the north side of SIU Carbondale's Campus Lake that would make any Southern Illinois angler jealous. Last Monday evening, in just over an hour, she pulled in 11 bluegill and redear sunfish.
And that's nothing special.
"Oh Lord, I've got a whole lot of bags full in my freezer," Doss said, cleaned and ready to eat. "Yesterday I had two bags, level-full."
She catches so many fish on Campus Lake, Doss said she'll be hosting a fish fry for 150 to 200 people at a family reunion next month, in Benton Harbor, Michigan.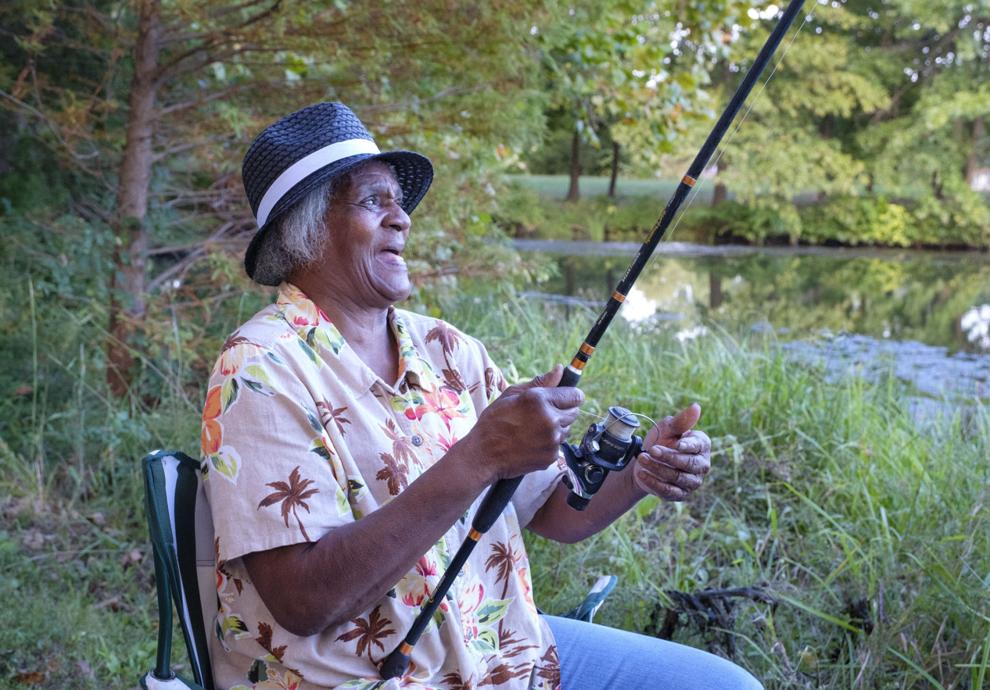 The 76-year-old has been fishing Southern Illinois waters for 16 years, but there's nowhere she likes better than SIUC's 41-acre lake.
"After my husband passed away, I didn't have nobody to go fishing with me. And people walk around this lake all the time, so some of them stop and talk to me, so I'm not alone," Doss said. "Everybody's real friendly."
But over the last several years, Doss' sweet spot wasn't so sweet.
Campus Lake was frequently closed to all recreation from 2014 to 2017 due to an overabundance of blue-green algae. The algae rob the water of oxygen, harming plants and fish, and leech toxic substances into the water that can cause skin rashes and even serious illnesses in humans.
CARBONDALE — Officials are taking steps to get people back in the water at Campus Lake.
The explosive algal growth came from an excess of nutrients in the water, created by accumulating organic material, leaves, twigs and debris, as well as the output of 23 storm sewers that empty into the lake, The Southern reported.
"The lake is receiving nutrients from this material, and the algae gets this persistent source of nutrients to grow," said Greg Whitledge, a professor at SIUC's Center for Fisheries, Aquaculture, and Aquatic Sciences. "In the winter it decays and sinks down to the lake floor, and its own nutrients are released, and the next generation of algae uses them to bloom again."
It was a "vicious, never-ending loop," Whitledge said, which left the lake unsuitable for use.
In the fall of 2016 and the spring of 2017, the university took big steps to change that.
CARBONDALE — If there's one thing cyanobacteria can't stand, it's aeration.
It spent some $450,000 to drain six to eight feet of water from the lake, and clear the trash and debris from the shoreline and the shallows. Community volunteers pitched in to collect the junk and haul it away.
Doss walked by frequently to check on the work at her favorite fishing spot. "I was walking out here, I remember they were digging up bicycles and fishing poles," Doss laughed. "I said oh well, when it opens up, I'll be waiting."
Now that the work is completed, Campus Lake is back to being Southern Illinois' best-kept-secret fishing hole, Whitledge said.
Each fall, Whitledge's fish management class conducts a fish population density survey on the lake, using electrofishing — stunning fish in certain areas of the lake with minor electric shocks, in order to collect and count them.
Based on their findings, fish populations have "recovered on their own," since the drainage and cleanup, Whitledge said, as his students saw the same abundance of largemouth bass, bluegill, redear sunfish and crappie that existed prior to the lake cleanup.
Within the last month, the Illinois Department of Natural Resources also stocked the lake with channel catfish, locally raised at Little Grassy Fish Hatchery, Whitledge said, which are the only species replenished by stocking.
Patient (or lucky) fishermen might also hook a yellow bullhead catfish, a warmouth sunfish, a longear sunfish, or one of the few giant grass carp remaining in the lake, a species stocked there years ago to eat away some of the lake's aquatic vegetation, Whitledge said.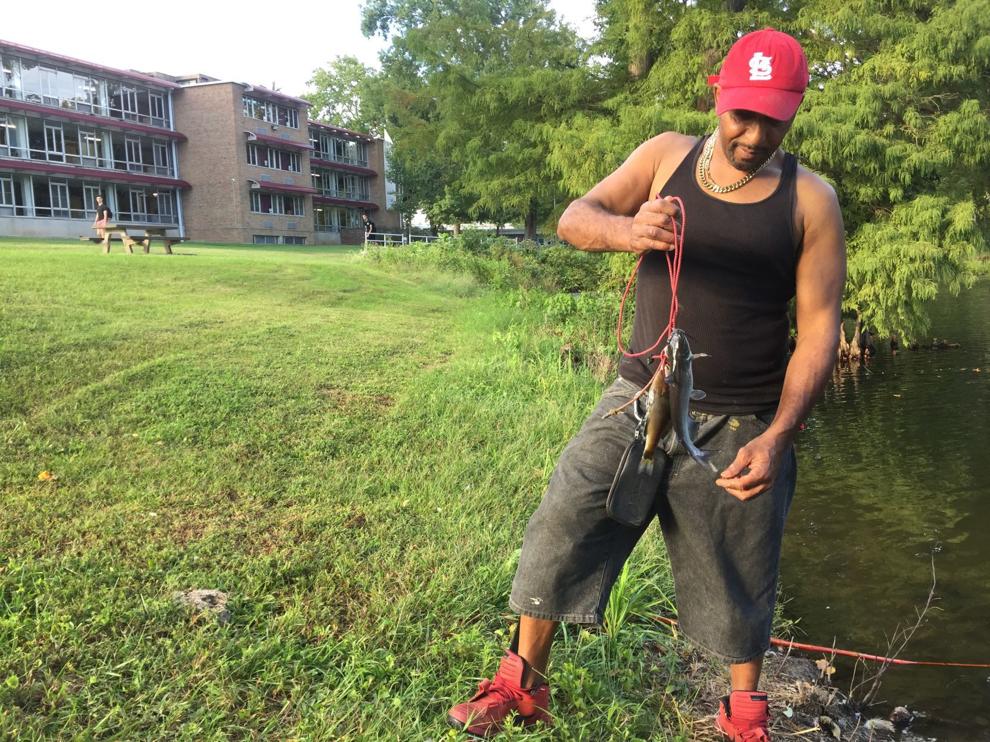 Before the algae problems, Georgia Doss hooked a 63-pound grass carp in the lake, her biggest ever.
"It took me 45 minutes to get him out," Doss said. "I gave everybody some fish that wanted some, in the whole neighborhood."
Besides Carbondale community members like Doss, some students are taking advantage of Campus Lake's comeback.
Eventually, the solar-powered fountain will be part of a larger array that will serve as an obstacle course for paddle-boarders and kayakers.
"I remember looking at it and seeing a mudhole," said Cohen Carter, a senior automotive technology major. "But it's been a thriving ecosystem since they've filled it back up."
Since Campus Lake refilled, Carter has gotten serious about fishing, becoming the vice president of the Saluki Bassers, SIUC's bass fishing club and competition team.
In the spring, Carter said he regularly caught 5 to 10 bass in a few hours on the lake, ranging from 2 to 3 pounds.
"Last semester I'd see two to three kids out every weeknight fishing," Carter said.
This semester, Doss hasn't seen many students. But she hopes the news coverage will bring a few more out, to sit and chat with her.
And she doesn't even mind if that means people find out about her favorite spot.
"I've got another spot," she laughed. "Right over there. And another, and another."