An Ohio board that licenses and oversees medical professionals plans to consider disciplinary action against Dr. Ted Grace, now a Southern Illinois University official, based on allegations that he failed to report student complaints that a doctor under his watch sexually assaulted them at Ohio State University in the 1990s.
The State Medical Board of Ohio notified Grace in a letter on Wednesday that it intends to determine whether to limit, revoke or suspend his medical license, or otherwise reprimand Grace, stemming from his oversight of the late Richard Strauss.
Strauss, who died by suicide in 2005, has since been exposed as a serial predator who used his position of trust within the health clinic and as the physician for sports teams to sexually abuse dozens of students under the guise of providing medical care during his tenure at the university, which spanned from 1978 to 1998.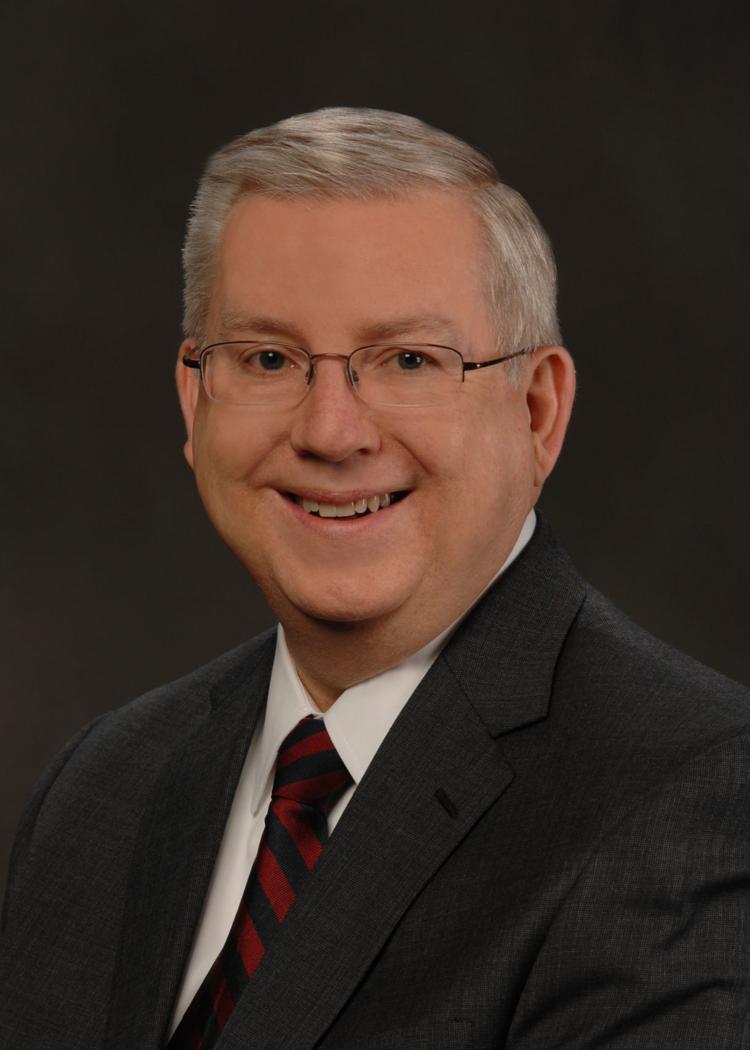 Grace's attorney told The Southern that he intends to defend himself against any adverse action the board may seek against his medical license in Ohio. Grace has the right to request a hearing on the matter within 30 days and has already notified the board of his demand for a hearing, said Shari Rhode, of the Rhode Law Firm in Carbondale.
Grace, who has been the director of Student Health Services at SIU since 2008, is also a licensed physician in Illinois. Any adverse action taken against his license in Ohio could affect his medical license standing in this state.
Rhode said that Grace provided information concerning Strauss to the Ohio medical board nearly 25 years ago — and said it was the board that failed to take any action. She said the board appears to be attempting to make Grace a scapegoat for its own failures.
An independent investigation conducted on behalf of Ohio State, released in May 2019, found Strauss had abused at least 177 male patients whom he was charged with treating at the university. Numerous trainers, coaches, athletic directors and senior administration officials have also faced scrutiny for failing to report or take timely action to stop Strauss' abusive behavior despite knowledge or suspicion of it.
His inappropriate touching during exams was a topic of frequent conversations, especially in the athletics department, reflected in commonly used nicknames for Strauss that included "Dr. Jelly Paws," "Dr. Soft Hands" and "Dr. Cough," according to a recently unsealed federal complaint.
There have been mounting calls for accountability. Last August, Ohio Gov. Mike DeWine directed the State Medical Board of Ohio to investigate any Ohio physicians who ignored evidence about Strauss. The governor's office said that a working group appointed to look into the matter found an "astounding failure of anyone in a position of authority at the university to initiate a medical board or criminal investigation into Strauss' conduct."
Grace, in his then-role as director of Student Health Services, supervised Strauss' part-time work treating students at Ohio State's Student Health Center between August 1992 and January 1996. Grace did not oversee Strauss' medical services to athletics.
The medical board claims that Grace became aware of an initial student complaint against Strauss in January 1995 "in which a male OSU student alleged that Dr. Strauss had performed an inappropriately long and invasive exam of his genital area."
The medical board claimed Grace made a false statement to a student who was sexually abused by Strauss a few days later, that same month, when he told the student that his complaint was the first Grace had received about Strauss.
The board wrote, based on statements Grace made in a recent deposition for the board, that while he verbally warned Strauss in 1995 concerning his conduct, he did not notify the oversight entity about Strauss' conduct as he should have done. Ohio law mandates that any physician who suspects another of misconduct must report it to the State Medical Board of Ohio.
In January 1996, Grace suspended Strauss from providing clinical treatment to students at the university after becoming aware of a third student complaint of his sexual assault in a year. But the Ohio medical board alleges that Grace, once again, did not report Strauss.
Stephen Snyder-Hill, one of the former students who filed complaints against Strauss, said that the medical board's decision to consider disciplinary action against Grace is "one step towards validation" for the survivors.
While he was a student at Ohio State, Snyder-Hill went to see Strauss about a lump on his chest. During his exam, he received unneeded testicular and digital-penetration rectal exams, and was asked about his sexual desires and sexual orientation. Strauss also pressed his erect penis against him, according to Ohio State's independent investigation by the law firm Perkins Coie. In the report, Snyder-Hill is not identified by name; he has since self-identified as "Student B" and publicly spoken out about the abuse he endured.
Snyder-Hill complained to Student Health Services the next day, then met with Grace, Strauss and Louise Douce, then Ohio State's Director of Counseling, shortly after. To Grace, the meeting was the best available way to resolve an unwitnessed incident.
"It was one person's word against the other person's," Grace told The Southern in a September 2019 interview. "I brought in the head of counseling to interview patient and doctor together and see if they could work out, 'Was there any way this could've been within the realm of a normal exam?'"
Grace later wrote that he relied on Douce's assessment of the situation, and she was "90 percent sure" that Strauss was not guilty of misconduct, though was "incredibly insensitive" in his approach.
Sensing his complaint had been stonewalled, Snyder-Hill agreed to drop it if Grace promised him it was the only complaint he had ever received against Strauss, and upon assurance that Grace would keep his complaint on file in case another student were to come forward with a similar concern. Grace responded to Snyder-Hill in a letter that said, in part: "I want to assure you that we never received a complaint about Dr. Strauss before, although we have had several positive comments."
Snyder-Hill's complaint against Strauss is also referenced in the medical board's letter to Grace this week and the medical board said Grace falsely made the claim there have not been previous issues with Strauss. The medical board said in its letter that a student had made a similar complaint a few days prior.
"(Grace) lied to me and continues to lie. Now, I don't want him to do that to anybody else and that is exactly why I'm doing what I'm doing — it's not to hurt him," Snyder-Hill said. "I don't really know him personally and I don't wish harm on anybody but I absolutely care about the kids in Illinois."
Rhode, Grace's lawyer, said her client did not lie. She said that the initial complaint was taken by a colleague of Grace's, and he believed that the complaint had been the first when he wrote the letter to the student. Grace later became aware that it was not the first complaint, but there's no record indicating that Grace made this known to Snyder-Hill.
The medical board did eventually learn of Strauss' misconduct from Grace, albeit indirectly.
After Strauss had his clinical privileges withdrawn in 1996, Strauss filed a complaint to the State Medical Board of Ohio against Grace, claiming Grace had falsified a student medical record. The incident was related to the third student who complained about Strauss' sexual assault. 
During an investigation into that complaint, Grace informed the medical board about the previous complaints of sexual assault he had received about Strauss, Rhode said. The board found the complaint that Strauss made against Grace was without merit. But it did not take further action on the allegations about Strauss' pattern of sexual abuse that came to light in the investigation, Rhode said.
"They had the information. And whether they want to say they got it from Dr. Grace directly or if it came from Dr. Grace after Dr. Strauss made a complaint — which they found to not have any basis — they had it in the 1990s and they did nothing," she said. "So how is it that now Dr. Grace is responsible for not taking more action than he did."
Grace did not return an email and phone call to his office on Wednesday, and his lawyer said she was asked to speak on his behalf. In an interview with The Southern last September, Grace said he was one of the few administrators who took action to shield students from Strauss. Rumors had persisted about him for years, well before Grace arrived at Ohio State.
"I don't think they even bothered to put any of it in writing," Grace told The Southern at the time. "I was documenting every detail, which now can be scrutinized to say I did something wrong. But I'm the only one who did anything at all."
Former Interim Chancellor John Dunn, who left the university on June 30, previously noted to The Southern that Grace had not been charged with any wrongdoing, and said the university had no concerns regarding his performance at SIU. Chancellor Austin Lane, who assumed his role last week, has not been briefed yet on the matter, said SIU spokeswoman Rae Goldsmith.
Goldsmith stressed that the Ohio medical board had not taken any final action on Grace's license. "Regardless," she said, "the university cannot discuss personnel matters due to employee privacy." She said that an active medical license is not a requirement for the administrative position he presently holds overseeing student health services.
Snyder-Hill said if SIU Carbondale doesn't take caution with Grace's situation they are "lining themselves up to do the same that OSU did."
"They have to be concerned because what we're saying is one of their employees used horrible misjudgment, lied and got away with it for all these years," Snyder-Hill said.
Over 350 men alleging misconduct by Strauss have sued Ohio State. University officials have acknowledged the school's failure to stop Strauss, have publicly apologized to those harmed and have agreed to pay nearly $41 million to settle claims with 162 of the men. Over 70 cases are still active within the courts, including Snyder-Hill's.
618-351-5079
On Twitter: @MollyParkerSI ​
Be the first to know
Get local news delivered to your inbox!