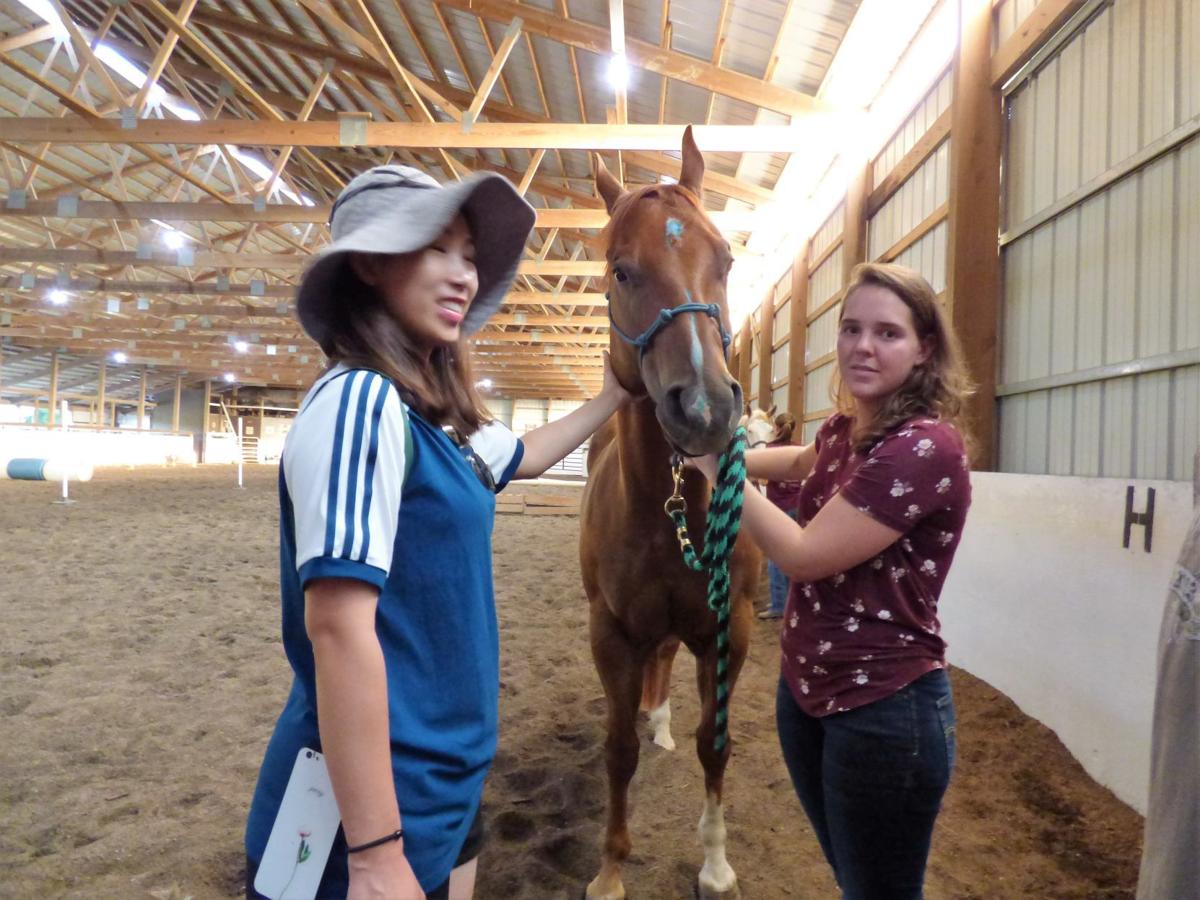 CARBONDALE — Joyce, a student from Northeast Normal University in Changchun, China, had never been around horses, at least not until Tuesday evening. Joyce was with a group of Chinese students from the university visiting Autumn Ridge Acres in rural Carbondale for a rodeo demonstration, music and stargazing.
"It is beautiful here," Joyce said, apologizing for her lack of English skills. "I have had a really good time here."
She has seen lakes and many green areas during her visit to SIU and Carbondale, but she has enjoyed more than the scenery.
"The people here are so welcoming," Joyce added.
According to Yi Lee, international partnership coordinator in the Center for International Education at SIU, Northeast Normal University has partnered with SIU since 1983 to introduce their students to continuing studies at SIU.
During the weeklong summer camp at SIU, students were introduced to the SIU campus and programs, toured natural areas in Southern Illinois and visited with members of Carbondale Chamber of Commerce.
Lee and Chang said the overall goal is to increase the number of international students at SIU. To come to the U.S., they are required to take a very strict English language exam.
"These students bring a lot to SIU other than tuition," Lee said.
You have free articles remaining.
International students add to the diversity of people and cultures in Carbondale. They also give Southern Illinois residents a chance to learn about those cultures.
Chang said marketing an American university in China is very difficult.
"In China, they have one search engine, Baidu, and they don't see us at SIU," he said. "We have to go in and seek people to join the program."
"We want them to come as students and to stay and pursue a graduate degree," Lee said.
The men praised members of Carbondale Chamber of Commerce and thanked them for their sponsorship of the summer camp, including Executive Director Jennifer Olson, First Mid Illinois Bank and Trust, Blend Tea and Crepe, Giant City Lodge, Quatro's, Regions Bank and the Saluki Pride Committee of the chamber.
Jeff and Gina Hill, owners of Autumn Ridge Acres, enjoyed having the Chinese students at the stable and introducing them to horses and stargazing. Gina Hill explained that stars sometimes are not visible in the students' home cities because of pollution. Many of them would see stars for the first time that evening.
The students also were treated to music by Zach Modglin, winner of Southern Illinois Opry and Kentucky Opry music contests.
Jolene Falat, branch manager at First Mid Illinois Bank and Trust, said they have a lot of international students who use the bank.
Falat calls Carbondale and SIU a special place. She said Jess Sayer, who works at the bank and lives at Autumn Ridge Acres, was instrumental in planning the evening's festivities.
"We want to do everything to help SIU grow," Falat said. "It's all about showcasing what we have to offer."
"Anything that can help this town and SIU, we would love to do that," Chang said.