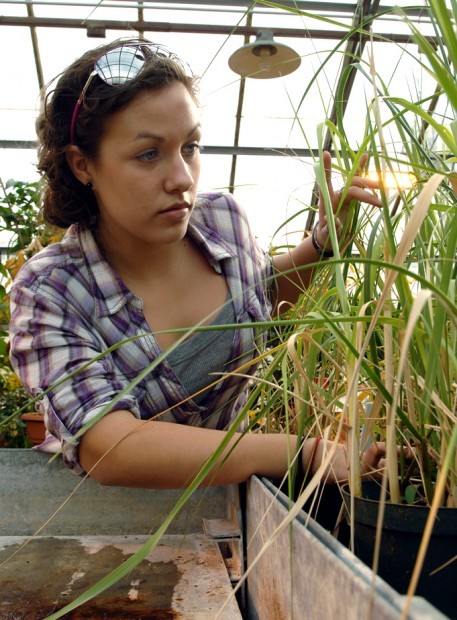 Prairie restoration projects have helped to re-establish ecological diversity in Illinois, a state that at one time claimed more than 22 million acres of prairie, and now holds only about 2,000 acres of original prairieland.
Kimberly Elsenbroek, a Saluki Scholars Research student from Kingston majoring in plant biology with a minor in geography and environmental resources, realized the importance of understanding which prairie grasses would thrive in these restoration areas despite anticipated climate change. She undertook a research project, using three source populations of the tallgrass prairie plant known as Indiangrass (Sorghastrum nutans), to determine which ecotype would fare best in different precipitation models. An ecotype in this case is a population of Indiangrass that has adapted to its specific environment, and has some physical differences from other Indiangrasses in other environments.
Elsenbroek, working with Sara Baer, a plant biologist at SIUC, selected varieties of Indiangrass from three sources - Illinois, and two sources in Kansas. She also created a fourth group using a combination of the three grasses.
She divided the grasses into groups, with pots of plants in each group containing samples of each of her three individual Indiangrass types and her mixed treatment.
Over a 12-week period, she varied the precipitation levels for each group to mimic some of the different precipitation patterns that may occur with predictable climate change scenarios. She measured plant height five times throughout this experiment, and plants were watered every four days.
"We know the climate is changing, and we can predict some of those changes," she said. "It is difficult to predict precipitation patterns for the Midwest."
To determine how well the grasses were faring, Elsenbroek measured their photosynthesis rates. She also measured the below-ground plant productivity (the root system) and the above-ground plant (its leaves, stem and flower heads) to determine nutrient use efficiency.
Elsenbroek found that photosynthesis varied by source population regardless of watering treatment. Productivity measurements, however, did vary by watering treatment. Elsenbroek used three forms of standard productivity measurements. She found that the watering treatments affected the productivity measurements, but not in the way she expected.
"Overall, production did not increase with an increase in water supply, as predicted," she said. "It seemed that ecotypes adapted to lower precipitation rates and invested more energy in their roots, but the ecotypes adapted to higher rates of precipitation and invested more energy in their above-ground biomass."
Most interestingly, she said, the mixed ecotype she created showed no variation in productivity despite the different watering treatments.
"These results suggest that combining ecotypes of a dominant grass may stabilize productivity under a wider range of precipitation regime," Elsenbroek concluded, noting, though, that she believes more field tests using more mixed ecosystems should be conducted in order to predict how a whole ecosystem might respond to climate change and variable precipitation.
Elsenbroek presented her findings at the Annual Meeting of the Ecological Society of America last year.
Baer said Elsenbroek should be a model for undergraduates at SIUC because of her willingness to get involved in research and to interact with her teachers. She noted that Elsenbroek came to her wanting experience, and that helped to distinguish her from other non-majors in a large lecture class.
"I believe the opportunity to interact with faculty and graduate students transforms a large university environment into a personal experience," she said.
"Being engaged in research is the ultimate form of hands-on learning that enhances education in ways that can't be achieved in a classroom setting. Interacting with research-active faculty exposes undergraduates to a very important mission of our University, which is to generate new knowledge, in addition to disseminating existing knowledge through teaching."
Baer said she knows firsthand, from her own undergraduate experience, that engaging in research early in a student's college career helps students discover and open doors for their own futures.
She said Elsenbroek's research has given her firsthand experience with the scientific approach, including acquiring, analyzing, interpreting and disseminating knowledge.
She noted that Elsenbroek has been involved with several research projects and other campus service activities.
As a Research Rookie, Elsenbrok conducted an energy audit in Faner Hall to determine how often lights are on in that building during times when natural light provides sufficient illumination. Her goal was to find ways to reduce unnecessary artificial lighting both as a way to save money and also to waste less energy.
She currently holds a REACH assistantship, for which she restored prairie habitat near Giant City School in Carbondale, and created a teaching model for first and second graders using the restoration as an outdoor laboratory.
She is student representative on the Carbondale Sustainability Commission, and the SIUC Green Fund committee.
Be the first to know
Get local news delivered to your inbox!