Who's the cat who's getting an honorary degree from his alma mater?
Actually, it's actor Richard Roundtree, who played the iconic character in the early 1970s film franchise. He is receiving a Doctorate of Performing Arts during the 5:30 p.m. commencement exercises Saturday for SIU's College of Mass Communication and Media Arts.
Roundtree sat down with Novotny Lawrence, associate professor of race, media and popular culture in the Radio, Television and Digital Media Department at SIU, for a conversation about SIU, acting, health, advocacy and, of course, "Shaft."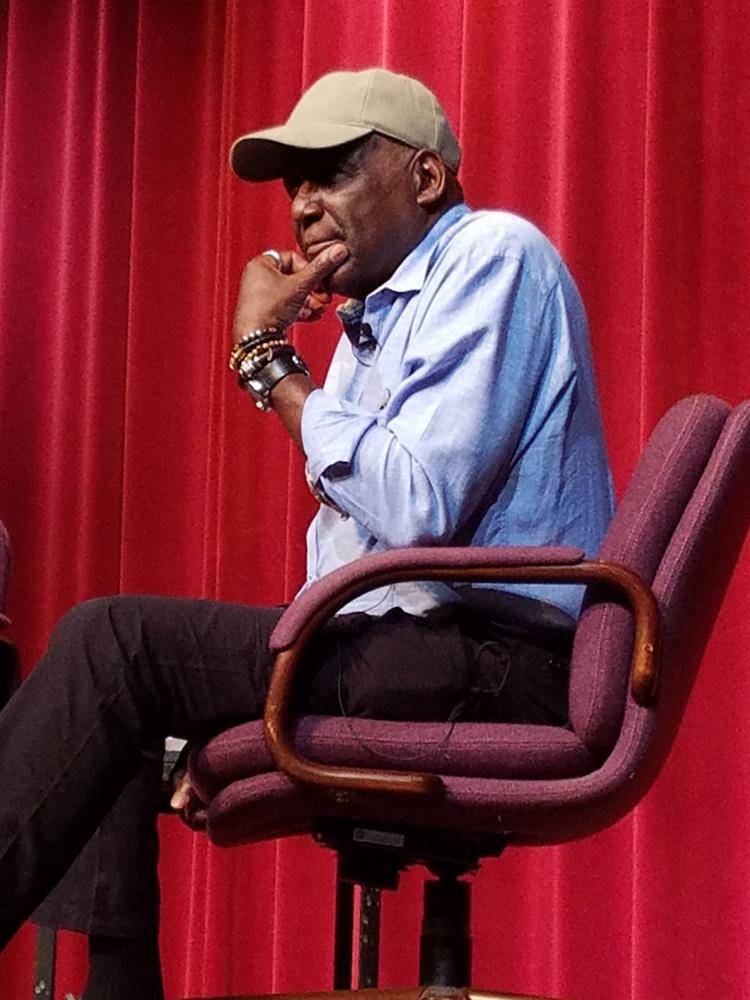 Roundtree came to SIU in 1961 because he knew a track athlete and football player who attended SIU. He says he was fortunate to walk-on to the Saluki football team and get a scholarship. His goal was to be a professional football player. His "awakening" to a new career came the day he got a concussion.
"This is a very addicting drug," Roundtree said while clapping.
Roundtree first experienced the applause of a crowd on the football field in high school, then in college. After being hit hard enough to get a concussion, he began to think of other ways to earn applause. That became leaving college to model for Ebony Fashion Fair in 1963.
At the end of the tour, the models were invited to a party at Bill Cosby's home.
"I owe a big part of my transition to Bill Cosby," Roundtree said. "He told me to go back to New York and learn my craft."
He followed that advice and joined Negro Ensemble Company. He called being around professional actors a great learning experience.
"I happened to go to an audition for an obscure film that the great MGM was doing called 'Shaft.' The rest is history," Roundtree said.
When he went to a callback audition in front of director Gordon Parks, Parks showed him a tear sheet of an ad Roundtree was in and said they were looking for someone like that. He got the job. The movie was a huge success and spawned two sequels in the 1970s and another in 2000.
He took his mother, sister and grandmother to the opening of "Shaft." Later his grandmother asked him if that was how he planned to make a living, suggesting he go back to school. He wishes she were alive to see him receive his doctorate from SIU.
Lawrence asked about the term "blaxploitation," which is often used to describe "Shaft" and other movies of the 1970s.
"My dissatisfaction for that term comes from knowing Mr. Parks," Roundtree said.
Parks was the first African-American to direct a Hollywood film. About 10 years ago, Roundtree realized he was playing Parks in "Shaft."
You have free articles remaining.
"After describing things to me, the way he moves is Shaft," Roundtree said.
Lawrence also asked how much longer we can expect to see Roundtree on television or in movies.
"The writers' strike of the 1980s was the worst period in my career," Roundtree said. "I need to work. I don't even know what it is to sit around."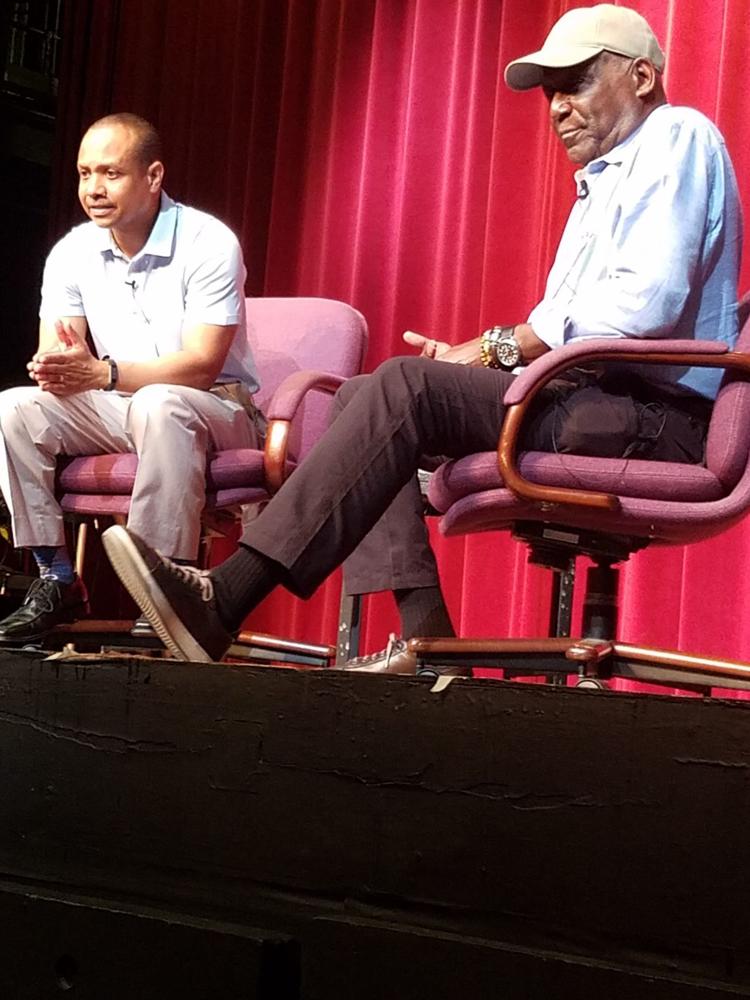 He called "Roots" "the most gratifying family feeling" of any film. He said everyone knew what that was about and came together to do it.
He added that the scene where his character is whipped had to be done, but he only gave them one take. He said George Hamilton still apologizes for that scene.
He is most proud of his role in "Once Upon a Time When We Were Colored," the first thing his dad saw that he had done.
Roundtree also talked about surviving breast cancer. He found a lump while working in Costa Rica, and saw his physician as soon as he returned home. After a procedure to remove the cancer and six months of chemotherapy, he was finally diagnosed as cancer-free.
"Breast cancer is not gender specific, and a large percentage of the population is not aware of that," Roundtree said.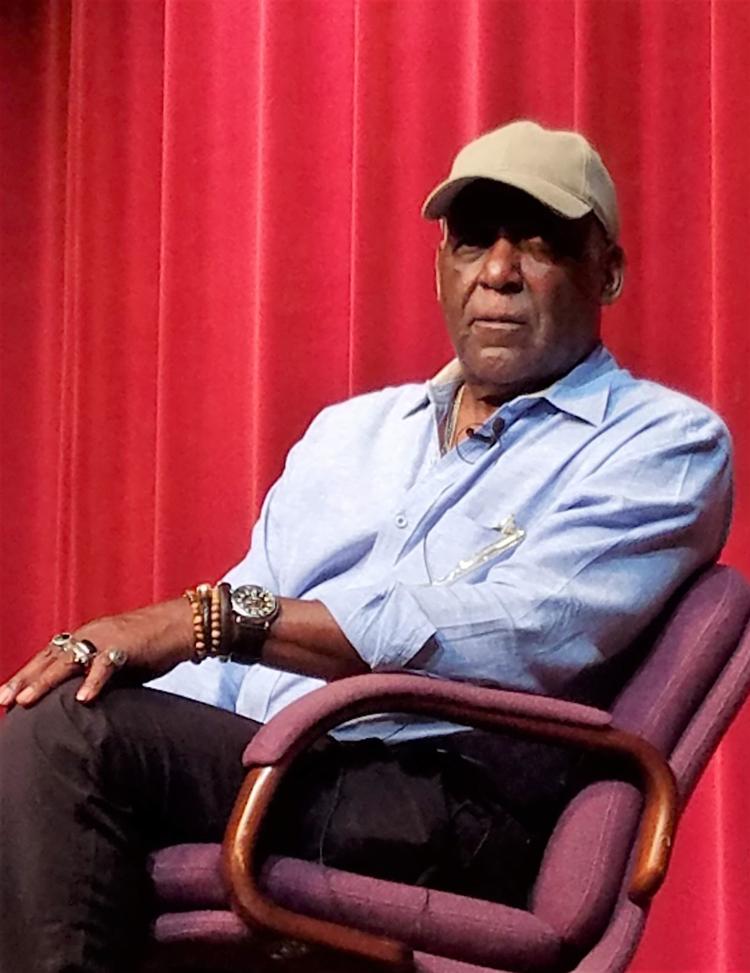 His favorite memory of Carbondale?
"We used to frequent a place called Junior's," Roundtree said.
Roundtree was too young to get into Junior's, so he asked to borrow the ID of teammate Amos Bullocks, who was a running back and went on to play professional football.
Roundtree gave the ID to the guy at the door. He looked at it.
"He said, 'If you've got big enough balls to come in here with Amos' ID, come on in,' Roundtree said.
He advised new graduates to realize what they have accomplished so far, to be inquisitive, to let no one dictate their choices and to stay on track. He added that there are a lot more distractions than when he was coming along.
"I've had an incredibly fortunate career and worked with incredibly talented and gifted actors," Roundtree said.