CARBONDALE — Last week, a guest opinion column about Southern Illinois University President Randy Dunn's handling of a funding reallocation proposal made waves in the SIU Carbondale community, provoking a public outcry and spurring calls for Dunn's resignation from Illinois lawmakers. Now it has inspired a T-shirt.
In an April 4 internal email — included in the opinion piece by SIUC faculty member Kathleen Chwalisz, published in The Southern Illinoisan last Thursday — Dunn wrote that he was using certain funding distribution figures "simply to shut up the bitchers from Carbondale" who opposed the $5.1 million reallocation from SIU Carbondale to SIU Edwardsville.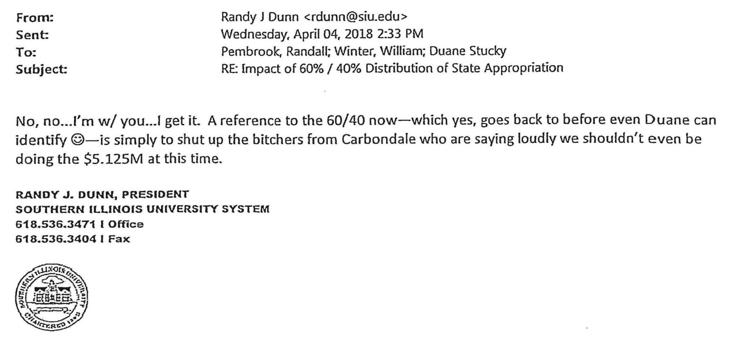 Jason Wonnell, a lecturer in SIUC's School of Art and Design, designed "Carbondale Bitchers" shirts after reading Chwalisz's editorial. He said a friend pointed out that the phrase sounded like a sports team.
"It's just my natural reaction when I get called a name, is to own it. So I figured it sounded like a perfect team that we all could join," Wonnell said.
Wonnell said the shirts have been popular so far, and that he's even had a few customers from Edwardsville. He made an initial run of 100 and is planning a second batch.
An earlier version of this story incorrectly stated that the T-shirts would be available at Pinch Penny in Carbondale.