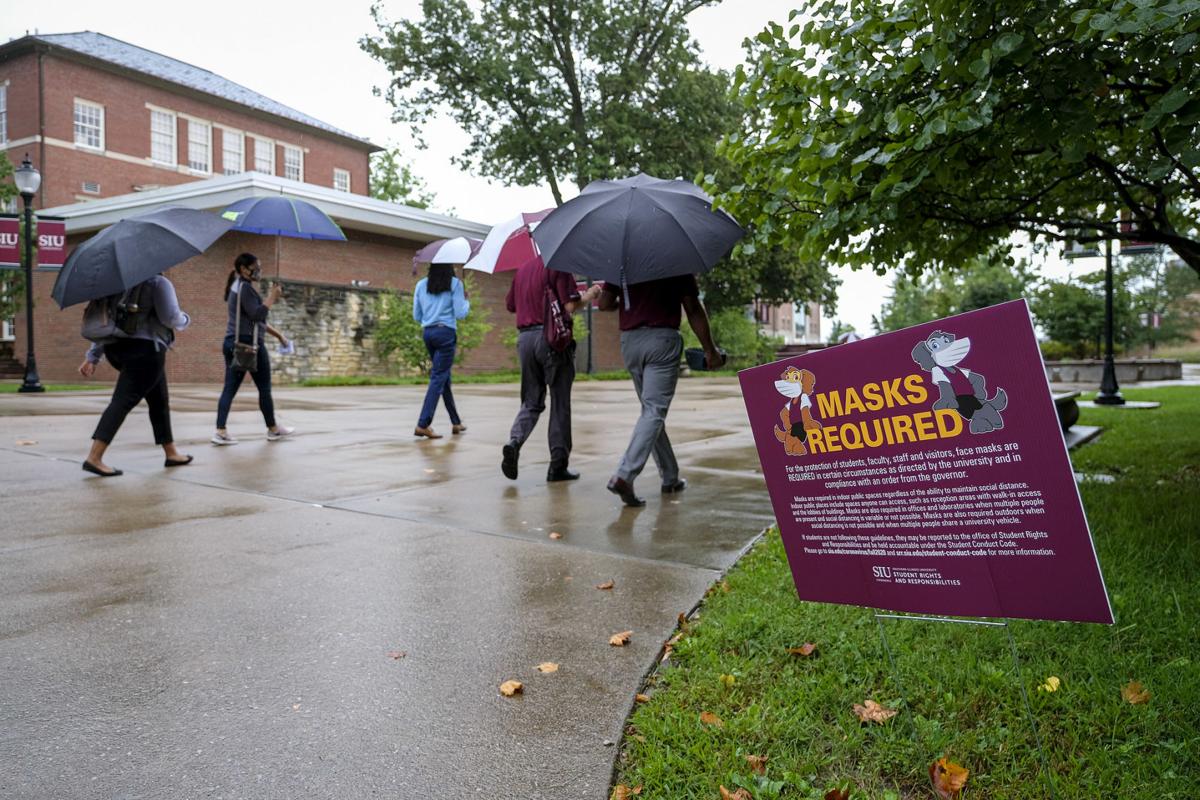 CARBONDALE — Beginning Monday, Southern Illinois Healthcare will offer twice-weekly COVID-19 testing on the Southern Illinois University campus.
Any student, faculty member or employee will be able to receive a test, at no cost, and for any reason, according to a joint news release issued Thursday by the Jackson County Health Department, SIU and SIH.
The expansion of on-campus testing is made possible by a $2.8 million grant that the Jackson County Health Department received from the Illinois Department of Public Health, funded by the federal government in response to the pandemic.
"The partnership with SIH and the Jackson County Health Department has been critically important to the safety of the campus community since the onset of the pandemic," SIU Carbondale Chancellor Austin Lane said in a statement Thursday afternoon. "The availability of on-site testing for all students, faculty and staff is one more example."
SIU releases a count of active COVID-19 cases affiliated with faculty, staff and students living in Jackson County once weekly. On Wednesday, SIU reported 57 cases, consisting of 1 faculty member, nine on-campus students and 47 off-campus students. That was up from 31 the week prior, though some of the cases may be counted twice if the individuals had yet to be released from quarantine. SIU notes that these numbers may not be all-inclusive, because the university does not receive reports from other health departments for people who live in surrounding counties, and disclosure of affiliation with SIU is optional.
SIU's Student Health Center offers testing to symptomatic students, but not those who are asymptomatic. Any member of the public, including SIU students, have the option of utilizing one of SIH's drive-thru testing sites in Marion or Carbondale. But lines are often long and some students expressed confusion early on about whether they could leave campus while quarantined due to exposure to get a test.
With SIH setting up a mobile testing unit on campus, anyone affiliated with the university will be able to receive a test regardless of whether they are symptomatic. Students with symptoms should continue to call the Student Health Center, said SIU spokeswoman Rae Goldsmith. For others wanting a test, there will be a specific number for them to call to set up an appointment. Goldsmith said those details will be released Friday on SIU's website. 
Though the move makes testing more widely available on campus, it will remain voluntary, regardless of symptoms, unlike at the University of Illinois where students are required to submit to a twice-weekly saliva test. The less invasive test was developed on the U of I campus, and Gov. J.B. Prtizker said this week that there are efforts afoot to make it available to other Illinois universities. 
Bart Hagston, the health department's administrator, said the grant application was developed with input from SIH and SIU and submitted this summer. "The health department saw the university and SIH as logical partners in efforts to expand testing and tracing," said Hagston.
"SIH was already positioned as a regional leader in conducting COVID-19 testing, but was looking for ways to increase efficiency and volume. The university wanted to make testing more widely available to faculty, staff and students," he said. Hagston recently told The Southern that increasing on-campus testing will allow officials to more quickly identify people who are COVID-19 positive, isolate them and quarantine their close contacts. It will also provide officials a better picture of the degree of spread on campus, and allow them to take additional mitigation measures if necessary.  
SIH will receive $567,000 from the grant, which it will use to expand its testing capabilities, including at off-site locations. Some of the funding will be used to cover testing costs for individuals who are uninsured, according to the joint news release. Additional funds will go to support the purchase of lab and testing equipment that will expand in-house testing and decrease the turnaround time for results.
To date, SIH has conducted nearly 33,000 COVID-19 tests, increasing from 500 a week at the start of the pandemic to 2,700 now, according to SIH Chief Medical Officer Dr. Marci Moore-Connelley.
SIU will receive $149,000 from the grant to purchase equipment and supplies that will allow medical staff to get on-site test results for symptomatic students who visit the Student Health Center for tests. Currently, swabs taken on campus are sent to SIH for a final diagnosis. SIU also plans to use its share of funding to hire a nurse who will help coordinate testing on campus, and to purchase quarantine kits for students and additional COVID-19 signage.
COVID-19 numbers in Southern Illinois
| County | Total cases | Deaths | Recovered |
| --- | --- | --- | --- |
| Alexander | 105 | 1 | 63 |
| Franklin | 877 | 7 | 502 |
| Gallatin | 118 | 2 | 75 |
| Hamilton | 117 | 2 | 101 |
| Hardin | 47 | 0 | 38 |
| Jackson | 1442 | 25 | 1322 |
| Jefferson | 897 | 41 | 765 |
| Johnson | 349 | 0 | 201 |
| Massac | 140 | 2 | 83 |
| Perry | 413 | 16 | 358 |
| Pope | 32 | 1 | 19 |
| Pulaski | 221 | 1 | 179 |
| Randolph | 1187 | 15 | 1061 |
| Saline | 527 | 9 | 326 |
| Union | 725 | 21 | 465 |
| Williamson | 1752 | 59 | 1136 |
| White | 256 | 1 | 179 |
| | | | |
618-351-5079
On Twitter: @MollyParkerSI ​
Concerned about COVID-19?
Sign up now to get the most recent coronavirus headlines and other important local and national news sent to your email inbox daily.