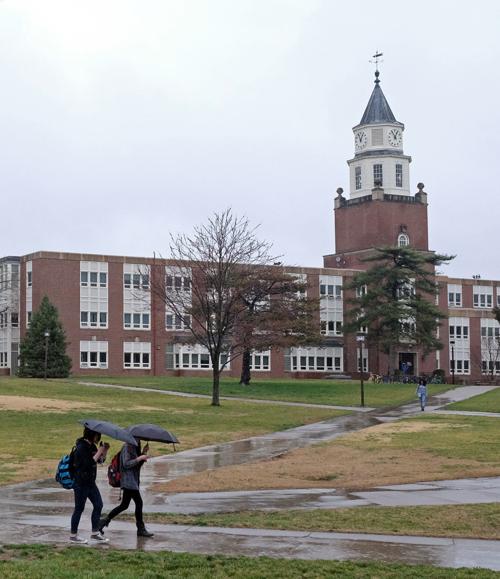 CARBONDALE — Chancellor Carlo Montemagno's signature plan to transform Southern Illinois University Carbondale hasn't advanced much since he died in October.
It remains a controversial, less-than-half finished plan to repackage the courses already offered at SIUC under new schools and colleges with new names, like the School of Mathematical and Statistical Science, and the College of Social Sciences, Humanities, Media, and Arts.
The hope is that moving faculty around will spur them to collaborate in new ways, with colleagues from disciplines they may have never even considered. They'll do research together, administrators say, and create new classes and programs focused on fast-evolving industries like cybersecurity.
Most importantly, Montemagno believed, a fresh look could help SIUC market itself as distinctive, relevant and cutting-edge. Schools around the country have made similar moves, administrators say, when faced with declining enrollment, and SIUC had long contemplated this kind of action.
For current students, little will change. That was Montemagno's promise, and it has been echoed by Interim Provost Meera Komarraju, who leads the reorganization, as well as by SIU Interim President J. Kevin Dorsey.
Degree programs won't disappear. No professors will be let go. Tenure won't be affected.
But as SIUC prepares to abolish the structure of academic departments that dictates a scholar's supervisors, their resources and how they plan their courses, some are not buying what Montemagno was hired to envision.
"There's a deep feeling that something needs to change," said professor David Johnson, who represents a union of tenure-track and tenured faculty at SIUC. "But the people who are in charge now seem to be stuck with the idea that we're going to continue with this plan that, frankly, was in trouble before Montemagno passed away."
Montemagno and his team modified the plan repeatedly with no apparent end goal, Johnson says, and never proved that the reorganization would save SIUC money, increase enrollment or create new collaborations.
CARBONDALE — Seventy-five percent of faculty members voted to delay Southern Illinois University Carbondale Chancellor Carlo Montemagno's acad…
"One of the central contradictions in the argument for this plan is: On the one hand we're going to completely transform the university, but on the other hand, students don't have to worry because we're not changing academic programs at all," Johnson said. "You can't have it both ways."
Those doubts helped turn a seemingly innocuous vote at Thursday's board of trustees meeting into a public debate between students, faculty and administrators over the reorganization and the future of SIUC.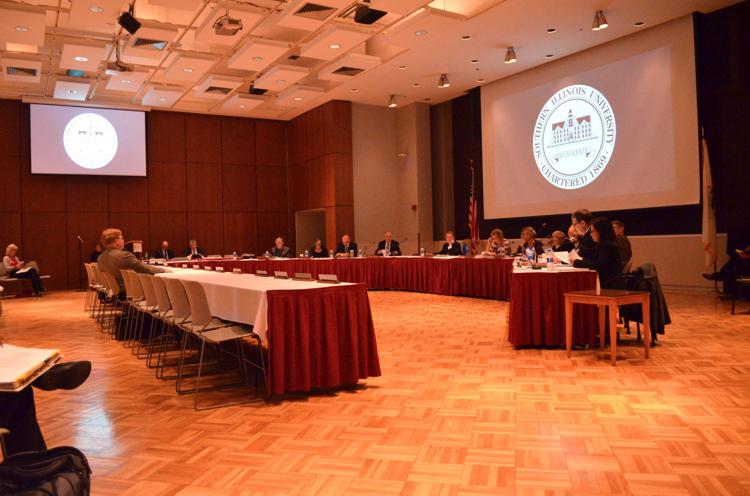 To SIU administrators, Thursday's vote was procedural, and will help get the ball rolling again. It allows the Board of Trustees to declare support for the restructure and begin working with the Illinois Board of Higher Education to start finalizing some of the new schools. It also allows Dorsey, instead of the board, to approve more new schools as their details are worked out.
"The president does this all the time," explained SIU spokeswoman Rae Goldsmith, when the university makes less ambitious modifications of departments or degree programs.
But to some, the vote was a move to centralize power, which will hamper future debate on the reorganization by allowing one man to advance it, rather than requiring consensus from the nine-member board.
Ultimately, one fact underlies all this doubt and anxiety: If they so choose, administrators can override faculty and restructure SIUC as they see fit. Professors are relying on the administration to accept feedback from the SIUC Faculty Senate, and other representative bodies. But that is not mandatory.
"With the current and future administrations, we have opportunities to build up trust that has been lacking for a long time," said professor Wesley Calvert, chair of the SIUC Graduate Council, which represents faculty who are active in research and graduate education. "I ask you to be careful of the wording of the final resolution which you may choose to act on."
Administrators did in fact modify the resolution before approving it. Dorsey will still get the power to unilaterally approve restructuring measures and take them to the IBHE.
However, Dorsey formally committed to be accountable to students and faculty in all changes. He promised to only approve measures that create new opportunities for students and faculty, make the best use of SIUC's resources, spotlight SIUC's academic programs for recruitment, and enhance SIUC as a research institution.
You have free articles remaining.
Although some faculty worry Montemagno and his team had a reorganization-at-all-costs mentality, there have been several more reasons to expect cooperation, positivity and good faith.
So far, all eight schools that are deemed finished by the administration have also been approved by the faculty bodies that considered them.
In some cases, that involved give and take.
"I was not thrilled with the first draft of the reorganization structure, but I found the process worked as we were told it would," said Dr. Sandra Collins of SIUC's School of Allied Health. "Our voices were heard."
Members of Collins' school objected to plans to move some faculty to the College of Business, explained Dave DiLalla, SIUC's associate provost for academic administration.
"They brought data, they brought their arguments, and eventually Chancellor Montemagno said, 'You convinced me. I was wrong on this.'"
Now the school is set to merge with SIUC's Rehabilitation Institute to form the School of Health Sciences.
"We have already had meetings with future colleagues and the possibility of future collaboration, and the excitement that comes with it, is palpable," Collins told the board of trustees.
Still, reorganization proponents and skeptics agree the most difficult decisions are yet to come.
"Half of the schools approved so far are basically old departments with new names," Johnson said. "Most of the things that haven't been approved yet are very controversial."
Meanwhile, Johnson said, "You've got department chairs who are given one-semester contracts at a time, and they're told their department may cease to exist."
With no definite calendar for the reorganization, "How are they supposed to engage in any kind of long-term planning?" Johnson asked.
Johnson, whose union represents approximately 500 faculty, said some departments in the current College of Liberal Arts may be on course to butt heads with administrators.
"In that college, the overwhelming majority of faculty believe that discipline-based departments are the right way to organize things," Johnson said. They'd prefer that each department budget, plan and design courses separately, rather than be grouped into one catch-all school, under the same leader.
But granting that request would require the SIUC administration to forget its goal of moving all faculty into bigger, broader schools, which it believes are necessary to create real efficiencies and to develop new programs.
Reorganization leader Komarraju said while schools are strongly preferred, the administration is open to dialogue about keeping some departments.
"I have confidence that with discussion we will find a way," Komarraju said. "Let's talk."
By the end, there may be some intractable issues, DiLalla acknowledged, where the university "may have to make some very tough choices."
And there's lots of work still to do. Five schools have been rejected by faculty, and are being modified. Eight more schools, representing more than one-third of the proposed SIUC restructure, have not been finalized by administrators more than a year after this process began.
Still, DiLalla, Komarraju, and the overwhelming majority of the faculty who spoke at Thursday's board of trustees meeting believe in the process.
"To me, there is far more proof that the new structure can work than that it won't," said Collins, of the School of Allied Health. "I believe that the best is yet to come for our school and our college."
With new SIU Interim Chancellor John Dunn set to assume his role on Jan. 1, administrators hope for quick progress on the plan.
"When you actually talk to people, and get past the fears, the anxieties and the doubts, then you can start talking about things that really matter," Komarraju said.