CARBONDALE — At a standing-room-only work session Wednesday, Southern Illinois University Carbondale's new chancellor presented his controversial academic reorganization plan to the SIU Board of Trustees, eliciting an apparent mix of skepticism and support.
In the Student Center's jam-packed Mississippi Room, SIUC Chancellor Carlo Montemagno argued that his plan to eliminate the university's 42 departments will allow for more interdisciplinary work and elevate the status of the university.
CARBONDALE — Southern Illinois University Carbondale Chancellor Carlo Montemagno rolled out the second draft of his academic restructuring pla…
Montemagno pointed to the precipitous decline in SIUC's enrollment and said next year's freshman enrollment is projected to sink below 1,000 students.
"Things aren't getting better. And it's quite scary," he said. "You'll hear a lot of discussion about how we need to discuss this more, how changes are happening too fast, how they're ill-conceived. What I want to point you to is some work that's been done in this university for a very, very long time."
Citing university committee reports from 2012 and 2013 that also recommended reorganization to eliminate redundancies in programming, Montemagno disputed the notion that "this is some quick, harebrained scheme that's being rammed down the throat when in fact it's been studied for at least seven years."
The chancellor sketched out the structure of the proposed reorganization, which would trim the university's eight academic colleges down to five. Those colleges would contain 15 schools, which would house programs.
Proposed new programs include: cybersecurity, bioinformatics, natural language processing, ecology, neurosciences, biochemistry and molecular biology, forensics, chemical and biochemical engineering, material science, robotics and automation, gerontology and rural health, landscape architecture, and fisheries and wildlife management.
He highlighted his new criteria for the university's core curriculum, which would include communication skills, cultural competency, multidisciplinary foundation, leadership skills and emotional intelligence.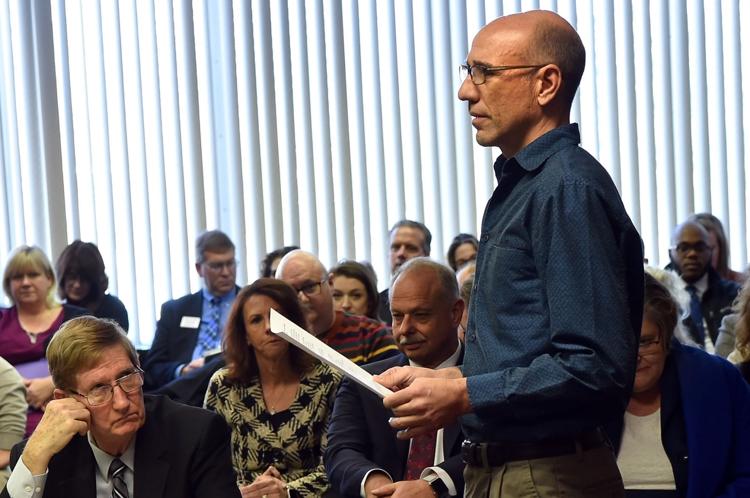 He said his staff is working to improve student life by bringing major concerts back to the university and expanding activities for students.
"The soul of the SIU experience was removed over the past five or six years. You talk to any alumni, they'll tell you the place is not the same as it was before," Montemagno said.
A key element of Montemagno's plan is the elimination of department chairs, which he contends would save about $2.3 million in administrative costs.
Trustee Shirley Portwood was critical of the plan. She pushed back against the idea that senior faculty members with teaching duties would accept the responsibility of leading programs without being compensated as department chairs. Montemagno said faculty members would serve in those roles because "they're part of the community."
CARBONDALE — A key sticking point in Southern Illinois University Carbondale Chancellor Carlo Montemagno's newly unveiled plans for the univer…
"I see a lot of theoretical language. I don't see much evidence of how it's going to work and be successful," Portwood said.
You have free articles remaining.
When Student Trustee Sam Beard said that Faculty Association, the Graduate and Professional Student Council, the Undergraduate Student Council had all passed resolutions opposing the unilateral elimination of departments, Montemagno said the FA and GPSC were not unanimous in their disapproval. He said the restructuring would not impact students.
CARBONDALE — The Southern Illinois University Carbondale Faculty Senate on Tuesday approved a resolution opposing the elimination of the unive…
Board chair Randal Thomas said it would take some time to review the hefty documents pertaining to the plan.
"This is our really first read, and we have our homework to do," Thomas said.
"I have a real concern about SIU moving forward with an organizational structure that is totally different from any university in the country. … There's no evidence that it's the structure of the university that's the problem," Portwood said, prompting applause from the audience.
Trustee Joel Sambursky said he respectfully disagreed.
"We don't have evidence that suggests what we're currently doing is working, and we studied these challenges for many years, and we as a board made a decision to enact change, to pursue change," Sambursky said.
The chancellor hopes to implement the changes July 1, 2018.
Tuition hikes
Also at Wednesday's meeting, Judy Marshall, SIU's executive director of finance, proposed a 2 percent tuition hike for undergraduate students for the next academic year and an 8.5 percent increase for graduate students and School of Law students.
Marshall presented several scenarios for tuition increases and said her office recommended the 2 percent hike for domestic undergraduates, about a $200 increase per academic year for a student who takes 30 credit hours. She said that percentage is just below the current inflation rate and would cover expected increases in operating costs "while maintaining affordability for a Carnegie-ranked research university."
Marshall noted that holding tuition flat does not necessarily have a positive bump on enrollment.
"During the last eight academic years, we've actually had two years where we did not increase tuition at all. The impact on enrollment of no increase was not actually positive or predictable," Marshall said.
She proposed an 8.5 percent increase for graduate students, both in-state and non-residents, and for in-state students attending the School of Law. The non-Illinois resident tuition rate for the School of Law will be 1.5 times the in-state rate. 
Marshall said she was not recommending any increase in undergraduates' mandatory fees, except for the optional student health insurance, which is purchased through an outside vendor.
Committee meetings will begin at 9 a.m. Thursday, followed by the board's regularly scheduled meeting.