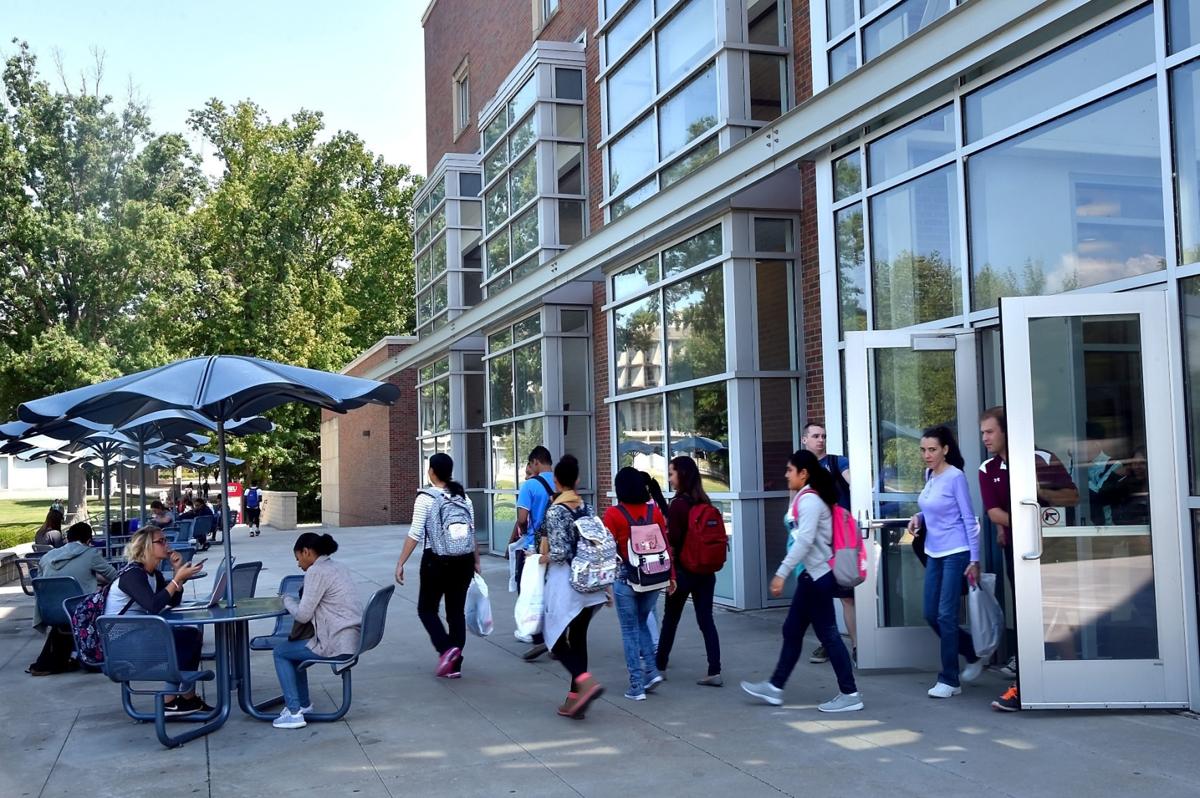 CARBONDALE — "I'm glad to say I can stand here and share some good news with you for a change," said Interim Provost Meera Komarraju Dec. 4 as she updated the Southern Illinois University Board of Trustees on SIU Carbondale's efforts to stem two decades of enrollment decline.
About one-third of the way through the 2020 recruitment cycle, SIUC has received 27.3% more freshman applications than it had at this point last year, and has admitted 2,663 students to date, an increase of 467, or 21.3%, over last year.
Transfer student applications are up by similar factors, university data shows.
Whether those improvements yield enrollment growth will not be known until the fall. But Komarraju described a campus that is energized to see hard work pay off.
"When we see a direct relationship between effort and outcome, it makes us feel that maybe we are on to something," Komarraju said.
Steps to address SIUC's recruitment shortcomings have created measurable results, Komarraju said.
The addition of a new recruiter in St. Louis in late September has helped boost St. Louis-area applications by 10%, and Missouri statewide applications by 4% compared to last year.
The addition of a recruiter in Chicago has yielded similar gains, and the university is interviewing candidates to add yet another recruiter there.
The creation of new campus visit programs has brought more prospective students to Carbondale. The university's Fall 2019 SIU Day, a campus-wide open house for high schools within a two-hour radius of Carbondale, was its biggest yet, drawing about 900 students.
Between that and growth in other open house events, campus visits are up 20.68% over last fall, Komarraju said.
After a market research survey indicated SIUC needed to increase its outreach to high school guidance counselors, the university scheduled luncheons in St. Louis and Chicago where counselors can meet university staff and learn about the institution.
Fifty-three attendees have signed up for the Dec. 5 luncheon in the Chicago area, so far, Komarraju said, and 10 are currently signed up for the St. Louis-area event, a week later.
The university is also piloting the Counselor Choice Scholarship, available to 108 schools in Southern Illinois. All local high school counselors may nominate up to five students for the $1,500-dollar award.
"This is getting high school counselors excited about and invested in SIU and recommending their students that they think would do well," Komarraju said.
You have free articles remaining.
More improvements are forthcoming. The university is still refining a chatbot that will help prospective students find the web pages or people that can answer their questions about admission to SIUC.
A web portal that will help prospective transfer students learn about and apply to SIUC should be up and running by March 2020, and the university will debut an SIU Day event for transfer students in the spring.
The university is also working to boost its yield rate, Komarraju said, the percentage of admitted students who choose SIUC over other schools. Past yield rates have hovered between 20% and 30%, Komarraju said.
"It's amazing how supportive our faculty, staff and students are. They are signing up to make phone calls," Komarraju said, and "writing to every single admitted student to encourage them to attend."
Students reached in that effort last year were 8% more likely to enroll at SIUC, Komarraju said.
But that gain did not prevent SIUC from losing students this year.
After total enrollment declines of 7.5%, 9.8%, and 13.6% in each of the last three years, enrollment fell 8.75% this year, to 11,695 students, the university announced in September.
New student enrollment fell 8.47% to 1,037 this year — a less severe decline than in the four years prior, when freshman enrollment fell about 17% per year.
Now, university leaders are hopeful they're seeing the first signs of a turnaround.
"One of the key areas the governor and the legislature want to see is, 'What are we doing to increase enrollment in a measurable form on each campus in the state of Illinois?'" said Ed Hightower, vice-chair of the SIU Board of Trustees. "We are doing the kinds of things now that make it very clear that we're not just talking the talk, but rather, we're walking the walk."
"It cannot be lost that we now have a governor and legislature that is concentrating on education," added Board Chair Phil Gilbert. "I think they see it as one of the critical elements to stem the tide of the exodus from Illinois."
SIU Edwardsville has also posted large recruitment gains so far this cycle, according to Provost Denise Cobb.
Freshman applications are up 34% over last year, with particular growth in the Chicago area, and admitted students are up 36%. SIUE has seen significant growth across diverse ethnic groups, including an 83% rise in Hispanic student admissions.
However, Cobb cautioned, improved application numbers are no guarantee of growth.
"The two campus stories in combination really suggest a positive trajectory for the system," Cobb said. "But I think one of the things we've learned is that having an increase in Freshman applications alone is insufficient to grow enrollment. You have to move from application, to admitted student, to yielding them on first day of classes and then keeping them after that ... and moving them to graduation. We are cautiously optimistic."
Komarraju did not provide data on 2020 graduate student applications at SIUC. That data will be available soon, she said.