CARBONDALE — In 1994 and 1995, the Alumni Association of Southern Illinois University Carbondale raised $35,000 to repair and beautify the clock tower of Pulliam Hall, campus' iconic building.
On Thursday, a new generation of alumni leaders gathered in front of Pulliam to break ground on the Alumni Association's latest major gift to the university: Saluki Alumni Plaza.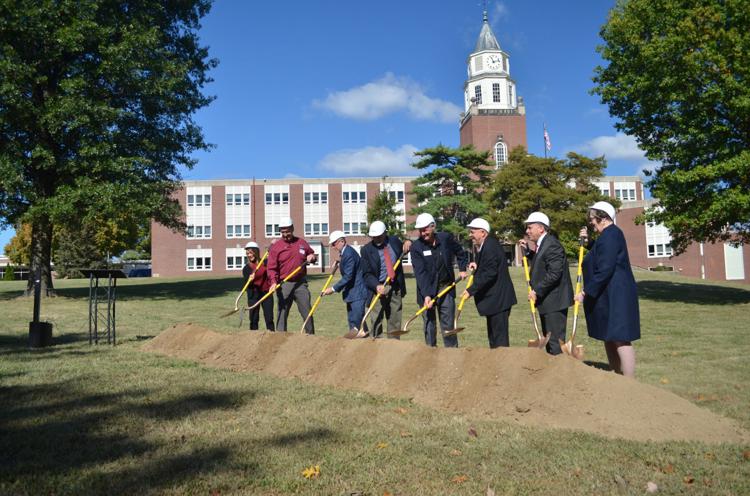 The new campus landmark, anchored by a 19-foot-long sculpture of three saluki dogs, will sit between Pulliam and Woody halls.
"When it's finished it will be a point of pride for the campus and a frequent stop for many students and visiting alumni," said Larry Mieldezis, who was president of the SIUC Alumni Association Board when the plaza was planned last year, before the death of former Chancellor Carlo Montemagno.
The project was envisioned as a birthday gift from alumni to the university, as SIUC celebrates its 150th year of operation, Mieldezis said.
The centerpiece sculpture was produced by alumnus and sculptor/metalsmith John Medwedeff and his team at Medwedeff Forge & Design Studio in Murphysboro.
Medwedeff and studio supervisor Megan Robin-Abbott spent hours with two of the university's canine mascots, poking, prodding and measuring them, he said, to create lifelike reproductions.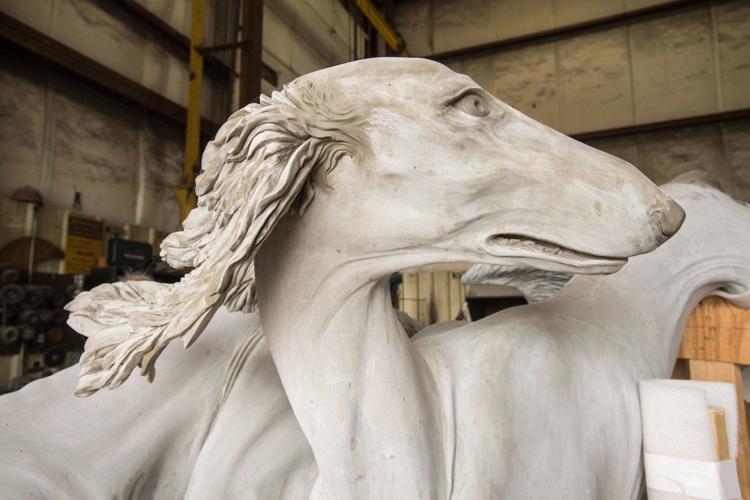 The artists used an epoxy-based clay to sculpt three dogs about 2.5 times larger than life, captured running, mid-stride. The dogs, which are currently being cast in bronze at a foundry in Ohio, represent the past, present and future students of the university, said Alumni Association Board President Rick Wysocki.
"I hope it becomes a gathering place for students to snap selfies, for returning alumni to take pictures with their families and a peaceful place for everyone to meet on campus," Wysocki said. "The Alumni Association board has already contributed a portion of the funding required for this project and more money has come in thanks to the generosity of hundreds of other alumni."
So far, the university and the Alumni Association have raised $188,000 toward the $322,000 project. Fundraising efforts continue, Wysocki said, led by the association's national board of directors.
Amid the Homecoming festivities this weekend, the university will also be inaugurating a new Alumni Center within Woody Hall, featuring a business center and alumni library, both open to the public, plus offices for staff of the Alumni Association.
"We're beyond thrilled to finally give alumni a home on campus with the Alumni Center," said Kathy Dillard, interim executive director of the association. "This space is a testament to the dedication and love alumni feel for this university."
The Saluki Plaza project is projected to be completed by March, according to SIU Media Services.