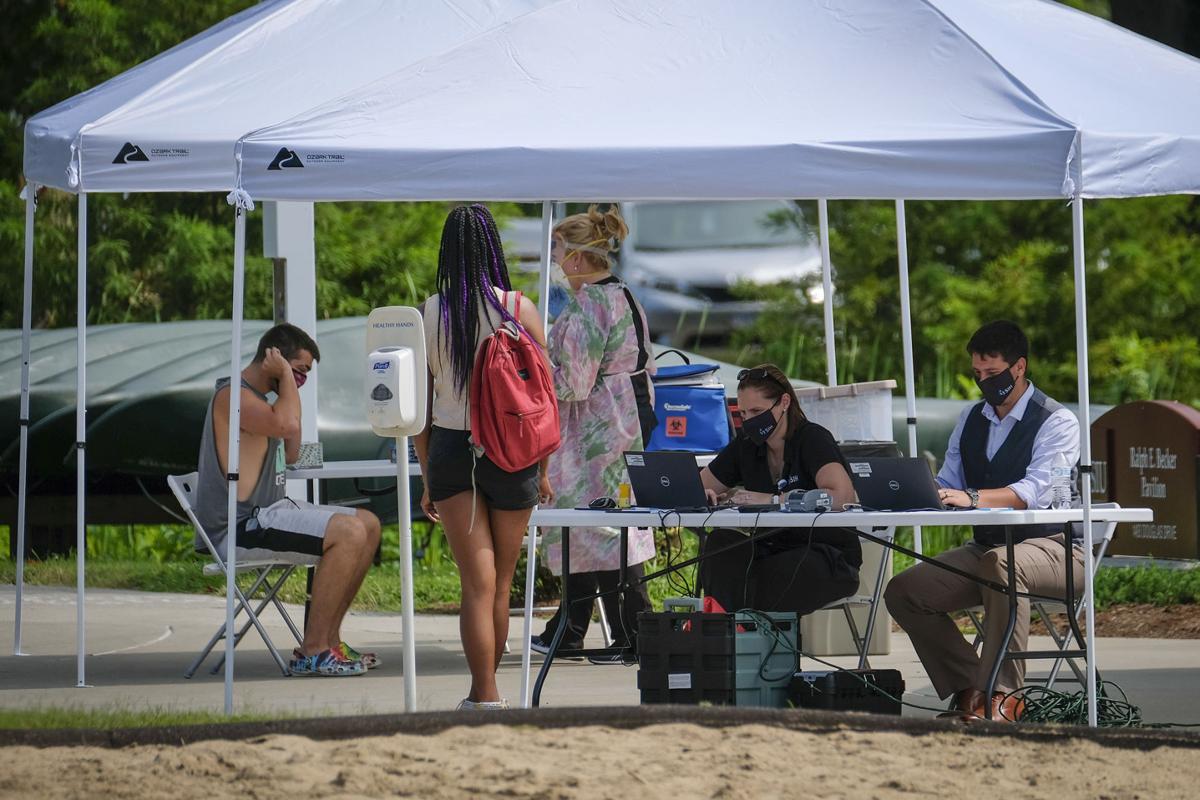 CARBONDALE — Mandatory COVID-19 testing at Southern Illinois University Carbondale is "on the table" based on what happens in the next couple of weeks and months, Chancellor Austin Lane said during a virtual COVID-19 update Monday afternoon.
"We've talked a little bit about what spring will look like and whether or not spring will be a mandatory test environment," Lane said. "Obviously, we would have to have the resources to be able to do mandatory testing."
Students with symptoms should call 618-453-3311 to schedule an appointment with the SIU Student Health Center. Those who are not showing symptoms should call the SIH-SIU COVID-19 Hotline at 833-457-3072 to schedule an on-campus or drive-thru appointment. Officials ask those getting tested to bring a government-issued ID, SIU ID and a health insurance card. Individuals will not receive a bill for testing and will not be turned away due to lack of insurance coverage.
On-campus COVID-19 testing is available from 8:30 a.m. to 3 p.m. on Mondays outside the Becker Pavilion at Campus Lake with parking available in Lot 37 south of the Engineering Building, and on Wednesdays from 10 a.m. to 4 p.m. at the southwest corner of Rinella Field, across from the Student Health Center near the Towers, with parking available in Lot 45 across the street from the Student Health Center. If the weather is bad, testing will be moved inside the Becker Pavilion near Campus Lake.
Positive COVID-19 cases identified with on-campus testing through SIH will be included with the university's weekly tally — whether the university affiliate lives in Jackson County or not, according to Benjamin Newman, Director of the SIU Department of Public Safety and head of the university's COVID-19 task force.
SIU releases a count of active COVID-19 cases affiliated with faculty, staff and students living in Jackson County once a week on Wednesdays. University officials note the reported numbers are not all-inclusive, because the university does not receive reports from other health departments for people who live in surrounding counties, and disclosure of affiliation with SIU is optional.
The availability of resources and collaborations, such as SIU's talks with University of Illinois leaders in attempting to replicate their saliva-based COVID-19 test with SIH, will be important factors in weighing the viability of the mandatory testing plan for the spring semester.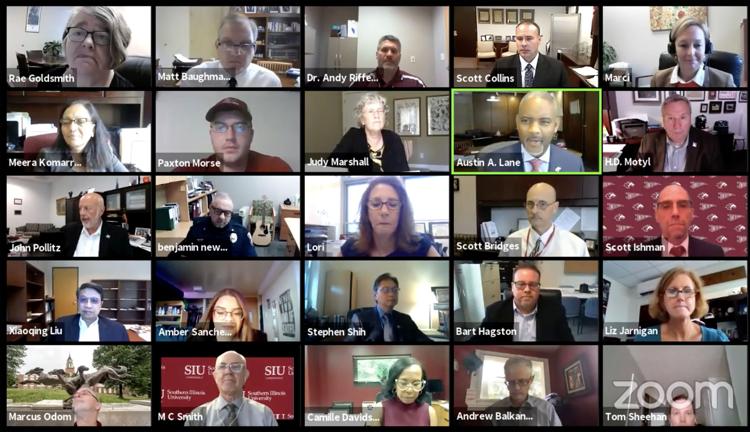 "If we can do so successfully, there could be a possibility of having more tests ... and mandatory (testing) could be an option," Lane said Monday. "We have not yet made that decision yet today, but, I won't take it off the table."
When asked about students seeking out COVID-19 antibody tests, Dr. Andrew Riffey of the SIU Student Health Center said they are not offering any antibody testing due to a lack of access, and noted there may be discrepancies with the testing. "If there is antibody testing that is done, it's not going to necessarily confirm or not 100% that you had the virus before," he said. "The antibody testing is still in the works of being ramped up and tested to see how accurate it actually is."
Riffey added he doesn't recommend getting an antibody test at this time, and said it may provide a "false sense of security" as there may be the possibility individuals could be reinfected with COVID-19.
Along with the university's efforts to expand COVID-19 testing on campus, officials said the community should expect to see an increase in cases affiliated with the university.
"With increased testing, I think we would expect to see a short-term increase in identified cases," said Bart Hagston, Jackson County Health Department administrator. "That doesn't mean we are finding cases that aren't out there, we're just identifying those that are out there in the community."
Despite the rise in COVID-19 cases, Hagston said the increased testing will allow the health department to more quickly identify and contact trace individuals who are positive or who have been exposed, thus limiting the spread of the virus.
Rising case numbers have been of concern to other institutions of higher education across Illinois, as administrators attempt to curb the spread of the virus in a state that ranks fifth nationally in total case counts. As universities have imposed mitigation measures on campus, many continue to grapple with off-campus student behavior.
While officials largely talked about students' on-campus adherence to COVID-19 mitigation measures, they did not address the fact that the majority of university-related coronavirus cases have been tied to students who are residing off campus. Forty-nine of the 57 active COVID-19 cases tied to the university last week were from off-campus students, more than doubling from the week prior.
When asked if the university would be reporting the amount of tests completed on campus or report an on-campus positivity rate, Newman said the details are still in the works. "SIH produced a total testing positivity rate at this point, but not for SIU," he said. "We're going to work with the data from SIH to provide the most complete picture we can, but the short answer is — I don't know at this point."
On the academic front, Provost Meera Komorajju reported Monday that during the fall semester, 40% of all courses at the university are held entirely online, 21% of classes are offered fully in-person and 29% of classes are being held through a hybrid format. University officials also decided on Monday to start the Spring 2021 semester a week later than originally planned, now set to begin on Jan. 19 and continue through May 7. In doing so, SIU has eliminated the 2021 Spring Break.
Despite expanded testing efforts, Lane and other officials encouraged students to continue following COVID-19 mitigation measures such as wearing masks, physically distancing and washing hands.
"We're hoping even with the tests, that people don't get too relaxed and forget about masks and social distancing and everything else," Lane said while adding that communication and support will be important to get through the "uncertainty" of the pandemic. Those with SIU COVID-19 related questions can send them to pandemicinfo@siu.edu.
COVID-19 numbers in Southern Illinois
| County | Total cases | Deaths | Recovered |
| --- | --- | --- | --- |
| Alexander | 105 | 1 | 63 |
| Franklin | 877 | 7 | 502 |
| Gallatin | 118 | 2 | 75 |
| Hamilton | 119 | 2 | 109 |
| Hardin | 48 | 0 | 38 |
| Jackson | 1471 | 26 | 1328 |
| Jefferson | 917 | 41 | 788 |
| Johnson | 354 | 0 | 208 |
| Massac | 142 | 2 | 84 |
| Perry | 414 | 16 | 359 |
| Pope | 34 | 1 | 19 |
| Pulaski | 222 | 1 | 180 |
| Randolph | 1187 | 15 | 1061 |
| Saline | 527 | 9 | 326 |
| Union | 732 | 21 | 477 |
| Williamson | 1752 | 59 | 1136 |
| White | 256 | 1 | 179 |
| | | | |
Concerned about COVID-19?
Sign up now to get the most recent coronavirus headlines and other important local and national news sent to your email inbox daily.