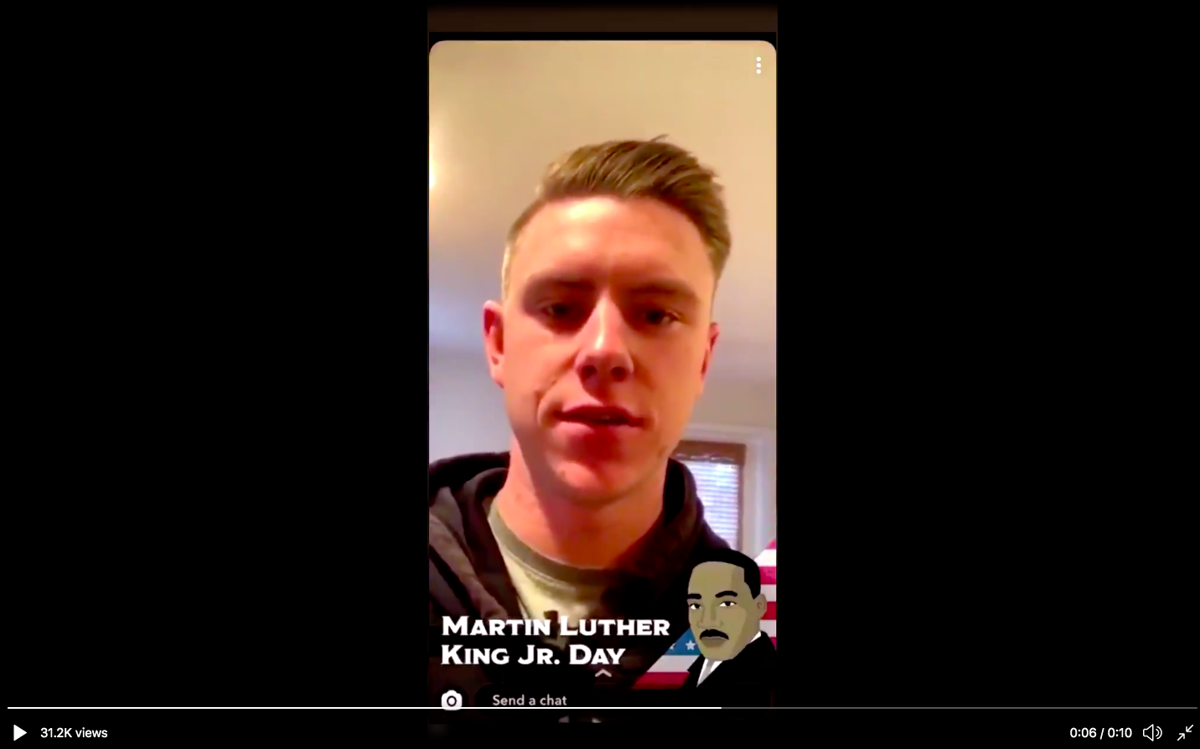 Editor's note: This story discusses offensive racial slurs.
CARBONDALE — Southern Illinois University and several top officials issued statements on Friday morning condemning the "extremely offensive, hateful" and "racist" comments made in a Snapchat video by a May graduate who was a starting pitcher this season for the Saluki baseball team. 
In the video, the former student athlete repeatedly uses the "n-word" in a hate-filled message framed by a Martin Luther King Jr. Day filter. It was not immediately clear to the newspaper when the video was made or originally posted. Holiday filters are typically available on Snapchat for a few days surrounding the holidays to which they pertain. 
SIU did not identify the recent graduate in its statement; the Snapchat video identifies him as Mason Hiser. A university spokesperson said Hiser enrolled in the summer of 2017, and graduated this May.
The post has been recently shared by others and circulated widely on Facebook. The university's announcement — making clear it was aware of the post, and swiftly condemning its message — came just shortly before the Board of Trustees voted to hire the first African American chancellor of the Carbondale campus in the university's 150-year history.
Austin Lane, the incoming chancellor, said later that afternoon that he appreciated the university's quick response making clear that the video is not reflective of what it means to be a Saluki. "Having said that, I am going to personally reach out to this now alum, because he's got a tough road ahead," Lane said. 
The university's athletic director and head baseball coach also posted comments on social media rebuking the message in the video and stressing that SIU has no tolerance for racism.  
Hiser was this season's opening day starter, though the COVID-19 pandemic put a hold on college athletics in March. According to his student athlete profile on SIU's website, Hiser is 23, transferred to SIU from Barton Community College and is originally of Augusta, Kansas. 
"This individual has graduated and is no longer enrolled," SIU's post said. "We condemn the extremely offensive, hateful comments in the post, which are in direct opposition to our values as an institution."
Hiser's video post starts off seemingly as if he is about to make a statement in honor of Martin Luther King Jr. Day. "Today, we say," he starts off, with a pause, "f--- n------ ... I f------ hate n------."
Reached by phone Friday morning, Hiser said, "I've been told not to make any further comments at this point" and declined to answer any questions. 
In a statement posted on Twitter, Athletic Director Liz Jarnigan called the video "appalling" and "antithetical to everything we stand for." 
"Saluki athletics was a pioneer in integrating intercollegiate athletics, beginning with the leadership of Dr. Donald Boydston in the 1960s, and continuing through recent decades under the distinguished leadership of individuals such as Dr. Seymour Bryson and Dr. Harold Bardo," Jarnigan said. "I call upon the Salukis to unite behind their legacy of promoting racial equality, diversity and tolerance." 
Head Baseball Coach Lance Rhodes said the comments made in the video by a former member of his team disgust him. "There is no place for racism on our team," he said, also in a statement on Twitter. "I apologize to everyone who has been affected by his racist comments. Diversity and inclusion are welcomed in our baseball program. As the head coach, I will do everything in my power to demand our staff and players model a culture of unity." 
Interim Chancellor John Dunn said in a statement that diversity and inclusion are embedded in SIU's mission, and encouraged members of the broader community to come together to oppose racism through "education and constructive action." He said that although the student has graduated, that does not diminish the pain his words have caused. "Sadly, every day we see new evidence of that we have a long way to go to address equity and injustice as a country, and each of us — including the university — must do our part," Dunn said. 
Editor's note: This story has been updated to clarify that Hiser transferred to SIU from Barton Community College in Kansas. It previously said he transferred from Barton College; Hiser has had no affiliation with the school in North Carolina that shares a similar name to the community college.
618-351-5079
On Twitter: @MollyParkerSI ​
Be the first to know
Get local news delivered to your inbox!