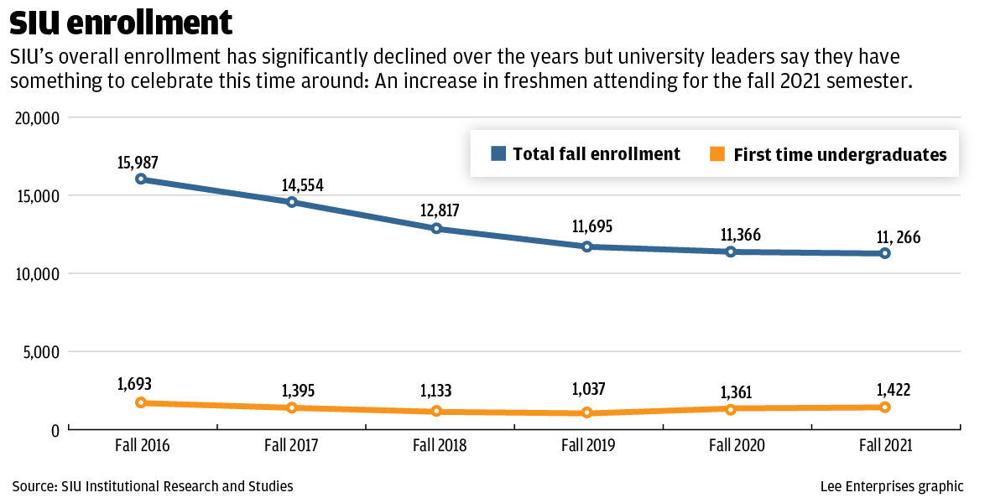 Even though total enrollment at Southern Illinois University Carbondale has declined slightly, university officials are celebrating.
Official 10th day enrollment figures released on Wednesday show 11,266 students are enrolled for the fall semester, down 100 students from 2020, a drop of less than 1%. New student numbers have increased for the second consecutive year, leading campus officials to say the downward spiral of enrollment has been stopped.
This marks the first time since 2014 that the university has increased new student enrollment in two straight years and marks the smallest enrollment decline since 2016. Last fall's enrollment showed a decrease of  2.8%.
SIU Chancellor Austin A. Lane said the numbers show a stabilization of enrollment and he hopes to see an increase in 2022.
"I am excited. It's a good feeling to see all of the work come together and see the results," Lane said. "It's refreshing. We've had a downward spiral and this brings hope that if we continue to work hard and do as much as we can we're going to continue to move the needle and change the trajectory where we want to be."
Lane has been vocal about his efforts to "reconnect" with high schools and community colleges in the region. According to the fall semester figures, these efforts are paying off: Enrollment from the Southern Illinois region is up 34% over last year.
He said he will be meeting soon with representatives of local community colleges to thank them for sending their graduates to SIU. The number of new transfer students at SIU was up 3.5% over last fall.
Lane said recruitment of new students has been especially challenging during the COVID-19 pandemic.
"We couldn't have recruiters going into schools. We couldn't visit, we couldn't do some of the things we typically do. We had to get creative and work harder to reach those students and to get them here," Lane explained.
The larger freshmen class and nearly flat enrollment numbers are good news for the region, Carbondale Mayor John "Mike" Henry said.
"I think it is fantastic news. Having a large freshman class is a great big leap in the right direction," he said.
Henry reiterated the university's importance to the city both economically and culturally. To make his point, he recalled a conversation he had with Illinois Gov. J.B. Pritzker late last week while visiting Carbondale.
"He asked me, 'If there was one thing; if you could have a magic wand and have it happen in Carbondale, what would it be?' My answer immediately was growing enrollment at SIU because with that, everything else will follow," Henry said.
In addition to continuing to work on new student recruitment, the university also is focusing on retaining students. Just over 75% of last year's freshman class returned to campus this fall.
"You're not going to find many institutions with a retention rate at that level. To have a 75% retention rate in the middle of a pandemic is incredible," he said. "For this class that we brought in – it's the largest class in recent years – we want to keep that class, not only for the second year, but through graduation. For that, we are targeting retention."
In addition, Lane said the university also will be expanding efforts to reach internationals and non-traditional students in the coming months.