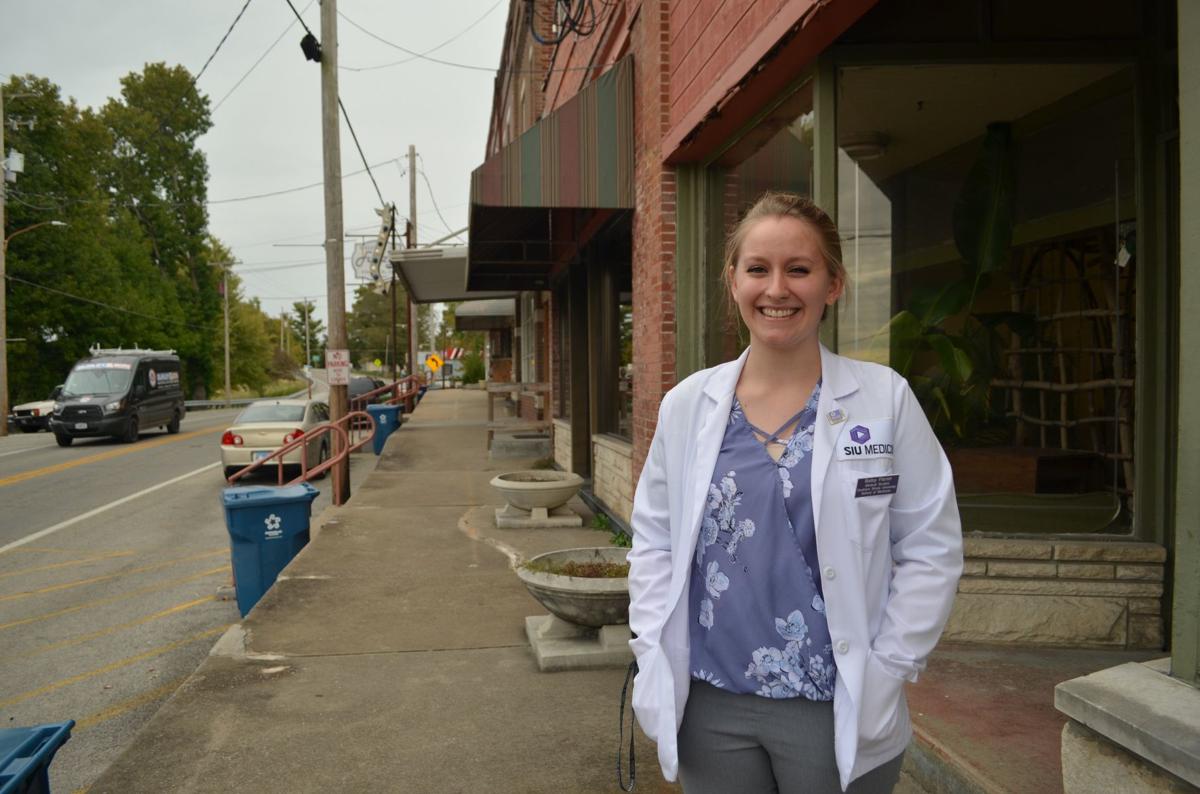 CARBONDALE — Long before she knew she wanted to go to medical school, Bailey Flamm knew that Southern Illinois didn't have enough doctors.
She heard it constantly from her mother, Cynthia, the CEO of a community health center in Anna, called Rural Health.
"I always heard her talk about it," Flamm said. "She gets so worried that people in the community won't have a place to go to see a doctor."
Now a second-year student at the Southern Illinois University School of Medicine, Flamm is mostly focused on keeping up with a flood of homework and exams. But she is also preparing to make decisions that will shape her career: choosing a specialty, a residency site and eventually a place to call home.
And our region has a lot riding on her decision.
Like rural areas around the country, Southern Illinois is working to recruit and retain doctors. The shortage here does not affect every county, local experts say, but it leaves some local residents struggling to access care.
In Jackson and Williamson counties, where health care giant Southern Illinois Healthcare operates three hospitals, there are approximately 2,000 residents per primary care physician, comparable to counties in the Chicagoland area, according to the Robert Graham Center, which analyzes public health-care policy.
But in Union and Johnson counties, that number triples to about 6,000 patients per primary care doctor.
In Alexander County, three women stabbed in a 2014 Cairo bank robbery would still be alive today if the town would have had a hospital or emergency room, Community Health and Emergency Services CEO Fred Bernstein told the Southern in July.
From a young age, Kyle Whittington, a second year SIU School of Medicine student from Elkville, has been aware of Southern Illinois health care challenges and disparities.
"My grandmother was diagnosed with early-onset Alzheimer's disease when I was a small child," Whittington said. "When my parents found out she had it, they took her straight to St. Louis. That's where her neurologist was."
Whittington chose SIU to stay close to his support system of family and friends. He also appreciated the university's mission: to recruit Illinois students to support central and Southern Illinois healthcare.
"Our class is passionate about taking care of underserved communities, whether that's inner city or rural populations," Whittington said. "It's never explicitly said, 'Hey we expect you to come back to practice.' But we all know in an ideal world we'd give back to the communities we're from."
But is Southern Illinois "ideal" for the next generation of doctors?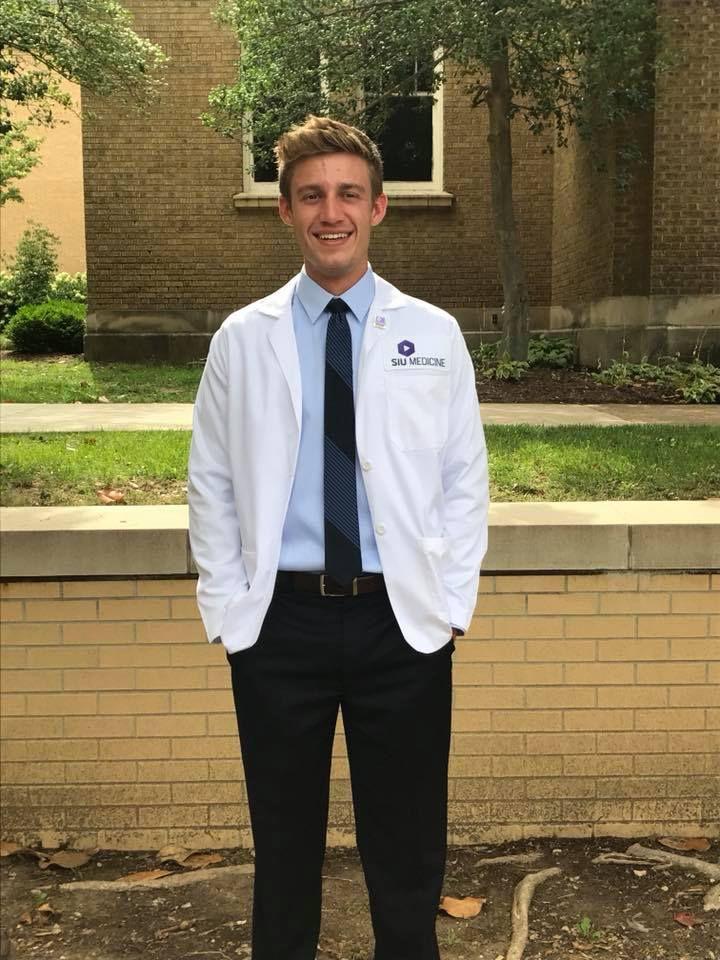 "It's hard to say," Whittington said. "Some of my classmates definitely fell in love with Southern Illinois and rural medicine."
But among his peers, Whittington said he also hears common concerns.
"A lot of doctors come through with a mentality that we do work extremely hard, so we're going to enjoy the fruits of our labor. And if spending your money makes you happy, it may not be so easy around here," without fancy restaurants and big-city attractions, Whittington said. "If you marry a spouse who works, where are you going to find a job for your spouse? The right school district for your kids?"
In Southern Illinois, SIH has a team of recruiters dedicated to selling doctors on the area.
"We travel all over the U.S. meeting with residency programs and with physicians, promoting Southern Illinois and SIH," said Darrell E. Bryant and Cathy Blythe, who oversee physician recruitment and retention at the hospital network.
Like hospitals around the country, SIH brings doctors in with benefits like five-figure sign-on bonuses and funds to help young doctors pay off student loans. They also have a dedicated physician relations team that "focuses on making sure doctors and their families are happy and engaged in Southern Illinois," Blythe said, organizing monthly activities, like movie nights and SIU tailgating meetups.
You have free articles remaining.
"We don't see a reluctance to live in rural areas," among young physicians, Bryant said. But the hospital is always looking for homegrown doctors like Flamm and Whittington, who understand Southern Illinois, its patients and its lifestyle.
"There's some risk of moving physicians to an area they're not familiar with," Blythe said. "Homegrown doctors, they're from here, and there's no surprises for them moving back."
Before Flamm and Whittington begin to think about life after med school, they must choose a specialty, something that could define where they're able to live and practice.
In Years 3 and 4 of medical school they will do clinical rotations, working alongside doctors in family medicine, pediatrics, gynecology, and many other fields to get a feel for what fits them best.
So far, neither has any idea what specialty they'll choose.
"Every time I try something I really like it," Flamm said. "I've had people ask me quite a bit whether I'll stick around. It's really hard to know so early on. It depends on what I decide to do."
About 40 years ago, Larry R. Jones was weighing the same decisions. In 1973, he was part of the first class of SIU School of Medicine graduates, with his sights set on practicing in a big city.
"I said I left never to return," Jones told The Southern.
But the sudden death of an established local doctor and Jones' deep Southern Illinois roots brought him back to Harrisburg, where he practiced for 37 years as a family physician.
Over time, Jones combined his practice with other doctors and built the largest primary care group in Southern Illinois, which was acquired by SIH about four years ago, Jones said.
"We were very fortunate to attract primarily hometown people back," Jones said. "Almost everyone had roots in Saline County."
As president of his group, Jones headed up recruitment efforts. And contrary to popular belief, the salaries his practice offered were better than many similar practices in urban areas, he said.
"The lay public thinks physicians in urban areas have more lucrative practices and higher salaries, but in my experience it's the opposite," Jones said. "In this marketplace we have to offer higher-than-average salaries to attract doctors. Plus, the physician shortage we have here often means your practice is busier."
Certain specialties "absolutely" require an urban setting, Jones acknowledged. A pediatric neurosurgeon should expect to work at a hospital with a huge patient pool, handling those rare cases that local hospitals can't manage.
But more and more specialized treatment is becoming available at local hospitals, creating a demand for doctors who would have previously sought work in big cities.
"We now do neurosurgery, cardiothoracic surgery, and other services that are considered unique in a rural area," said Bryant, SIH Medical Group's Chief Operating Officer. "We onboarded over 30 physicians this past year, and the majority of our openings are due to growth or expansion in our services."
The hospital network is actively searching for specialized ENT doctors, who treat ear, nose and throat conditions, as well as gastroenterologists, Bryant said, and now employs more than 300 physicians, physician assistants and nurse practitioners overall.
Whenever Flamm gets a break from school, she drives home from school in Springfield to Southern Illinois.
"Once I start seeing hills, I know I'm home," Flamm said. "Seeing the scenery and the familiar buildings and people, it's really comforting to me."
The happiest rural doctors will be able to appreciate those pleasures, Larry Jones said.
"The friendliness — knowing my patients, going to Walmart and seeing people that I knew, the connection I had with them — I enjoyed all of that," Jones said. "It's something I've really missed since I retired."
By the end of next year, Flamm and Whittington will be expected to have an idea of their desired specialties. Their interests are diverse, but both have Southern Illinois in the back of their minds.
"My mom always encourages me to choose the field that's right for me and where I need to go to make it possible," Flamm said. "But she always tells me, 'If you have the ability and the opportunity, you should always do your best to try to give back and to serve your community.'"