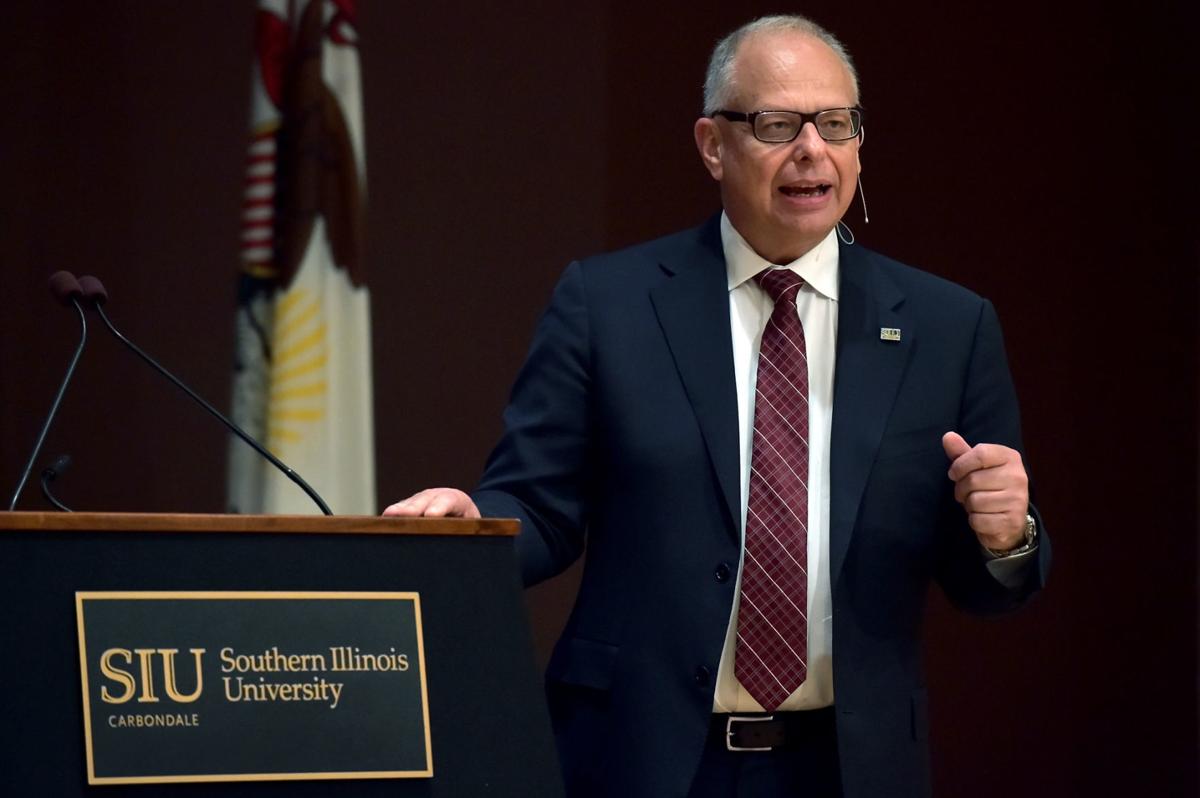 CARBONDALE — After he was named interim president of Southern Illinois University on July 16, Dr. J. Kevin Dorsey spoke with Chancellor Carlo Montemagno about what he should do if Montemagno became too sick to work.
It's a difficult question to ask a subordinate, but it was an important one.
Montemagno was in the middle of orchestrating a major restructure of SIU Carbondale's academic departments, programs and colleges. He had made recent appointments to many of the university's top positions — provost and vice and associate chancellors — and had started searches to hire some 25 new faculty. He was in the process of ramping up recruitment funding, to get SIUC recruitment materials in front of more students nationwide, to bring more local students to campus, and to revamp the university's branding.
Publicly, little more than that was known. Even several members of the university's board of trustees, who appoint and oversee the chancellors of both campuses, told The Southern they never knew what kind of cancer Montemagno had, nor what stage.
Rather than think about replacing him, they were trusting in Montemagno's strength and vitality to carry him through the aggressive chemotherapy and other treatment he was receiving, they said.
Throughout treatment, Montemagno remained engaged, appearing at events across campus, often moving with the help of a cane or mobility scooter. He took photographs with new students and their families at SIU Family Weekend, attended football games, and addressed the Board of Trustees on contentious funding disagreements between SIU Edwardsville and SIU Carbondale.
Then, on Oct. 11, he died, after a reported major health setback 36 hours earlier.
"His sudden death was a complete shock," said SIU trustee J. Phil Gilbert. "I was told that the cancer treatments were working."
Suddenly, a question that a president asked his chancellor was being repeated throughout Southern Illinois: How will SIUC replace Montemagno?
Formally, a new interim chancellor can only be appointed by the board of trustees, the group of nine Illinoisans who serve as the managing committee of SIU. They will meet next on Friday, Nov. 9, in Carbondale, to start the formal search for a permanent system president, who will replace Dorsey, and to discuss the interim chancellor selection process.
"Built into the university hierarchy are a series of potential successors that we will be considering," trustee Dr. Marsha Ryan said, including provosts, deans, vice chancellors and others.
Until a replacement is chosen, Dorsey is working with the SIUC leadership team to continue Montemagno's work on the Carbondale campus.
"As Chancellor Montemagno's plan gained traction on campus, more and more people took ownership of it. He frequently said, 'It's no longer my plan, it's the university's plan,'" SIUC spokeswoman Rae Goldsmith said. "There is buy-in from our alumni, donors and the community. It has become bigger than just one person."
In the days after the chancellor's death, promises to carry on his work were widespread. Administrators at his public memorial service last Tuesday called him a "visionary" whose "legacy is bound to shape our future."
"Now that he's done the difficult work of getting change started, it is left to the rest of us to finish," Dorsey said at the memorial.
Montemagno was brought in to address urgent enrollment and financial challenges at SIUC, where the student headcount is down about 12,000 since 1994, and to bring stability to a university that has gone through nine chancellors since 2000.
The same month he was hired, Montemagno launched a survey seeking community input on the future of the university. That became his Vision 2025 plan, which called for a revamp of recruitment and retention, renewed attention on student life and student services, and a controversial campus-wide reorganization of the academic structure of schools, departments and colleges that make up the university.
The university signed him to a four-year contract, and Montemagno repeatedly told faculty, staff and administrators that getting SIU back on track would be his last job.
You have free articles remaining.
But his passing, just 14 months into his tenure, left much of the chancellor's work half-done.
His promised enrollment rebound — 18,300 students by 2025 — has not even begun. The university lost almost 12 percent of its enrollment this year, the continuance of a long downward slide that Montemagno and his team believed would flatten out by next year, as their new approach to recruitment and retention comes to fruition.
The late chancellor's academic reorganization is less than half-finished. It seeks to put the university's existing degree offerings into a new structure of schools and colleges that would give SIUC a fresh look for prospective students and group faculty together in new ways that encourage collaboration.
About a third of the proposed new schools have been approved by their constituent professors.
Another third of the proposed schools have been rejected by faculty and returned to the administration for changes, said SIUC Faculty Senate President Jonathan Bean, and the last third have not yet been provided to the Faculty Senate for a vote.
"I think Montemagno had recognized the importance of recruitment and retention and had begun to shift his focus from restructuring to enrollment issues" in recent months, said Professor Dave Johnson, who heads the Faculty Association, an SIUC union representing tenure-track and tenured faculty. "His restructuring divided the campus, and the final draft of the reorganization that he left us with is controversial."
If the administration wants campus-wide buy-in to Montemagno's reorganization, Johnson said, they need to continue to revise the plan in accordance with faculty wishes.
That includes considering major modifications proposed by faculty in the liberal arts, who have suggested two new colleges that replace elements of Montemagno's plan and deviate from his preferred structure.
"I met with the chancellor in the last weeks and summer and he encouraged those faculty initiatives," Bean said. "I think Carlo grew in his job as he came to understand SIU, its faculty and its students. He arrived with a big bold plan, and showed increasing flexibility and willingness to work with faculty."
As he learned the Carbondale campus, the chancellor showed willingness to re-evaluate and change his positions. When students occupied his office in protest of a proposed Public Safety Institute that would train police officers, Montemagno tabled the proposal, allowing faculty to make the final call. When SIUC received national blow-back for putting language in the Student Athlete Code of Conduct to prohibit displays of activism like the kneeling protest initiated by three black Saluki cheerleaders, Montemagno's administration quickly reversed the policy.
Since mid-April, Meera Komarraju, SIUC's interim provost and vice chancellor for academic affairs, has led the reorganization. Today, she continues in that role, answering to System President Dorsey, who has echoed other administrators and trustees in calling the continuance of the reorganization a top priority.
Choosing the right architect to finish what Montemagno started will likely be on the board's mind as they pick a successor, said Dr. Ellen Chaffee, an expert on university strategy and governance, who served as president of Valley City State University for 15 years and of Mayville State University for nine years.
"They'll have to ask: 'Is the next person someone who knows and understands their predecessor's vision and can help make the transition?'" Chaffee said.
But the board might also consider thinking a little differently about succession planning, Chafee said.
"The growing trend in higher education is to have an explicit policy on chancellor succession," Chaffee said, established via recommendations made by a chancellor to their university president or the chair of the board of trustees, about who might be best to fill the chancellor role in a pinch.
Unfortunately, this is not the first time SIUC has tragically, and suddenly, lost a chancellor.
In July of 2014, the board of trustees appointed Paul Sarvela, a longtime Carbondale professor and administrator, to the chancellor's office. Four months later, he died of cancer.
A string of interim chancellors and acting chancellors followed, until the SIU board of trustees hired Montemagno in August of 2017. There was inconsistency in other top leadership positions, too.
Before Montemagno filled it, the position of associate provost for enrollment management, considered the leader of recruitment and retention efforts on campus, had been vacant since 2014 and had not been filled on a full-time basis since 2011, the late chancellor reported in "Revitalizing Southern Illinois University Carbondale, an Eight Month Update."
"When you have a number of interim leaders, it's very difficult for an institution to get strategic traction, to find its direction and take systematic steps forward," Chaffee said. "The old saying goes: Steering a university is like steering a supertanker. It's best to turn it one degree at a time."
Montemagno did not name a successor when he spoke with Dorsey about what might happen if he became unable to work, according to John Charles, SIU's executive director for governmental and public affairs, who serves as Dorsey's spokesman.
"At that time, the chancellor indicated his full confidence in his team, both on the academic and administrative side of the university," Charles said, but "no single person" was named.
As reassuring as that confidence may have been to Dorsey, it won't make the board's decision any easier come Nov. 9.