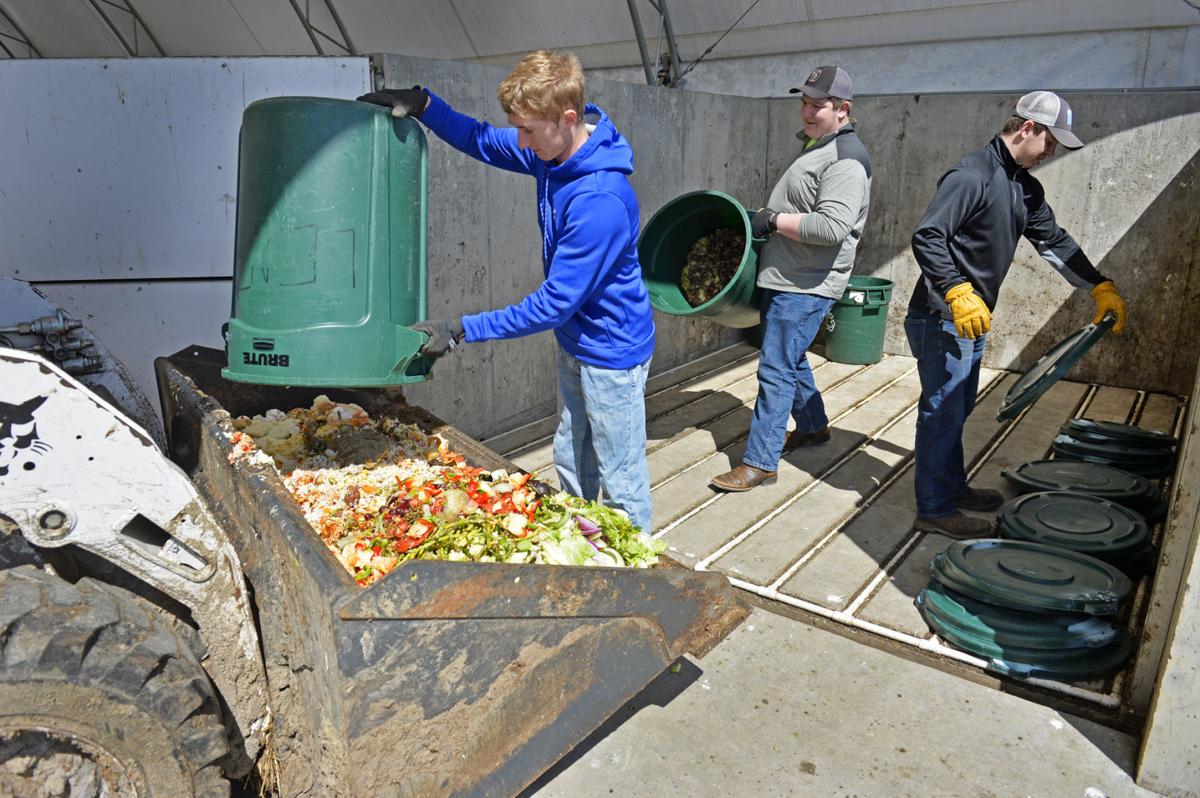 CARBONDALE — Every day at Southern Illinois University Carbondale's dining halls, hundreds of pounds of food go uneaten.
The SIU Forced Air Composting Facility on Pleasant Hill Road, now in its second year in production, offers an elegant solution: Over a period of several weeks, student workers transform food waste into nutrient-rich compost, which is then used as landscaping material on campus.
Michelle Sullivan, University Farms coordinator at SIUC, oversees the program.
"When we first started offering positions for this, I did not expect anybody to want to work out here," Sullivan said. "It's a little stinky, and it's kind of a monotonous chore. … But what's cool about it is that over time, as they have worked out here, we've even had students that have become so interested in it that they are talking about graduating and then finding a place like this where they can work."
Dozens of bins filled with food scraps get hauled to the open-air hoop structure each morning. The facility receives as much as one ton in a week.
First, student workers pour all the food into a large bin. Using a Bobcat, they mix in manure from SIUC's hog farm and horse farm.
After that, it's mostly a waiting game. Air goes through perforated PVC tubing in the floors of the bins and filters up through the piles, and student workers must periodically turn the compost using the Bobcat to increase aeration and dry it out.
"If you think about compost, you have to think about what environment the microorganisms need to do their job. So you're creating an environment where it's not so wet that they suffocate, it's not so hot that they burn, it's not so cold that they can't survive … so it's all about carbon-to-nitrogen ratio, and it's all about temperature and moisture," Sullivan said.
During the decomposition process, the temperature at the center of the compost pile can get as high as 120 to 140 degrees.
You have free articles remaining.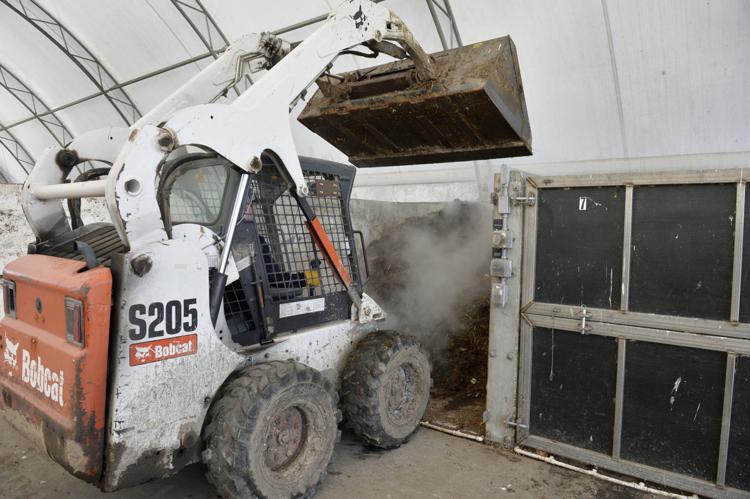 "When the microorganisms are doing their thing, it's producing energy, so it makes it hot," Sullivan said.
Michael Buckles, a junior majoring in agribusiness economics, is one of five student workers who tends to the compost. He said every batch is a little different, depending on the animal and plant waste.
"Really the best one you'll find, we had earlier in the first semester, and you walked in and it didn't smell. It smelled earthy, like when you open a bag of potting soil. And that's the end goal, but it's kind of hard to get there," Buckles said.
Sullivan said the students have to develop a feel for the process.
"It's an interesting combination of the science, the actual science of it decomposing and the microorganisms and all that stuff that's involved in the composting process, but then it's a little bit of an art. It's being able to look at it and say, 'It just doesn't look right. There's just something wrong.' Or, 'It just smells different today. Something in the recipe is off,'" Sullivan said.
Once the compost has cooled, the process is complete. Decomposition usually takes about three months from start to finish, but workers can speed the process by turning the compost more frequently, Sullivan said.
The finished product is used in flower beds all over campus.
"It actually looks really pretty once it's out, because it's clean and fresh and new. I always love when there's new compost out places — it just looks neat and tidy and the way that landscaping should look," Sullivan said.
The facility is still perfecting its methods, and Sullivan hopes to eventually decrease the turnaround time.
"That's been the biggest surprise out of this whole thing, is that it is actually fascinating. At first, we're like, 'Oh no, a bunch of food waste.' But as you watch it, as you mix it and you watch it, you see it turn from something so completely disgusting to something so cool," Sullivan said.
618-351-5082
On Twitter: @janis_eschSI