CARBONDALE — In an exuberant show of solidarity in diversity, students from all over the world braved the bitter cold Monday morning to march in Southern Illinois University Carbondale's annual Parade of Flags.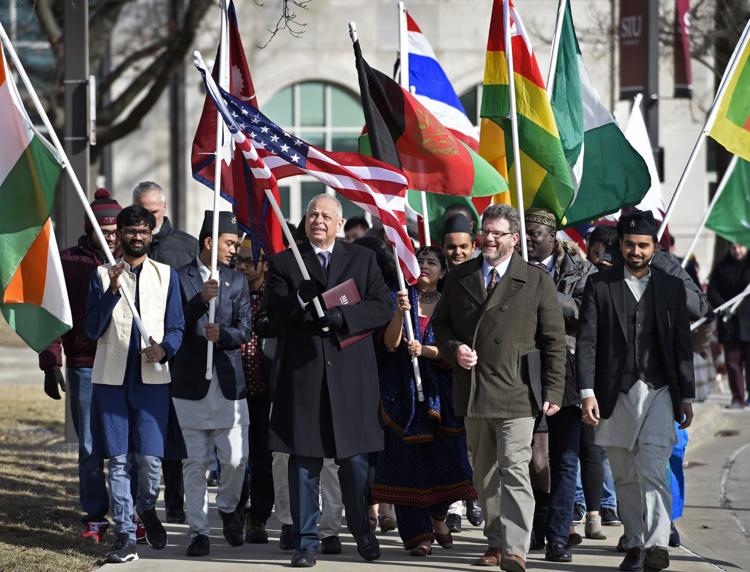 Dressed in native attire, participants carried the bright flags of their home countries from Woody Hall to Anthony Hall, where SIUC Chancellor Carlo Montemagno joined the procession. The march ended with a formal proclamation opening the festival in the Student Center.
Yi Lee, partnership coordinator in SIU's Center for International Education, said he participates in the parade every year. Originally from China, he first came to the United States as a child and now works to establish partnerships with other institutions for exchange and recruitment of students.
"We really value our international students bringing diversity and culture into SIU. They choose SIU sight unseen, and they trust this institution. So this is kind of a way of showing that we appreciate them, that we want to give back, that we recognize their contributions when they're here," Lee said.
Scarleth Subillaga, of Honduras, is finishing up a double-major master's program in Spanish Literature and Teaching English to Speakers of Other Languages (TESOL). She called the International Festival "an opportunity to meet people from all over the world."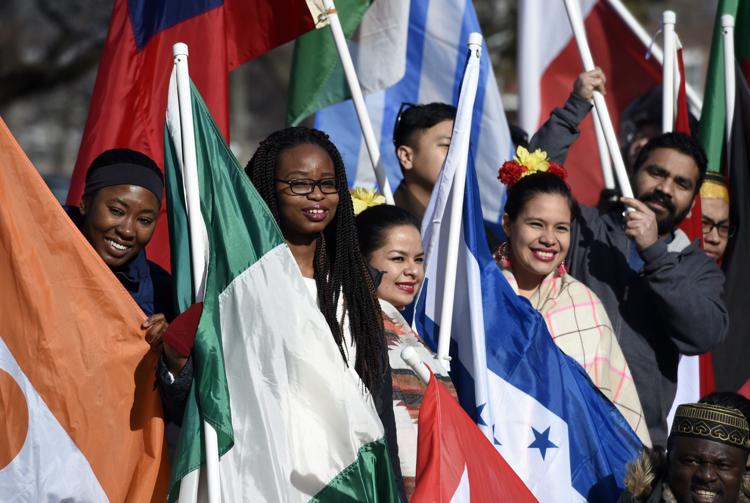 "I think that since we are internationals, it's a great idea to build a community here. And since we are so far from our countries, it's a great idea to share and to help each other … but if we don't know each other, that's difficult," she said.
Natalia Hajduk, who came to SIUC from Poland to study architecture, said she was glad to be able to attend the parade for the first time.
"It's so colorful here, and you can meet so many people from so many different countries. … I haven't found better energy than in international gatherings, because everybody can tell you about their different perspectives. It's a totally different, new way to think about things and exchange experiences," Hajduk said.
During the proclamation ceremony, International Student Council President Ramesh Neupane said being away from home as an international student can be challenging.
"But the Carbondale community, SIUC campus and the Center for International Education have always provided a warm welcome to all international students and make us feel home away from home," he said.
About one in 10 students on the SIUC campus are international students, Andrew Carver, the director of international affairs, told the crowd at the proclamation ceremony.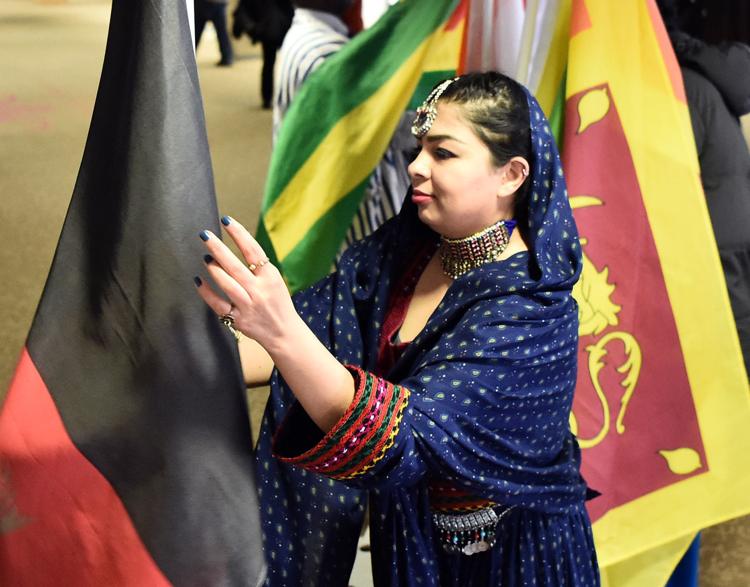 "… I want to remind all of you that you are welcome in our home, in our university, and you are forever members of the SIU family," Carver said. "We extend this welcome at a time when the United States has been shaken … by political turmoil manifested in travel bans, enhanced vetting and growing uncertainty in the accessibility of higher education in America. Yet the SIU Center for Education's core mission remains unchanged: to recruit, to enroll and to support students from every country in the world."
Montemagno, who delivered the proclamation and opened the festival week by ringing a ceremonial gong, spoke about his experiences during a trip to Nepal, where he worked to develop a non-surgical treatment for cataracts.
"Hopefully when you travel abroad, you'll have opportunities where you can use your knowledge … to craft solutions and innovate to make the world a better place, because that's one of the virtues of being at a great university, is that we are global citizens and we work together to try and make the world a better place for all," Montemagno said.
Carbondale Mayor John "Mike" Henry told the crowd that when he first came to SIUC as an engineering student, he had never met a person of color.
"When I came here, I shook hands with the first black person I'd ever seen in my life, just randomly, because we sort of ran into each other in the student registration line. … We are proud to support you in your endeavors. My selfish part says I want you to get your degrees here and stay here in Carbondale. I know some of you will leave, but I hope some of you will stay, and continue to add to the richness of our community."
618-351-5082
On Twitter: @janis_eschSI