CARBONDALE — In a Southern Illinois University Carbondale laboratory, hundreds of bees, butterflies, moths, flies and beetles are being sorted and cataloged.
Sedonia Sipes, an associate professor of plant biodiversity and conservation biology, has set out to determine just how many types of insect pollinators — bugs that transport pollen from flower to flower — live in Southern Illinois.
Sipes and her team are conducting an inventory of pollinating insect species on federally managed lands within the Crab Orchard National Wildlife Refuge and the Shawnee National Forest.
The three-year study, now in its second year, is funded by a grant from a federal interagency program called Service First.
Sipes said there's reason to believe that there's a wide variety of pollinator species in the area, although she's still waiting on results from taxonomic experts.
"Southern Illinois is an ecologically interesting area because it's the point where a number of different habitat types come together," Sipes said.
Leila Kassim, a master's student in plant biology, worked for Sipes as an undergraduate and returned to SIU Carbondale to work on the pollinator project. She said she's interested in figuring out the network of specialist bees linked to certain flowers.
"We've never done this kind of study here in Southern Illinois," Kassim said.
"We have a lot of concern about declining pollinators, but the sad truth is that for most places, we don't even know what we have or how the trajectory of those species is going," Sipes said.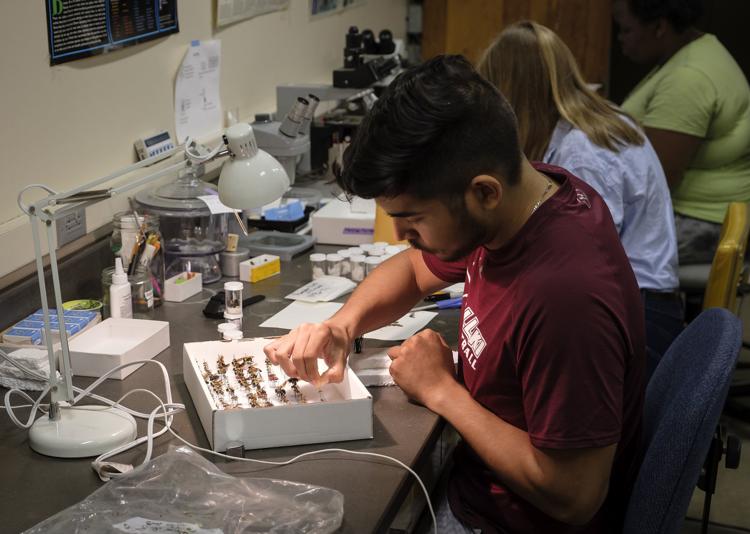 Crews go out into the field several times a week to collect insects using nets and pan traps — bowls of water that collect insects.
You have free articles remaining.
Back at the lab, the specimens are pinned and processed into an archival collection. Tiny labels show where and when the specimens were collected.
It might seem counterproductive that Sipes' team is killing pollinators in order to protect their populations, but collecting insects for a few field seasons doesn't impact populations all that much, Sipes said. The team isn't collecting species that pose conservation concerns, such as monarch butterflies.
"We try to not collect any more than we have to to figure out what's there," Sipes said.
Most people think of honeybees when they think of pollinators, but honeybees are not part of the region's natural biodiversity — they're an introduced species, Sipes noted.
Some of the insects are identified in the lab, and others are sent to taxonomic experts, as there is incredible cryptic diversity among some pollinators. For example, there might be as many as 300 species of sweat bees in Illinois, but they're nearly indistinguishable.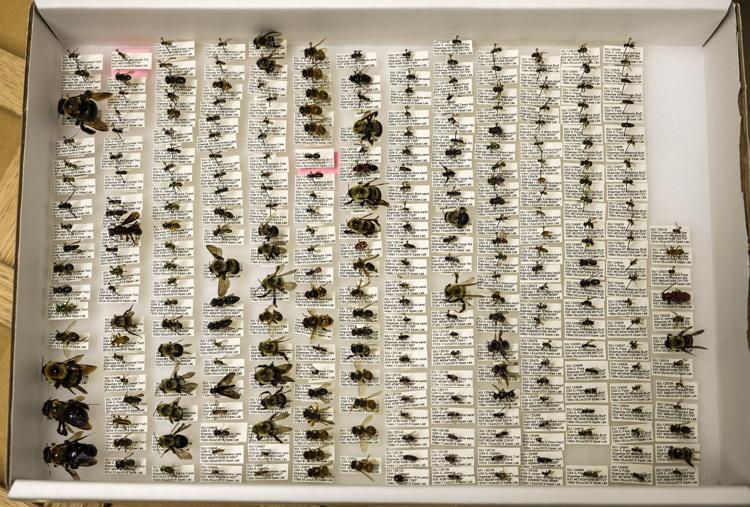 "Especially in butterflies, skippers and bees, there might only be a few people in the world that can identify them down to species," Sipes said.
Sipes said habitat loss — replacing a landscape of native plants with highways, housing developments and shopping centers — represents the biggest threat for pollinators.
"The good news is there's a number of ways to potentially mitigate that: planting more wildflowers, planting native plants, replacing turf grass with native flowering plants," Sipes said.
Sipes said mass-produced bedding plants available at garden stores typically aren't as beneficial to pollinators as nectar-rich native plants.
"They've been bred to look really pretty, be really easy to grow and flower from spring to frost, and not necessarily to provide a lot of nectar resources to pollinators," Sipes said.