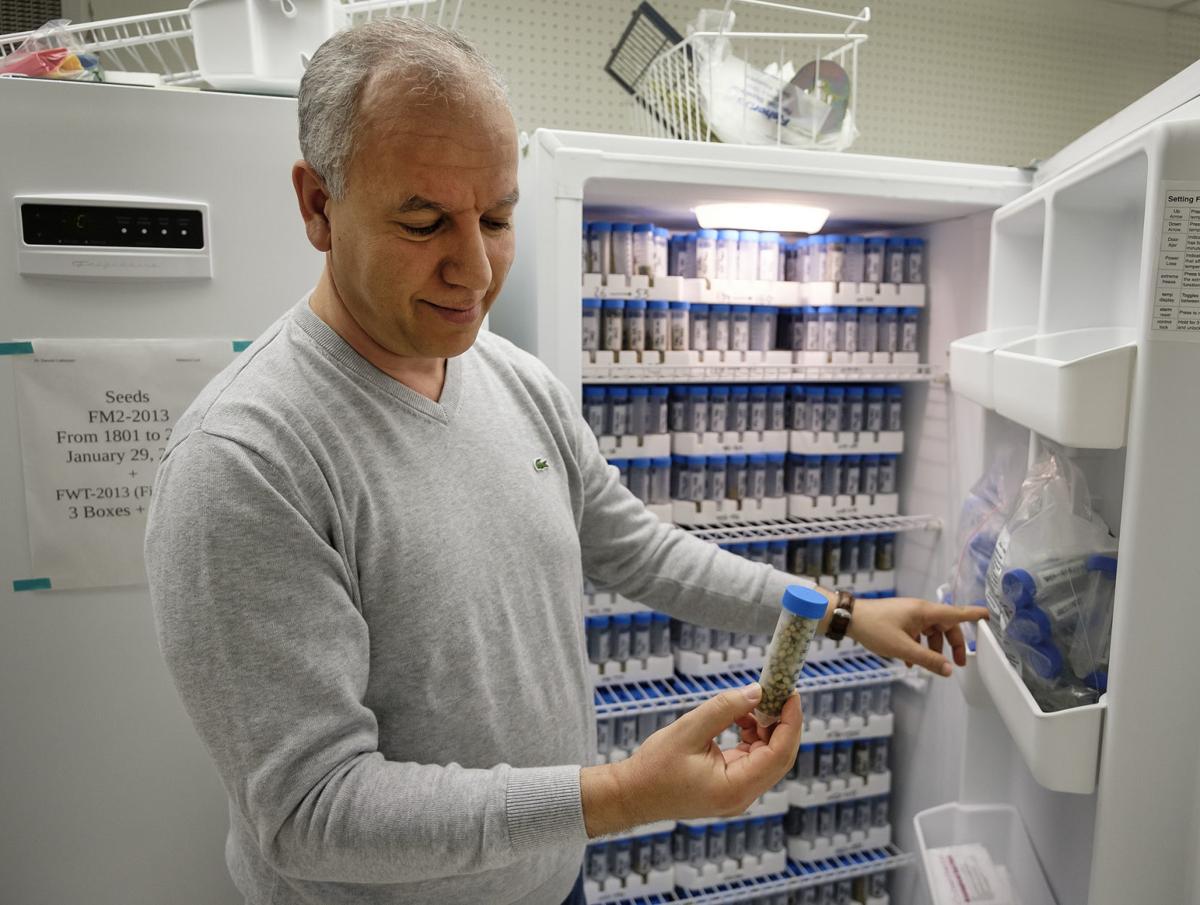 CARBONDALE — Each year soybean farmers across the country contribute a small, but significant, .5 percent of their crop sales to soybean research, development and promotion.
It's the industry's way of thinking long-term, searching for stronger, more useful plants, new products, and new markets, to increase the value of U.S. soybeans for farmers nationwide, in years to come.
At only 50 cents per $100 sold, these soybean "checkoff" funds, as they're known, don't sound like much, but they have accounted for more than $1.38 billion in soybean R&D and marketing since 1970.
CARBONDALE— Neely Hall, one of SIU Carbondale's iconic 17-story towers, will reopen to students next fall, according to Jon Shaffer, director …
In the past, the checkoff money supported researchers like Khalid Meksem, of Southern Illinois University Carbondale's Department of Plant, Soil Science and Agricultural Systems.
Since he joined the university in 2000, Meksem has been awarded multiple patents for his work identifying pest-resistant genes in soybeans and potatoes, and has been published three times in "Nature," the most cited scientific journal on the planet.
Despite that success, he is fighting for funding to continue research at his lab.
"Last year I was funded at the level of $160,000," in soybean checkoff funds, Meksem said. "This year, $0."
The checkoff funds are split between state, regional and national soybean boards, each of which disburses its share of the money as it believes will best help the farmers it represents to maximize value.
In Illinois, the Illinois Soybean Association is governed by 24 elected volunteer farmers from across the state, who allocate the checkoff dollars, about $12 million last year, according to Chairwoman Lynn Rohrscheib.
In recent years, the ISA has cut university research funding, to focus on other priorities.
"The board as a whole decided to shift how it invested," Rohrscheib said. ISA's farmer-leaders felt that private industry donors, chemical and seed companies, and the United Soybean Board, the national organization that allocates 50 percent of all soybean checkoff money, could "have more impact [on research] than we can with our yearly funds," Rohrscheib said.
But as the ISA turns to other priorities, like opening new foreign markets to Illinois soybeans, and advocating for improvements to Illinois roads and waterways, researchers like Meksem face a funding shortage that undermines their work.
CARBONDALE — The first Thanksgiving meal at the Newman Catholic Student Center was held 50 years ago by a small group of SIU Carbondale studen…
In 2008, Meksem's colleague, professor Stella Kantartzi, was hired to head SIU Carbondale's Soybean Breeding and Genetics Program, with financial assistance from the ISA.
She started with an ISA budget of about $170,000 a year, which she used to establish her lab, and begin research that has led to more than 60 publications and the development of several proprietary soybean varieties, bred for traits like yield and disease resistance.
Back then, it was common for the ISA to fund start-up packages for faculty that it wanted to work with, said Dr. Karen Jones, who chairs Kantartzi's department at SIUC. That's part of the reason Meksem, Kantartzi and other researchers came to SIU in the first place.
But by 2011, Kantartzi's support was down to half its 2008 level.
Then, in 2013, "without any notice, without even a thank you for our years of collaboration, we were by ourselves," Kantartzi said, without a cent of ISA funding ever since.
"I felt that I was fully supported by ISA, and I needed that support and the yearly communication with the farmers," Kantartzi said, to continue her work. "Now, we feel pretty isolated."
Every soybean scientist has been affected differently by the ISA's shift away from direct funding for university research, said Jason Bond, a professor of plant pathology at SIUC.
"Today, I'm a better researcher for it," Bond said.
Bond and a colleague adjusted their research to pursue support from the North Central Soybean Research Program, which distributes checkoff dollars to much of the Midwest, and from the national-level United Soybean Board.
To win those organizations' support, "you need to have research that's important to the Illinois grower, and to the wider region," Bond said. "We looked at projects that could get other universities involved, and we built teams across states. That was a result of the ISA choosing to put resources in other areas."
Bond has seen his ISA losses replaced with an influx in support from the regional and national boards, which are also funded by Illinois checkoff dollars.
"Today my funding looks different, but it didn't destroy my program," Bond said.
Since he lost his ISA funding, Meksem has been able to secure some money from the USB, he said. But that funding is getting more competitive, as federal support for university research dwindles.
"The National Science Foundation is funding less and less and the United States Department of Agriculture is funding almost nothing," Meksem said, two institutions that previously supported his work. "Now you have some of the biggest labs, big names and well-established researchers, also applying to the USB."
Meksem's lab now competes for funding against labs at Harvard, the University of California at Berkeley and the Massachusetts Institute of Technology, whose budgets, staff and facilities dwarf his own at SIUC.
He's not upset by that challenge, and calls the USB, "a great partner." But Meksem believes the Illinois Soybean Association is neglecting an important role it once filled, as an incubator for in-state research.
"I cannot apply to the Iowa state board, but any Iowa researcher can apply to the USB," whose funds are open to every university lab in the country, Meksem explained. "What the ISA forgets is that the money Illinois farmers contribute will end up being spent in Tennessee, instead of in Illinois."
But soybean board leaders say that's exactly the purpose of the national and regional soybean boards — to support projects that benefit the broader soybean industry, across state lines.
"We can't be compared to what the USB does," said Rohrscheib, the ISA's farmer-elected chairwoman. As a state board, the ISA's first responsibility is to maximize value for Illinois farmers.
"We have to be able to work and make a living," Rohrscheib said. 
Rather than fund plant genetics, pathology and weed control research, in competition with seed and chemical companies, the ISA is studying other areas of the soybean industry, like "how to upgrade locks and dams in disarray across the state, that could falter at any time," Rohrscheib said. "From there, we take that info and try to make people aware of the dire need to find dollars at the local, state, federal and national levels to fix these problems."
A breakdown of 2017-2018 spending priorities shows the ISA allocated most of its checkoff income in four areas: Forty-one percent of its budget went to promoting Illinois soy to the industries that buy it, like biodiesel and animal feed, 24 percent to helping farmers adopt new technologies to improve yield and sustainability, 17 percent to improving transportation efficiency, and 16 percent to outreach to corporate partners and Illinois farmers.
You have free articles remaining.
"We need to help our farmers be the most knowledgeable and profitable in the global marketplace," Rohrscheib said. "We're thinking about new uses for our soybeans, how to help expand trade, and how to become more sustainable with technology."
Recent ISA programs have been lauded, including a 2012 project testing new uses for soy-based fish feed named one of Time Magazine's "50 Best Inventions of 2012."
But Meksem said he believes the cuts to academic research will be extremely harmful to Illinois agriculture, in the long term.
Traditionally, Meksem's checkoff funding allowed him to hire 6 undergraduate research assistants per year and fund several graduate students, he said. This year, he's down to 3 undergrads and 2 grad students, and Meksem expects he won't have money for a single undergraduate next year.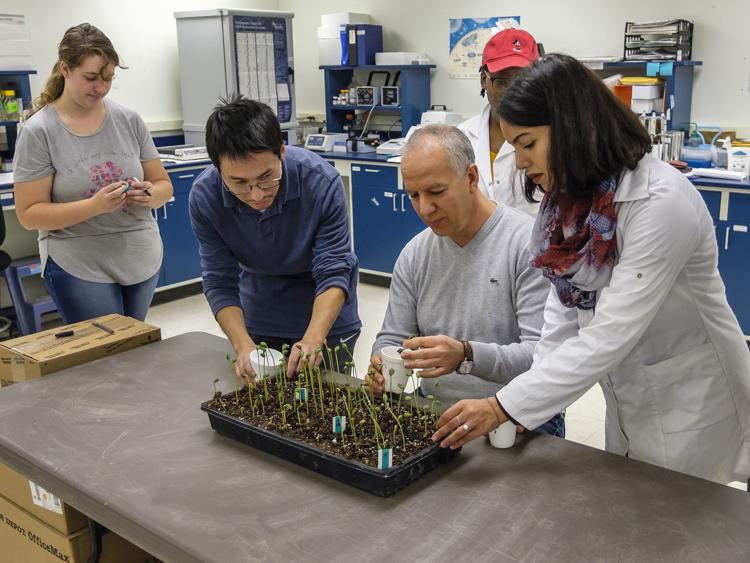 "Instead of increasing our enrollment, we will have to downsize," he said. "Our kids that come to SIU and the University of Illinois, these are kids that grew up on farms, and grow soybeans on their farms. If the ISA is not funding universities, they are not funding their own kids, and they are not helping them get the right education to compete for better jobs," in the ag industry, Meksem said.
Nathan Kleczewski, a field crop pathologist at the University of Illinois in Champaign-Urbana, also sees long-term risks in the ISA's shift away from university research.
Kleczewski is an extension specialist. That means his research is guided by direct communication with Illinois soybean, corn and wheat farmers. They tell him what plant disease issues they're facing in the field, and he searches for solutions, designing experiments specifically for Illinois' climate and soil conditions.
"We want projects that address grower concerns in a rapid fashion," Kleczewski said, with results within three to five years, at most.
Prior to his hire at U of I, about a year ago, Kleczewski held a similar post at the University of Delaware, where he was supported by state checkoff dollars from soybeans, wheat and other grains.
In 2015, with $10,000 from the Maryland Grain Producers Utilization Board, Kleczewski worked with Maryland and Delaware farmers to predict, avoid and combat, a grain disease called Fusarium Head Blight.
CARBONDALE — Southern Illinois University Carbondale should have an interim chancellor within about a month, according to SIU Interim Presiden…
The one-year return on that project, was calculated at nearly $5 million in potential production gains, Kleczewski said.
"Applied research can easily result in significant returns and unbiased data," Kleczewski told the Southern. But since he was brought to U of I, he's received $0 in support from the ISA, despite multiple project proposals.
"I can't even get something to be looked at by the Board of Directors," Kleczewski said.
In many states, the boards who administer checkoff funds reach out yearly to formally request research proposals from scientists.
In Illinois, that procedure was phased out about 10 years ago, around the time Meksem and Kantartzi's ISA funding began to dry up.
ISA director Rohrscheib stressed that proposals are "always welcome," but researchers say they've lost the dialogue they once enjoyed with the ISA's farmer-leaders, which helped them refine their project proposals, and ultimately get them funded.
"It's one person who decides if [a proposal] is going to be submitted," to the board, Kleczewski said. "If they aren't interested, people don't see it."
Now, when Illinois growers have a research question, they may go to "Purdue, Iowa State or the University of Wisconsin," he said. "But Illinois is not those places. We have different challenges, different climates and different soil types. Using their information may work for a while, but it won't work forever."
Kleczewski pointed to an outbreak of Tar spot in Northern Illinois' corn this year as an example of the potential consequences.
"We're dealing with an epidemic in corn that was ignored for three years," he said. "We have millions of dollars in losses, in DeKalb county alone, and people are scared."
With small checkoff investments like he received in the northeast, Kleczewski believes the ISA could create big value for Illinois farmers, with the unbiased data and solutions that university Ag programs are in a unique position to provide.
"I disagree completely with the idea that the ISA's funds aren't enough to make a difference in university research," Kleczewski said. "We're not talking about millions of dollars here."
A recent checkoff-funded project at the University of Wisconsin that will help predict white mold outbreaks is expected to save farmers "millions and millions of dollars," Kleczewski said, on just a few hundred-thousand dollars in investment.
"It wouldn't take a lot of effort to reestablish an effective relationship [with universities], if the ISA would just open a Request for Applications, and a put small amount of money to support a few programs a year," Kleczewski said. "But shutting everything off is not good for our growers or for the state."
Kleczewski's colleagues at SIU Carbondale also lamented the relationship they've lost with the ISA, and agreed both parties must work to rebuild it.
"We used to have very nice meetings and discuss our problems, projects and ideas," Kantartzi said, allowing farmers to see how their checkoff dollars were being used, and give researchers feedback. "If the stakeholders don't know what we can do and can offer, there is a major gap of communication," Kantarzi said.
CARBONDALE — The SIU School of Medicine is planning major additions to its curriculum that would bring more medical students, physician assist…
As they work to secure national grants at the USB, some Illinois researchers feel they've lost needed support from ISA leaders, who no longer prioritize research, said Dr. Kris Lambert, a plant pathologist at U of I.
"We don't have a voice at the table any longer," Lambert said.
And the funding the researchers hope for could become even scarcer, with soybean prices down more than 10 percent over last year, in the wake of Chinese tariffs imposed in the ongoing trade war with the Trump administration.
"In the last 10 years we've all had pretty good revenues as far as checkoff. We're starting to see that slip a little with the tariffs." said Jared Hagert, who sits on United Soybean Board. "The acres and bushels are there. The price isn't. We're going to have to be a lot more cognizant of what we fund going forward."
Lower crop prices means less money contributed to the checkoff funds, which means less funding for all that the soybean boards do, including research.
If Khalid Meksem doesn't find new funding by the summer, he will be forced to send his current research to a collaborator at another university to finish the project, he said.
Research that began in Illinois would be finished out of state, and Meksem would continue to reduce his lab's undergrads and grad students. For now, he's applying to every grant he can, he said, trying to make up the difference.
"We are hungry to address grower concerns. We want to start working with growers and working with the ISA," Kleczewski said. "But right now it's like you bought a new car and there's no gas."