CARBONDALE — Early in the fall of 2017, Asia Taylor and her classmates in SIU Carbondale's freshman orientation course were each asked to write down one of their fears.
Taylor wrote: I'm afraid I won't finish college.
A few weeks later, she suffered a severe concussion at rugby practice.
She doesn't remember the impact, she said. When she went to the doctor, she could remember little beyond her own name.
Taylor, from Nashville, Tennessee, missed two weeks of class, as she moved through concussion protocols.
"I didn't take any midterms, because my doctor said you're not going to remember anything," Taylor said. "And I couldn't. If I took something and set it down, I would forget I ever had it."
She knew she needed help, but, alone in Carbondale, Taylor didn't know where to turn. Neither of her parents went to college. Her professors, she feared, wouldn't understand. Her scholarship, which she depended on, was in jeopardy as her grades slipped.
"I was seriously thinking I might have to drop out because I'm falling behind, I'm failing my classes," Taylor said. "I was kind of in shock. I was like, 'I really worked this hard to make it to college, to have to drop out.'"
Finally, she confided in Abby Wheetley, her instructor from the freshman orientation class, then known as UCOL-101, and now called UNIV-101.
Wheetley became Taylor's "second mom," she said. She helped her deliver doctor's notes to professors, reschedule tests and ask for extensions on assignments. She reassured Taylor that things would be OK, that she wouldn't flunk out.
Taylor's professors worked with her to get her back on track. She took her finals on time, and passed. Last semester, Taylor took 18 credit hours and made straight As. She's on track to graduate early, and already thinking about graduate school.
Nearly two years later, she remains in contact with Wheetley, who has helped her find a major she likes — Animal Science Production and Management, plus a minor in Classics — and has plugged her in to volunteer opportunities around Carbondale that Taylor needs to fulfill a scholarship requirement.
"Without Abby, I may not have pushed myself to stay through college," Taylor said. "I knew that she would listen when I needed to talk, and support my goals and dreams."
Providing every student with a figure like Wheetley is the core of SIUC's new freshman outreach strategy: The Saluki Success Program.
Previously, freshmen got their introduction to SIUC from faculty in the colleges and departments they enrolled in, with a course like Introduction to Nursing, or Introduction to Anthropology, Wheetley explained.
But those classes varied greatly, and didn't always cover the life skills students need to succeed in college, said Saluki Success Program Coordinator Nick Weshinskey.
So, in 2015, SIUC tried a new approach. Weshinskey built an all-new curriculum, and hired a team of instructors to teach a standardized first-year orientation class to all freshmen: UNIV-101, a.k.a. Saluki Success.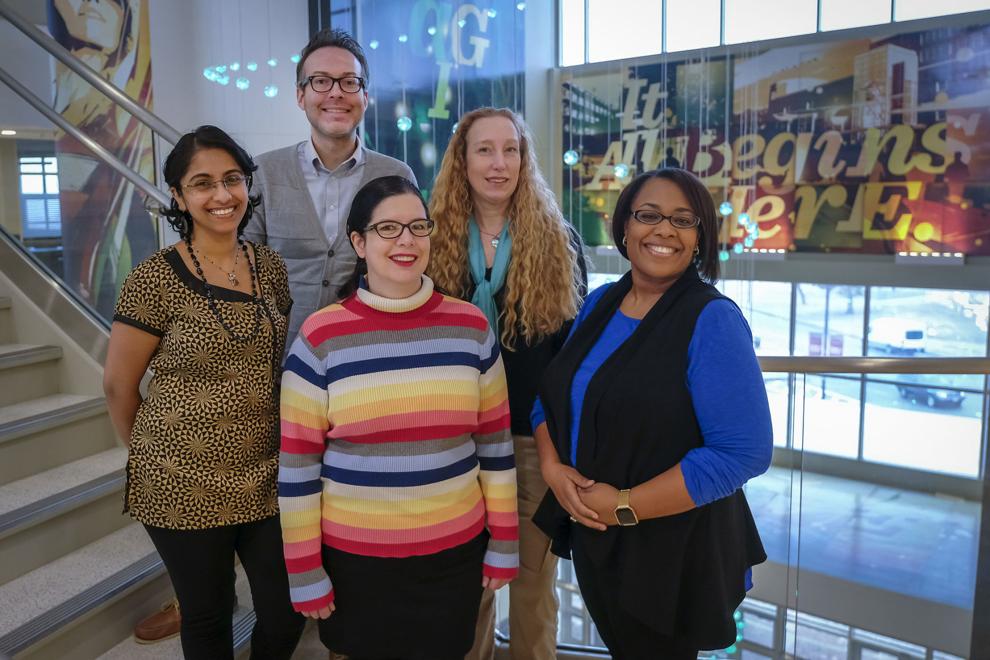 Such courses have become popular at schools across the country, as research shows they lead students to make better grades and engage more with campus activities, opportunities and services.
SIUC's UNIV-101 covers study habits, mental health awareness, sexual consent and cultural sensitivity, plus a dose of SIUC history and lore, including some campus ghost stories.
"There's so much to be proud of in our alumni and traditions," Weshinskey said. "We want students to see what it means to be a Saluki."
Each of the Saluki Success Program's four instructors handles about 12 sections per semester, some 220 to 240 students.
They are young, energetic teachers, who prefer nicknames to fancy titles: Casheena Stephens is Dr. Cash. Gauri Pitale is Dr. Gap. Laura Borger is just Borger, Abigail Wheetley is just Abby and administrator Nick Weshinskey is just Nick.
"They eat with students in the dining hall. They've had, so far this semester, about 700 one-on-one visits with students in their offices," Weshinsky said of his team. "They live amongst the students."
"And we love it," Wheetley added.
Three years in, early data suggests the program is making an impressive impact on student retention and success, particularly for "provisionally admitted" students, who come in to SIUC below the university's academic standards.
"These are people who, we look at their applications and their stories, and the university decides we want to take a chance on them," Weshinskey explained.
There's about 100 such students in each freshman class, Weshinskey said, and they often need extra help getting acclimated to the demands of college.
In 2015, before Weshinskey built the Saluki Success curriculum and hired his team, only 53.33 percent of provisionally admitted freshmen finished their fall semester in good academic standing, while 41.48 percent finished the fall on academic probation, according to data from Weshinskey's office.
The next year, with Saluki Success in place, 73.98 percent of provisionally enrolled freshmen finished fall in good academic standing, an increase of 20 percent, while 17.89 percent finished fall on academic probation.
"We worked in collaboration with units across campus," Weshinskey said, to get at-risk students more one-on-one mentoring with faculty, advisors and tutors.
The data looked even better in 2017, as 83 percent of provisionally enrolled students finished their fall semesters and continued into the spring.
Across the student body, losing fewer students has been the top priority for SIUC administrators, as they work to reverse declining enrollment on the Carbondale campus.
Current retention numbers are "unacceptable," Interim Provost Meera Komarraju said in December, as just 43 to 45 percent of SIUC students graduate within six years of enrolling at the university.
That's about equal to Southeast Missouri State University, and SIU Edwardsville, but about 10 percentage points worse than nearby Murray State University.
The University of Illinois at Urbana-Champaign, by comparison, reports six-year graduation rates around 85 percent, and rates tend to be highest at institutions that are more selective, according to the National Center for Education Statistics.
In 2017, when Saluki Success was fully implemented, SIUC saw a 6 percent increase in freshman retention, to 71.08 percent, around the national average.
Weshinskey and his team believe that's no coincidence. When students feel cared for, they persevere and succeed, he said.
Surveys of freshmen who took Saluki Success found nine out of 10 agreed it made them aware of campus resources and helped them adjust to college life. Ninety-two percent agreed their instructors were concerned about their success.
But more than the numbers, it's stories like Asia's that get Weshinskey and his team excited. And, students like Noah Wilson, a sophomore studying anthropology and zoology, who still comes back to see Wheetley and Pitale regularly, a year after he took Saluki Success.
Wilson said he can get overwhelmed when schoolwork starts piling up. But Wheetley and Pitale help him keep things in perspective.
"They give me helpful advice, saying I'm a bright student and a hard worker, and how I should relax and that I'm doing OK," he said.
They've guided him through three rough drafts of an upcoming research paper, and answered his questions about graduate school.
"When I first came to Southern, I wondered if I made the right choice," Wilson said. "But with Abby, Dr. Pitale and the Saluki Success program, I realized I maybe wouldn't have gotten the same help somewhere else."
Brianna Rengo, a freshman, had Wheetley's class last semester.
"I have social anxiety, so it's not always easy for me to talk to people," Rengo said. Without having the UCOL class and Abby I might not have the confidence to do this (interview)."
Rengo struggled in high school, and doubted she'd make it past her freshman year at SIUC.
"My grades sucked in high school, my study habits sucked. Somehow I pushed through my first semester and now I'm taking a 200-level class as a freshman," Rengo said, in mid-February. "I never thought I'd be able to go up into a sophomore class."
Like their students, the Saluki Success professors have their stories of trials and triumph in college.
Pitale struggled to adjust to the culture and expectations of American grad school, after coming to SIUC from India in 2008, to study anthropology.
Stephens did an undergrad degree in biological science expecting to become a doctor, then changed course and earned a doctorate in workforce education, while raising four kids.
Wheetley failed out of SIUC, spent five years working minimum wage jobs, and then lost a child, who was born with terminal illness, all before earning two degrees and joining Saluki Success.
"We tell them about our shortcomings, so they can understand when they make decisions that it's OK to make changes," Dr. Cash said.
"We've become the touchstone for students," Wheetley added. "Before you go to your mom, your dad, your guidance counselor, your teacher, we have become that person for so many students on this campus."