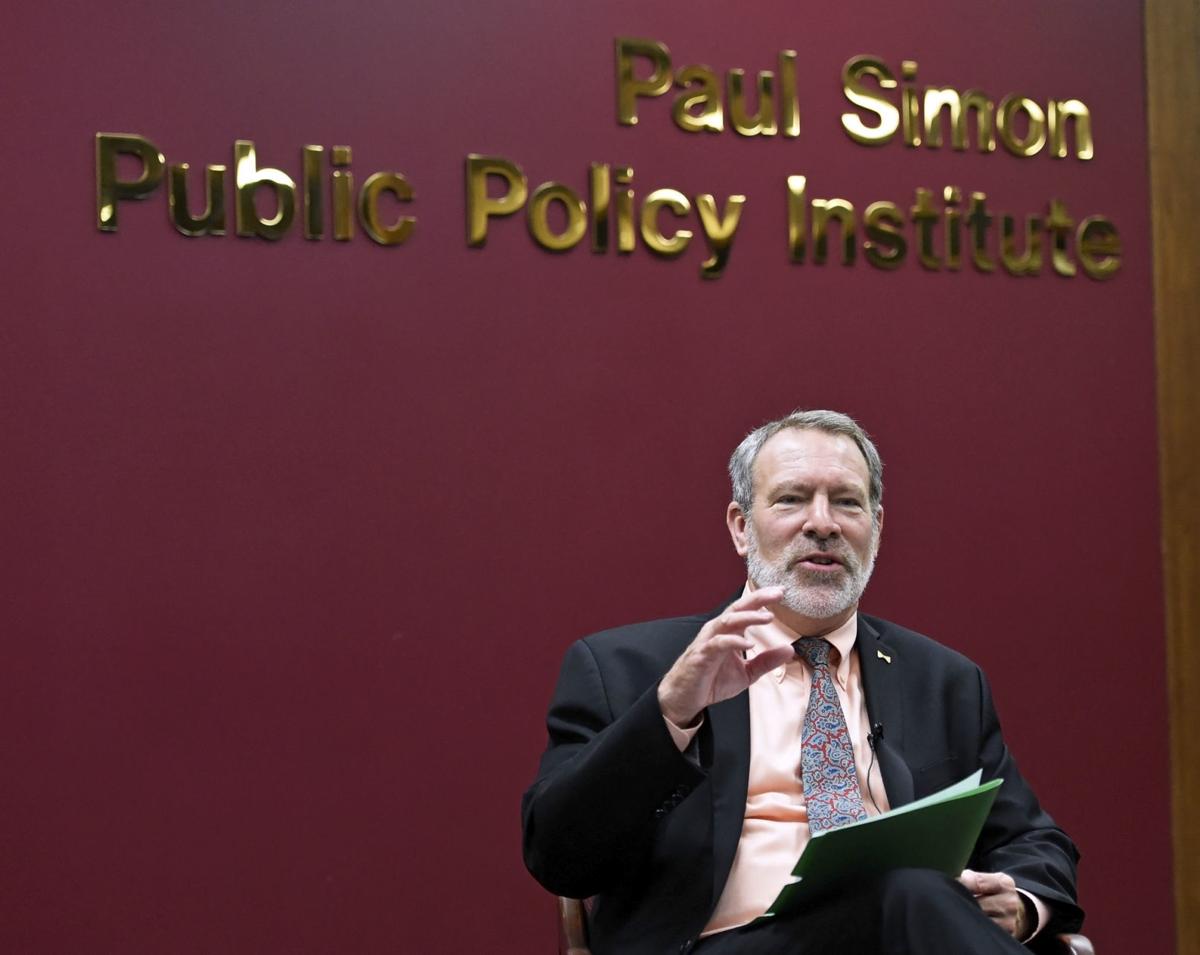 CARBONDALE — John Shaw wants to talk about statesmanship.
The director of SIU Carbondale's Paul Simon Public Policy Institute believes the university can lead a national discussion that's long overdue: How do we create a new generation of bold, independent political compromisers?
That means molding leaders who "make decisions thinking long-term rather than hunkering and pivoting from one election to the next," Shaw said. "Statesmanship is courage, to make hard decisions, compassion, to do so in a way that's broad-minded, effectiveness, to prioritize getting things done, and civility: treating political opponents as people you disagree with, not as the enemy."
No, Shaw said, the Statesmanship Initiative is not a response to President Trump, or any other political figure.
"It's a response to our current political environment," Shaw said, marked by extreme polarization, excessive obedience to party caucuses, and the disappearance of moderate Democrats and Republicans.
"In our current political landscape, it's hard to say, 'Wow, these are some eminent statesmen,' either in Washington or Springfield," Shaw said. "Though I do think there's been examples if you go back in the last 40 to 50 years."
These days, when Americans think about fundamental issues like the environment, race, immigration or the role of government, they are more influenced by political party affiliation than almost any other factor, according to data from the Pew Research Center.
In the mid-1990s, opinion differences between Republicans and Democrats were on average, "no larger than differences between men and women, blacks and whites, or those of other groups," with different demographics, religious beliefs or education, according to Pew researcher Alec Tyson.
"Today the partisan gap dwarfs other demographic measures and it has more than doubled since 1994," Tyson said.
Shaw hopes by highlighting the U.S.'s history of great statesmanship, SIUC can encourage a "rebirth of leadership," that looks beyond partisanship and tit-for-tat politics.
Several big names have already signed on to help plan the project, including Retired Sen. Richard Lugar, former chair of the Senate Foreign Relations Committee; Lee Hamilton, former chair of the House Foreign Affairs Committee; Jan Eliasson, former deputy secretary general of the United Nations; and former Illinois Gov. Jim Edgar.
Shaw is also soliciting essays from leading political scientists and historians for the Initiative's first book, which will mix commentary and profiles of some of the great statesmen and political compromisers in U.S. history, from President Abraham Lincoln to deceased senator Arthur Vandenberg.
Vandenberg, a Republican, "derailed his own aspirations for winning the 1948 Republican presidential nomination," Shaw wrote, when he supported Democratic President Harry Truman's controversial Marshall Plan, to spend billions to rebuild Western Europe after the end of World War II.
Although it damaged his political plans, Vandenberg's leadership "helped enact foreign policies that bolstered America's position in the world for decades," Shaw wrote.
The Statesmanship Initiative book is due out by the end of 2019, and Shaw hopes it will provoke discussion and debate in SIUC classrooms, and on the national level, during the 2020 Presidential election.
"This is for students who look at our current political environment and say, 'what an ugly mess. How can I feel hope or confidence?'" Shaw said. "We want to show that in the past there were people who approached government in a different way."
One such legislator, Shaw said, was Paul Simon, the Public Policy Institute's founder, who lamented the decline of American politics in his 2003 book, "Our Culture of Pandering," published the year of his death.
"We have spawned 'leadership' that does not lead, that panders to our whims rather than telling us the truth, that follows the crowd rather than challenges us, that weakens us rather than strengthening us," Simon wrote. "It is easy to go downhill, and we are now following that easy path."
Measuring political nastiness is tricky, said John Jackson, a visiting professor at the Simon Institute, and there are examples of dirty politics throughout American history, from the 1798 Alien and Sedition Acts, to Joseph McCarthy's fear-mongering "red scare" in the early 1950s.
What's provable, Jackson said, is that our two-party system is more polarized than at any time in recent history.
"Current measurements show there is no Republican member of Congress who is as liberal as the most conservative Democrat," based on voting records and positions on key issues, Jackson explained. "There used to be a huge overlap. Two decades ago, there were many crosscutting politicians — moderate to conservative Democrats in the South and Northeastern-based liberal Republicans."
Meanwhile Jackson said, the increase in discord and mistrust between Democrats and Republicans at the highest levels of government is harming everyday Americans' perceptions of each other, spurred by social media.
Some 70 percent of Democrats said that Republicans were "more closed-minded than other Americans," while nearly half of all Republicans surveyed classified Democrats as immoral, lazier than other Americans, and more dishonest.
Another Pew survey, conducted in July, found about 80 percent of each Republicans and Democrats said they not only disagree with political opponents over plans and policies, but also "cannot agree on basic facts."
"Polarization and nastiness have filtered down to the popular level in an unprecedented way," Jackson said. "This project is, in my view, a worthy one."
Once the Statesmanship Initiative releases its book, Shaw hopes SIUC can attract financial support from foundations and endowments to grow the conversation.
"People in the private sector know our politics is broken," Shaw said. "There's a number of foundations and endowments who work on democracy and good government, who might see this as a constructive, fact-based way to find a better way to govern."
Someday, he aspires to a full-fledged schedule of statesmanship-themed workshops, symposiums and speakers.
"That's the goal of policy institutes like ours," Shaw said, "to help shape the public debate in a positive way."