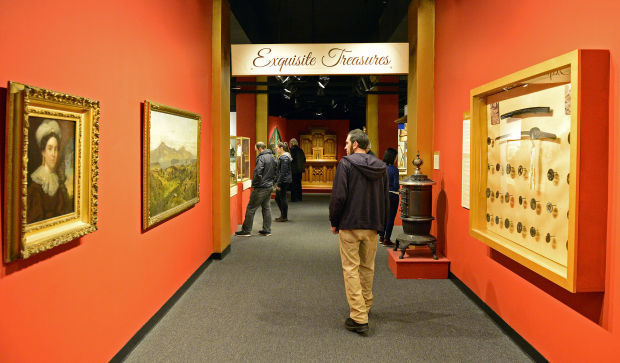 CARBONDALE — Another apparent victim of the ongoing state budget crisis, Southern Illinois University Carbondale's University Museum has been stripped of its national accreditation as a result of recent cuts.
Curator of Exhibits Alison Erazmus said the museum received word last week that it had lost its status through the American Alliance of Museums, the accrediting body that validates museums based on their operations and impact.
"We were told that the final determination came down to our low level of staff and our budget cuts that we have endured over the last two years," Erazmus said.
University Museum had held the distinction since 1977.
"We plastered it everywhere: 'we are a nationally accredited museum,'" she said.
Prior to the state budget impasse — the state has been without a spending plan since July 2015 — the museum had a $40,000 annual budget; that has been trimmed down to $15,000 for the current fiscal year.
"For a museum our size, with 70,000 objects and a lot of square footage, that is just way too little," Erazmus said. "… It just means that we cannot pay our bills — basic bills like phone bills, and paper."
The museum has been operating with a skeleton crew since 2015, when three full-time positions were vacated. Those positions are still open.
Erazmus and curator Susannah Munson are now the museum's only full-time staff members; Christopher Walls, who was appointed interim director in January, works at the museum part-time. The staffing cuts have crippled the museum's ability to tend to its collections.
"Collections don't just take care of themselves — you need stewards, you need people to look after them," she said.
When the museum was fully staffed, workers had more time to focus on grant writing to fund special projects. But the loss of accreditation could also hurt the museum's chances of receiving grants at all, since granting agencies like the National Endowment for the Arts and National Endowment for the Humanities want to give to institutions that are thriving, Erazmus said.
"It would be futile for us to write grants for special projects when we don't even have the people to execute those projects. We're just trying to get through the day-by-day," she said.
The re-accreditation process began in 2014, and representatives started paying site visits in the summer of 2015, just as the museum started facing budget and staffing cuts.
The museum does not have an entrance fee. Erazmus said staff has had some recent success with fundraising, and that alumni have been generous and sympathetic to the museum's plight.
"That's all we can do, is fundraise and hope for a budget to pass at the state level," she said.
Note: This story has been updated to clarify that three full-time positions were vacated in 2015 and were not filled. The museum did not lay those employees off.
618-351-5082
On Twitter: @janis_eschSI