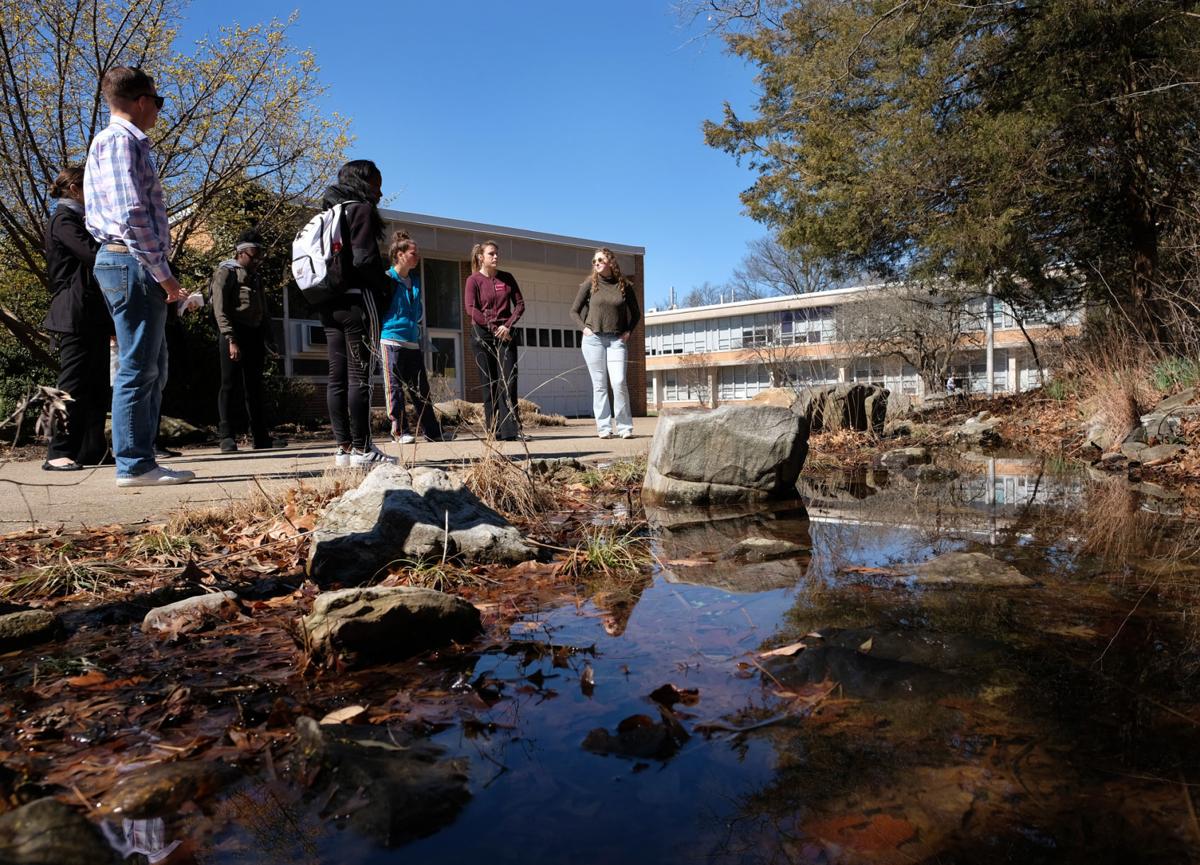 CARBONDALE — At first glance, there's nothing remarkable about the puddle at the edge of Thompson Woods near the Agriculture Building.
But the "rain garden," one of many projects funded by Southern Illinois University's $10 student Green Fee, actually has an important role to play, according to Karen Schauwecker, SIU sustainability program coordinator.
"Before this garden, when it rained a lot … this whole walkway would get flooded. There's a few negative impacts on that — it makes it impassable, but also water collects pollutants on its way to the storm water drains, and when water facilities are overwhelmed in times of high rain, a lot of that water gets pushed back into the waterways when they back up," Schauwecker said.
Comprised of several layers of gravel, the garden collects rainwater and feeds it back to the trees and native plants.
"It doesn't look like much," Schauwecker said. "But it actually was a pretty big construction project."
The garden is one of 169 sustainability projects on campus made possible by the Green Fee, which was instituted by a campus-wide referendum in 2009.
Schauwecker and Geory Kurtzhals, SIU's sustainability coordinator, on Friday led a "Green Tour" to show off Green Fee-funded projects on campus. The tours are held on the first Friday of each month.
An environmental student organization, Eco-Dawgs, led the initiative to adopt the Green Fee in 2007.
"They had seen this at other universities, where students had paid in to this Green Fee, and then it provided a sum of money that could help fund green initiatives on campus," Schauwecker said.
Kurtzhals said similar student fees are increasingly common at universities that are trying to push sustainability.
"When the students are engaged in these proposals, it enhances their university experience — it empowers them to make a difference on their corner of campus, and then how often is a student able to write a grant and have it funded while they're learning at a university? In addition to a practical learning experience, it's a great résumé builder," Kurtzhals said.
Any student, faculty or staff member — or groups of collaborators — can submit a Green Fund proposal. Many Green Fund-financed projects are also funded partially by departments.
Each year, the Sustainability Council — comprised of three students, three faculty and three staff — reviews the proposals and selects the strongest ones for funding. This year's 28 Green Fund ideas were submitted Thursday.
"One of my visions for campus is to create models for sustainable solutions, or students working with faculty and staff to solve problems, because we have the faculty here who have the expertise, the students have the drive, and they're trying to learn, as well, and then the staff have kind of that practical application — they're trying to make the university function. So when the three of them get together, you typically have really practical solutions to a problem, and a lot of times creative, too, because you have the creative juices of the students," Kurtzhals said.
The Green Fund helped pay for four trash/recycling containers with solar-powered compacting mechanisms. Over the course of six months, the containers collect over 200 pounds of bottles and cans, and five times the usual amount of trash, Schauwecker said. Once the compartments are full, a "smart belly" function sends out email to Plant and Services Operations.
"What that does is it has a big cost savings in terms of labor," she said.
Green Fund grants also replaced Student Center and McLeod Theater lighting with more efficient and longer-lasting light-emitting diode (LED) lights.
Seven bicycle fix-it stations are the result of a collaboration between the Department of Public Safety and Saluki Spokes. They're equipped with tools to fix flat tires or damaged brakes.
A solar picnic table made of recycled plastics has an 110-volt charger and USB ports for charging mobile phones.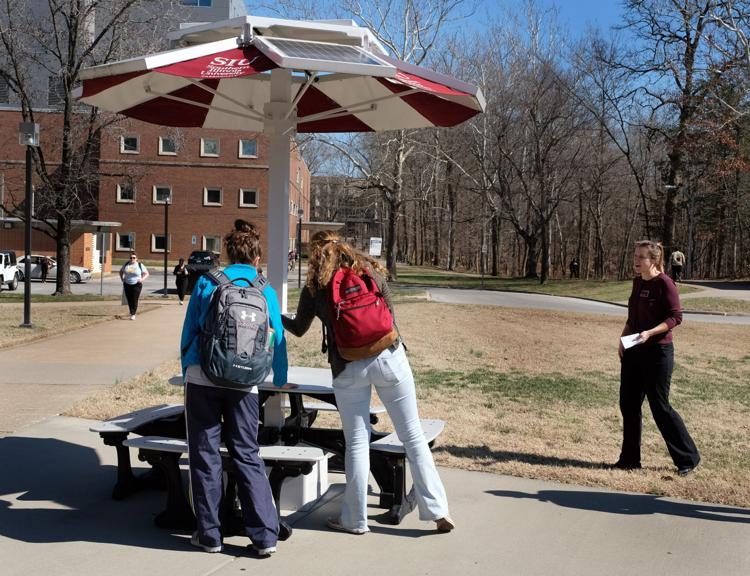 Students are currently developing prototypes for the Eco-Rec Green Fund project, which seeks to prevent growth of cyanobacteria in Campus Lake by aerating the water. One project consists of a solar-powered fountain; students are also creating at least one stationary bicycle that pumps water.
"I think that particular Green Fund project is a really cool model of students working with faculty and staff to find us a solution on campus that's sustainable. … That's an example of people getting together and solving an issue, because sustainability issues are really complex like that, and you can't just do it in a silo with one group of people," Kurtzhals said.
CARBONDALE — If there's one thing cyanobacteria can't stand, it's aeration.
Some of the 30 refillable water stations on campus were also funded by the Green Fee. 
When sustainability staff added up the digital readouts on all those refillable water stations in the spring semester of 2017, they found they had saved an equivalent of over 1 million plastic water bottles that would have gone to a landfill, Kurtzhals said.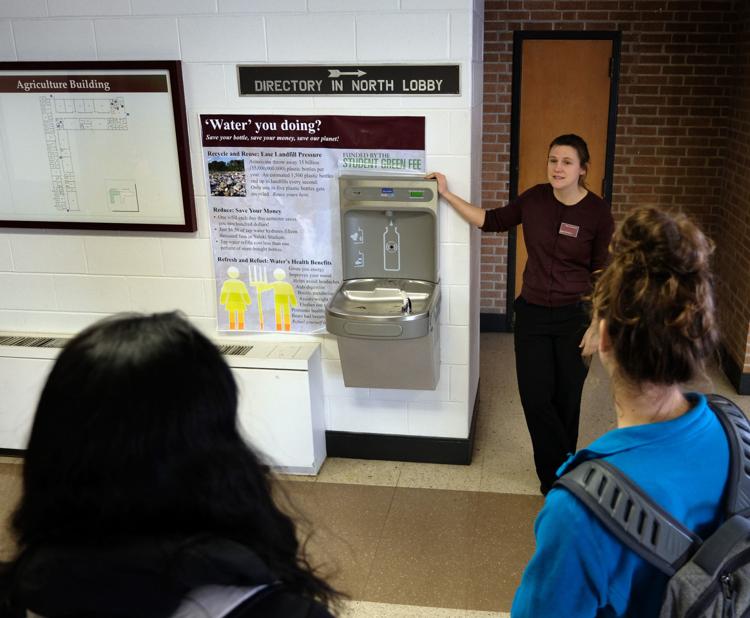 "This is the kind of sustainable project that I love, because it makes my life easier, and it's easier to make the sustainable choice. It's actually easier for me to bring my water bottle every day than it is to go and try to buy a new disposable bottle every day," Schauwecker said.
Other tour highlights include the Agriculture Building's vertical garden (located in the south wing) and "green roof," a rooftop garden.
"In urban areas, there's a huge rainwater runoff issue, and these green roofs collect all of that water and make it easier for the water treatment stations to keep up with those large amounts of heavy rainfall," Schauwecker said.
A green roof can reduce heating and cooling costs by insulating the building. It also provides a habitat for bees and birds.
Jeffery Eliasen, one of the students attending the Green Tour Friday as extra credit for a geography class, said he hadn't known about most of the projects.
"I've walked by probably most of them," Eliasen said.
The next Green Tour dates are April 6 and May 4. Tours begin at noon at the Sustainability Hub in the SIU Student Center, and they are free and open to the public. More information is available at www.sustainability.siu.edu.
618-351-5082
On Twitter: @janis_eschSI
Be the first to know
Get local news delivered to your inbox!