CARBONDALE — Visitors to Southern Illinois University Carbondale's Campus Lake might have spotted a new feature in the water near Bucky's Haven this week — a fountain powered by a solar panel.
Designed by engineering students, the project is part of an interdisciplinary "eco-recreation" initiative intended to prevent the growth of harmful algal blooms. Eventually, the solar-powered fountain will be part of a larger array that will serve as an obstacle course for paddle-boarders and kayakers.
The university eradicated cyanobacteria from the lake with a massive cleanup effort in 2016, but left unchecked, they'll start to take over again.
Aeration hinders growth of cyanobacteria, so the eco-recreation project — funded by the student Green Fund — called for proposals to get the water moving.
As it stands now, the fountain doesn't work perfectly; it turns on and off, and it's supposed to run consistently 24 hours a day.
But for the engineering students in a senior design class who developed the prototype, mistakes are an important part of the learning process, according to Dr. Marj Brooks, associate professor of zoology at SIUC.
"Right now the fountain's kind of spurting, and it starts and stops … so we're in discussions about voltage regulators and improving the battery and those sorts of things. But that's what a university is supposed to do, is help them learn through doing and through seeing, and taking it from theory to action," Brooks said.
A team of five mechanical engineers and one electrical computer engineer designed and built the fountain over two semesters. The fountain is a floating dock with a large battery inside, solar panels on top and a completely submersible pump that shoots a spray of water off one end.
Jacob Lidy, a senior in engineering, was team leader for the project.
You have free articles remaining.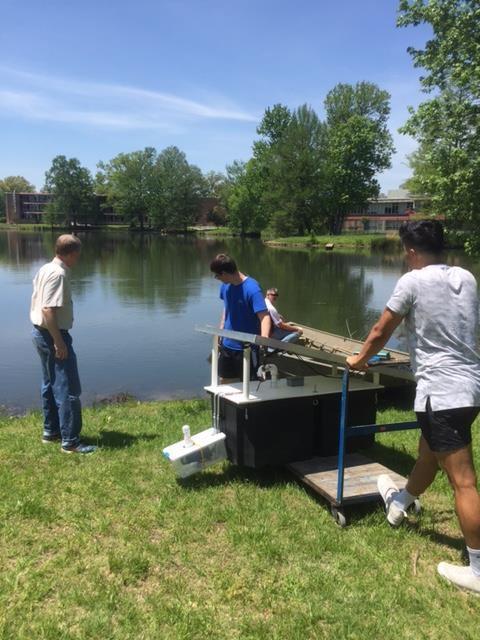 "It's kind of just the beginning. It's our prototype, and this can continually be a product for future engineering students or students out of other colleges as well to help develop other solutions and make it even better. … It makes me feel pretty good that it's actually being implemented right now," Lidy said.
The fountain is one of two eco-recreation project prototypes that were developed this year. Another project, a stationary bike, will have an output hose with a floating sprinkler head in the lake to create a fountain. Visitors at the lake will be able to exercise on the bike and power the spray.
That project is being developed by industrial design students and is expected to be installed by the end of May, Brooks said.
A horticulture class will also design and construct a new wetland around the lake next year as part of the project. 
The solar-powered fountain is projected to cool the surrounding six feet of water by approximately 5 degrees Fahrenheit. One of Brooks' students is measuring the impacts.
"But obviously, it's a big lake," Brooks said. "And so that's why the design idea for next year is to refine this and create an array of fountains."
The project is a collaboration between engineering and zoology, funded by the Sustainability Office.
"It's a great example of how university life can be strongly interdisciplinary, and really creative on a lot of fronts. And God knows that's what we need at this point in time in our society, is we need innovative thinkers and creative thinkers who can take things from the drawing board to the middle of the lake," Brooks said.