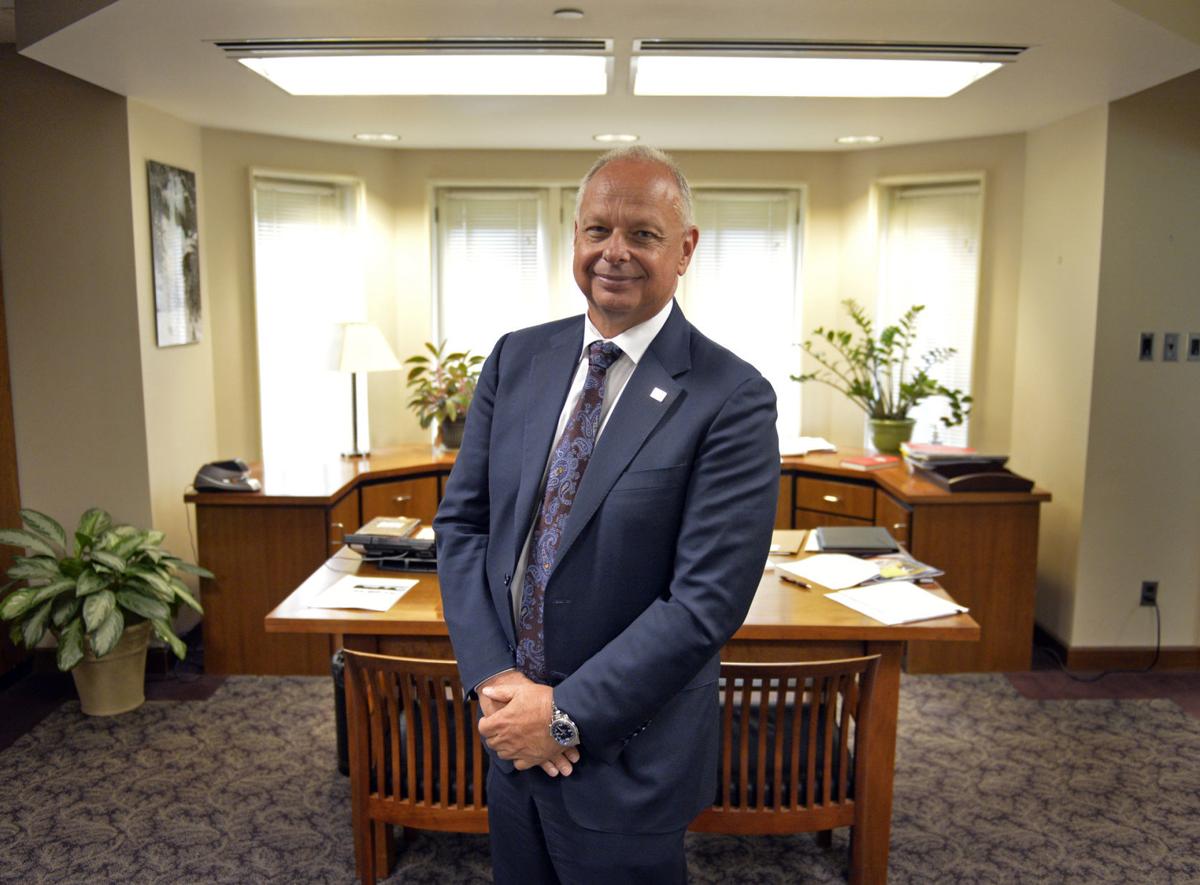 CARBONDALE — An ethics inquiry into the hiring of Southern Illinois University Carbondale Chancellor Carlo Montemagno's daughter and son-in-law has been passed from the university's internal ethics office to the state inspector general, according to the SIU president.
On Thursday, SIU President Randy Dunn opened up two inquiries into hires related to the chancellor. One investigation involves the hiring of Melissa and Jeffrey Germain, Montemagno's daughter and son-in-law, as part of negotiations of the chancellor's employment. The other involves Montemagno's reported recommendation of former colleagues to multiple campus positions.
"Our system Office of Internal Audit, Compliance and Ethics, in reviewing its standards and talking with the state agency, has made a determination that they just need to go ahead and give that inquiry on the family members directly to the Office of Inspector General," System President Randy Dunn said during an interview with The Southern on Friday in the Stone Center.
The DE also reports that the chancellor, who was appointed in July by the Board of Trustees, pushed search committees in multiple departments to hire people with whom he had previously worked during his time at University of Alberta's Ingenuity Lab.
Dunn said the inquiry involving Montemagno's family members was passed to the state ethics office because the SIU Board of Trustees had a hand in the decision to hire the Germains.
"Because then the board is implicated in that decision and our executive director (of the Office of Internal Audit, Compliance and Ethics) reports ultimately to the board, the thinking is that that just needs to be taken out of the system and go straight to the inspector general's office. And obviously I'm supportive of that, and in the end, I'm actually glad it's moved forward that way," Dunn said.
Family hires
Melissa Germain was hired as assistant director of University Communications on Sept. 1, 2017, with an annual salary of $52,000; Jeffrey Germain began Oct. 1, 2017 as "extra help" in the Office of the Vice Chancellor for Research at an hourly rate of $45, according to hiring documents obtained by The Southern through a Freedom of Information Act request.
Dunn said spousal or partner hires are fairly common in academia and can be helpful when institutions are trying to attract a candidate to an area that has few job prospects, but Montemagno's request for the hires of his daughter and son-in-law was "atypical," Dunn said.
"I will say, to the chancellor's credit, he was very upfront about it. It was clear that this was going to be something that was part of the overall employment package to draw him to SIU Carbondale," Dunn said.
As the DE reports, the Germains followed Montemagno from University of Cincinnati, to University of Alberta in Canada, to SIUC.
Dunn said he handled a good deal of the negotiations with Montemagno in June, before the chancellor was appointed by the board July 13. The hires of the Germains were agreed upon verbally.
"Through that process, the general counsel and I determined that the hiring of family members was probably not something appropriate for the written contract — did not want to have that sort of ironclad guarantee that was committed to in a written document, but certainly we were aware that this was part of the tacit or unwritten element that Carlo expected to have happen if he was going come here as chancellor," Dunn said.
Faculty hires
Information about Montemagno's alleged insertion of former colleagues into multiple faculty searches — and the exorbitant lab startup packages proposed by those candidates — was news to Dunn when he first read about it in the DE, he said.
"I really didn't have background on that at all, nor was there any prior agreement that was made with the chancellor about that such as there had been with family members," Dunn said.
Dunn said he feels it is appropriate to make contact with a search committee chair to call attention to a certain candidate for his or her skill set or strengths, but "that's about where that networking stops."
"I don't want to jump to conclusions … but what was reported could suggest that there could be some element of a quid pro quo, or potentially coercion — I'm not saying that happened, we don't know it. But to the extent that this became a transactional type of thing, that gets into territory that harms the integrity of the search process," Dunn said.
Future of Montemagno's restructuring plan
Asked whether the reports about Montemagno's hiring practices could compromise his proposed restructuring plan, which seeks to eliminate the university's 42 departments and organize degree programs by newly formed colleges and schools, Dunn said it was too early say, but that the chancellor may need to rebuild trust with the campus.
"You cannot do a massive, wholesale organizational change such as the chancellor's plan envisions, without having some trust relationship established and without going and selling that program," Dunn said.
Dunn said the proposed shakeup has been "a fairly top-down plan" and that now is a "delicate time" for organizational negotiation with departments.
"I do think that the chancellor, to the extent possible, has to really dive back in with his faculty, with really the entire body of the university, those internal including staff and students as well as external parties, to get back on-message and show why he feels this plan is the right one and why it needs to have support," Dunn said.
618-351-5082
On Twitter: @janis_eschSI
Be the first to know
Get local news delivered to your inbox!