SPRINGFIELD — Two lawmakers are calling for the resignation of Southern Illinois University President Randy Dunn after the publication of a guest opinion column containing internal correspondences about a $5.1 million funding shift from SIU Carbondale to SIU Edwardsville.
Chwalisz cited an April 4 email, obtained through a Freedom of Information Act request, in which Dunn claimed he was using certain funding distribution figures "simply to shut up the bitchers from Carbondale" who opposed the plan.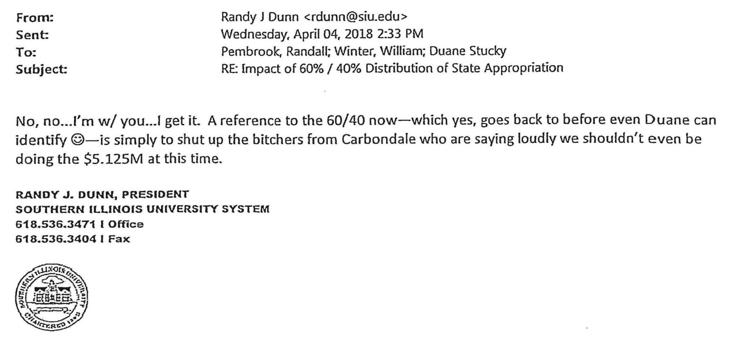 State Rep. Terri Bryant, R-Murphysboro, objected to the language in an impassioned, six-minute speech Thursday on the House floor.
"Those are fellow Southern Illinoisans, and they're fellow Illinoisans," Bryant said. "Those are hardworking people that are fighting to protect what they have built, Southern Illinoisans fighting to keep their economic engine, fighting to keep their jobs, fighting to get their kids to continue their education close to home, fighting for the economic lives in Southern Illinois. Mr. Speaker and ladies and gentlemen of the House, I stand today before you as a loud, proud bitcher."
Bryant said Dunn is "colluding with officials at SIU Edwardsville" to work against the Carbondale campus.
"For the health of the Southern Illinois University System, and as a whole to make sure that that is preserved, that we preserve the future of Southern Illinois Carbondale as well as the complete Southern Illinois system, and because of his obvious and blatant disdain for constituents, and for the SIU campus, President Dunn should resign from his position and he should resign immediately," she said.
State Rep. Chad Hays, R-Catlin, also called for Dunn to resign, according to a report from the Chicago Tribune.
"On behalf of all Salukis, you go to hell, sir," Hays said.