MAKANDA — "If we can build trails here, people will come. The big movement in mountain biking now is towards the Midwest."
That's what a mountain biking industry consultant told JD Tanner the first time he laid eyes on Touch of Nature, SIU Carbondale's 3,100-acre natural area and outdoor classroom.
Tanner, the director of the Touch of Nature Environmental Center, knew firsthand that Southern Illinois was full of "ideal terrain" for mountain bikers. But, Tanner said, "there was nowhere in Southern Illinois where you could find a designated mountain biking trail."
Four years after that initial walk-through, Tanner's team is making Southern Illinois' first true mountain biking trails a reality.
They've had almost 30 miles of potential Touch trails mapped out, done detailed land surveys to assure construction is sustainable, durable and low-impact, and are close to securing almost $200,000 in grant funding to get a professional trail-building firm to the site.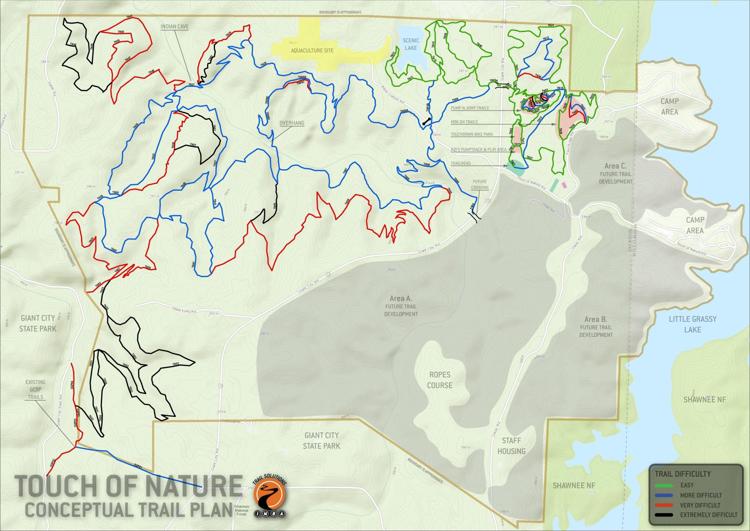 If they can achieve their goals, our whole region may benefit.
"The potential economic impact of this project could be huge," said Isaiah Tanner, a Touch of Nature employee who began working on the project about two years ago as an SIUC graduate student. "There's a big second wave of spending that happens when people travel for outdoor recreation."
According to JD Tanner's market research, bike trails of similar size to the one proposed for Touch can pull up to 55,000 users per year.
That means food, lodging, biking equipment and other spending that feeds back into local economies across the nation, to the tune of billions of dollars per year, according to the International Mountain Bicycling Association, which tracks the fast-growing sport.
But first, SIUC needs trails, and the funds to build them. And getting government money can often be an exercise in patience.
Under Tanner's guidance, Touch applied for a $200,0000 Recreational Trails Program grant from the Illinois Department of Natural Resources. The IDNR recommended that grant for full funding. But a large portion of that funding comes from the Federal Highway Administration, which means the IDNR must wait on final approval from that agency, in order to authorize money to SIUC and Touch of Nature.
That process is nearly completed, according to IDNR spokesperson Tim Schweizer, and the agency hopes to make an announcement about the funding next week.
If it clears the final hurdles, the money should be enough to build 8 to 10 miles of trails, JD Tanner said, a mix of beginner and intermediate terrain.
MAKANDA — Construction has begun on a project intended to give campers and visitors a warm welcome at Southern Illinois University's Touch of …
But stalled funding won't have the Touch team spinning their wheels.
Beginning last October, Isaiah Tanner and a group of local volunteers began building the Touch trails with hand tools, purchased with an SIUC Green Fund grant.
"It's been pure hard work, sweat, and grit," Isaiah said. So far, the group has created a small loop, about a mile long.
Shawn Moore is a regular on trail-building days. He's an SIUC employee and an avid biker, who has mountain biked on some of the best trails in the country.
"If we can get 200 feet built in a day, that's a good day," Moore said of the Touch project.
But having a place to ride, and supporting the local scene, makes the hard work worth it.
"I think mountain bike trails at Touch of Nature will be a great asset to our region," Moore said. "While there are nearly 400 miles of trail in the Shawnee National Forest, none of it is purpose built mountain bike trail," meaning it's not built to the specifications necessary for the sport, factoring in trail tread width, trail surface, maximum and average grade, and obstacles.
Moore and Isaiah Tanner believe even a small rideable area at Touch will stoke local interest in the sport.
"The mountain biking community uses a lot of crowd-based technology," Isaiah Tanner said. "When people start riding somewhere, they post about it. They put it up on apps where they can share their routes with their friends. Then we encourage those new visitors to support the project, to come out and work or donate money."
Shawn Moore has seen first-hand the potential of mountain biking to attract visitors to Southern Illinois. In 2017, Moore and friends decided to organize a one-day, mixed-surface, 100-kilometer bike race that starts and ends in Alto Pass, and takes riders through the beautiful Larue-Pine Hills and the Trail of Tears State Forest.
Now gearing up for its third year, the Dirty South Roubaix has grown rapidly.
"In our first year we had 98 riders from 11 states, as far away as Virginia and Mississippi," Moore said. "Last year, we grew to 166 riders."
"A lot of our people come from the Chicago area, Wisconsin, Michigan and Northern Indiana," Moore said. "They all think it's awesome here, because it's thirty degrees warmer and sunny when they show up," for the race in early March.
With the proceeds from the race, the Dirty South organizers donated $1,000 to the Touch project. An SIU Foundation crowdfunding page has raised almost $5,000 for the Touch trails to date.
"The more that it grows, the more people will want to be involved and will jump on board," Isaiah Tanner said. "The community wants to see this happen."
Once built, the trails will be volunteer maintained, according to JD Tanner, and will be open to hikers and trail runners as well as bikers.