CARBONDALE — A long-awaited $200,000 grant from the Illinois Department of Natural Resources has been handed over to Touch of Nature, SIU Carbondale's 3,100-acre forest and outdoor classroom, to construct Southern Illinois's first mountain biking trails.
"Relieved is the best word for it," said JD Tanner, the director of the Touch of Nature Environmental Center. "We've been waiting on this for a year and a half," since the funds were approved for Touch.
Now that the funding is awarded, SIUC and Touch of Nature will request bids from trail builders to put in at least 6 miles of "purpose-built" beginner and intermediate track, structured especially for mountain biking, and taking into account trail tread width, surface texture, maximum and average grade, obstacles and other factors.
"We'd like to keep the money with an in-state builder, if we can," Tanner said, though he expects to draw bids from throughout the Midwest.
Tanner and his team hope the trails will help Southern Illinois tap into a fast-growing sport that could be an economic boon for the region
"This is a big catharsis for the folks who started this, even before me," said Isaiah Tanner, a Touch of Nature employee who began working on the project about two years as an SIUC graduate student.
While waiting on the funding, JD, Isaiah and the Touch team have continued to push the project forward, raising almost $50,000 through donations and smaller grants to lay the groundwork for the trail construction.
They hired consultants from the International Mountain Bicycling Association to complete a comprehensive plan, in 2016, that mapped nearly 30 miles of potential trails through Touch of Nature, recommended the kinds of trails best suited to local conditions, and assessed the economic potential of the project, which JD Tanner believes could eventually pull as many as 55,000 users per year.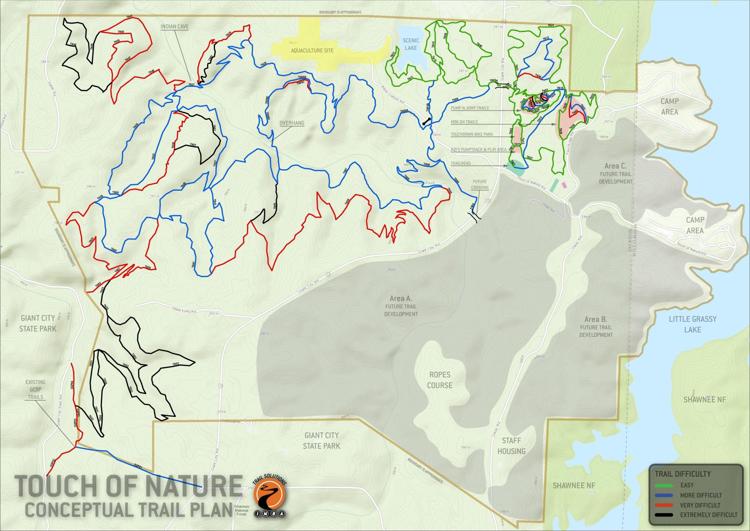 They also got the first six miles of prospective trail surveyed by the SIUC Center for Archaeological Investigations, so it will be ready for construction as soon as a trail building company is picked.
"They'll take the rough flag line we have out there and decide exactly where the trails will go and what they'll look like," Isaiah Tanner said, shaping the texture, feel and difficulty of each section of terrain.
The Touch of Nature team hopes all that prep work will help them stretch the state money, to complete two to four miles of additional trail beyond the projected six, JD Tanner said.
In the meantime, Isaiah Tanner and other committed locals are continuing their tradition of volunteer trail building days. The volunteers began building last October, hoping to jump-start the Touch project, and get the local community excited and involved.
"Just last Saturday we had a great group of folks out from the Rotary Club, and finished about 200 feet of really good-looking trail," Isaiah said. "I don't foresee our volunteer days ever going away."
Once the professional build is complete, JD Tanner hopes more riders, trail builders and donors will get involved to continue to grow the trails, which will be open to hikers and runners, as well as bikers.
"We're so thankful to everyone that has stuck with us," Tanner said. "I hope people will see the value in the economic boost that this could bring to Southern Illinois."
The next trail building day will from 9 a.m. to 2 p.m. Nov. 3. Anyone interested in attending should register online, and then meet at the Camp 1 parking lot, at Touch of Nature, 1206 Touch of Nature Road.