CARBONDALE — A Southern Illinois University student accused last week of belonging to a white supremacist neo-Nazi group is no longer enrolled at the school, according to Lori Stettler, SIUC's vice chancellor for student affairs.
The student ceased to be enrolled at the Carbondale campus on Wednesday, Stettler said, after meeting with the dean of students.
Stettler could not confirm the terms of the student's departure from SIUC, citing all SIUC students' rights to privacy with regards to their education records.
The student was outed in flyers posted on campus and on social media last week, based on the analysis of more than 4,000 chat messages from an application called Discord, in which a poster named "Fash Dragon" described studying at the SIU Carbondale campus, used slurs against African-Americans and homosexuals, spoke of hating Jewish people, and posted photos including one of a shooting range target riddled with bullet holes and captioned "Rahowa (an acronym for Racial Holy War) Ready."
The chats were linked to the male student by an anonymous group describing itself as made up of "local southern Illinoisans... Some students, some not", by means of posts including, "a selfie and an image of him playing the banjo," the group said, as well as his statement in the chat records that he "was an SIU Carbondale student, studying forestry, who made the dean's list in fall of 2017."
The anonymous accusers, who call themselves The Knights of the Flaming Circle, publicly connected the student to the group that used the Discord chat room he participated in, the Traditionalist Worker Party, an organization designated as a hate group by the Southern Poverty Law Center, because it advocates for "racially pure nations and blames Jews for many of the world's problems."
The chats written by Fash Dragon were the target of an intensive investigation by the Southern Illinois University Department of Public Safety, the campus police force, in the lead-up to the student's departure from campus, Stettler said.
The news of his exit came a short time after a group of students rallied on the Carbondale campus against racism, with some expressing frustration over the university's initial internal response to the accusations, which emphasized the accused student's First Amendment rights.
"As many of you know, a flyer has been floating around social media which outs a student who proclaims to be a Nazi," it read. "All students share the right of free speech, even speech with which we strongly disagree."
Because "hate-speech," like racial slurs, is protected by the First Amendment, universities generally cannot expel or punish students for expressing racial prejudice, unless they make direct and specific threats or attempt to incite specific acts of violence.
But many students felt the university's response to allegations of a neo-Nazi on campus should've been stronger and more direct.
Ziggi Tyler, of SIUC's College of Mass Communications and Media Arts, said the message he received from his College was much stronger than the Chancellor's university-wide response.
"It was very direct and very concise, and it straight-up addressed 'we do not tolerate white supremacy on this campus,'" Tyler said. "That was a step that the university could've taken."
Tyler and other students of color protesting on Friday asked that the university do more to promote interactions between students of different races, especially black and white students.
"In terms of social interactions and friend groups on campus, SIUC is extremely diverse," said Tyler, who serves as a resident assistant, in an on-campus dorm. "But when it comes to institution-organized things, it becomes separated and polarized."
"I know that there have been a lot of times when black events that wanted to pop up on this campus were shut down, whether for crowd concerns, safety concerns," or other reasons, Tyler said.
Quincee Henry has experienced the difficulty of overcoming racial boundaries on campus. A junior studying radiology, Henry says she is the only black student in her program, to her knowledge.
"You're supposed to get close with your classmates because you're in the same program," Henry said. "I try. I've even changed my voice up, a little, and they still don't want to engage. I'm really on my own in my program."
Vice Chancellor Stettler agreed there's still work to do to build a more welcoming campus, including making sure students are aware of the opportunities and programs that already exist.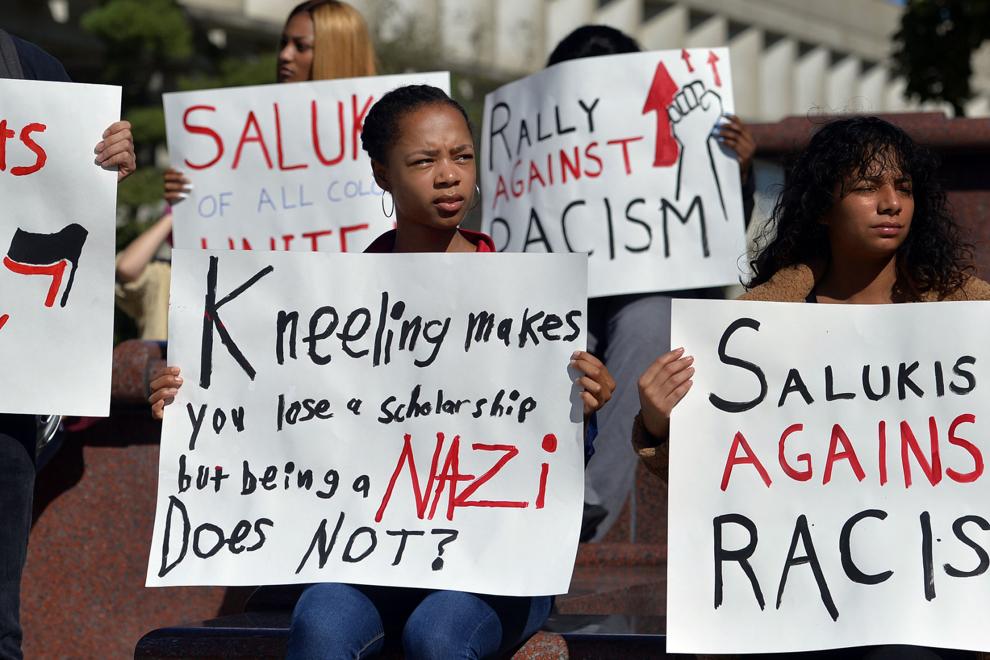 "We need to do a better job helping all students to understand each other's cultures and stories," Stettler said. "We are working to break down barriers and promote engagement among all students. Like all large institutions, we are not perfect, but through dialogue, debate, and engagement we can build a campus climate that is both welcoming and inclusive."