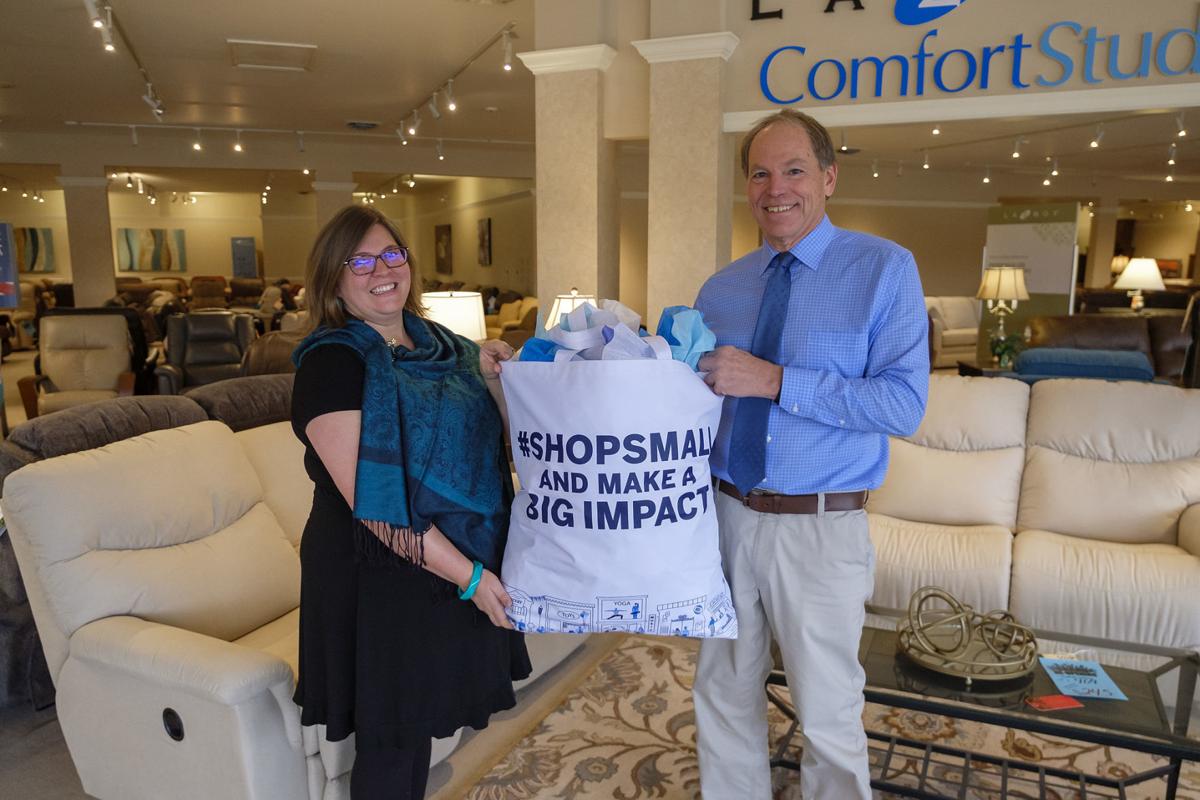 Small business owners and chambers of commerce across Southern Illinois want you to think small — small businesses that is — for your holiday shopping.
Nicole Leinbach Reyhle, national spokesperson for Small Business Saturday, said the event was founded 10 years ago by American Express to help bring visibility to small businesses and their contributions to their communities. It is annually the Saturday after Thanksgiving.
"We want consumers to know their favorite restaurants, yoga boutique or even independent online retailers are all small businesses," Reyhle said.
She said the statistics are clear. For every dollar spent at a small business, 67 cents stays in the local economy. At a large retail chain, 49 cents of every dollar spent stays in the local economy.
Jennifer Olson, president and CEO of the Carbondale Chamber of Commerce, echoed what Reyhle said.
"Studies show that out of every dollar spent at local businesses, 68 cents stays local. For large chains or internet shopping, those numbers are around 43 cents," Olson said.
Olson was quick to point out that those larger businesses still have value. They employ local people and pay taxes, but their contribution is not as strong as the little stores.
Reyhle said American Express works with local champions to plan events to draw attention to small businesses. One of those champions is Dena Hale, who owns I Am Java Coffee House in Murphysboro along with her husband, Ron.
"This is our third year celebrating Small Business Saturday. My husband and I started by going around town and creating a list of who was open and their sales for the day," Dena Hale said.
The coffee shop has become the starting point for Small Business Saturday in Murphysboro because, according to Hale, they open before everyone else. They will give shoppers "goody" bags with marketing materials, including a list of participating stores with hours and specials, and a bottle of water and granola bar.
"We did not get bags like last year, but we will have I Am Java bags. We want to make sure nobody runs out this time," Hale said.
She added that they really just help people navigate around town. I Am Java also will continue their Black Friday specials, if they still have the merchandise.
Besides helping local businesses celebrate Small Business Saturday, Olson talked about the Shop SI campaign.
"American Express started the small biz campaign 10 years ago. Shop SI started with 10 years ago," Olson said.
It has grown to include 15 local chambers of commerce, a Main Street program and several regional businesses. The campaign encourages Southern Illinoisans to shop at home.
There are a few perks for shoppers, too.
"Each of our partner chambers puts together a weekly drawing valued at a minimum of $100. Most are running at $1,000 or more. Winners go to city chambers and businesses to claim their prize," Olson said.
The baskets are announced each Monday from the middle of October through the week before Christmas. Winners are drawn the following Friday. To enter the drawing, simply make a post or tweet using the hashtag #IBuySI.
This week's basket was created by Jefferson County Chamber of Commerce in Mount Vernon. Winners have two weeks to claim their prize or a new winner will be drawn.
For the latest information, visit Shop Southern Illinois on Facebook.
Get local news delivered to your inbox!
Subscribe to our Daily Headlines newsletter.