CARBONDALE — In Jackson County, nearly 12,000 people benefit from a federal anti-hunger program that helps families buy groceries.
Lauren Stoelzle is among them.
Without the Supplemental Nutrition Assistance Program benefits, Stoelzle said she's not sure how she would be able to juggle completing her master's thesis, raising two little girls as a single parent, part-time work as a bartender, job searching and helping her father, who has been diagnosed with colon cancer, make it to and from appointments at the Marion VA.
"I've always, somehow, got by," she said. "But SNAP, for me, it's been a lifesaver."
Federal data show SNAP benefits help thousands of Southern Illinois families buy groceries. As with many rural regions across the country, participation rates remain high here while falling nationally -- an indication of persistent economic challenges.  
Almost 40% of Alexander County's residents, and 30% of Pulaski County residents, receive SNAP benefits, commonly known as food stamps. In Jackson, Williamson, Union and Gallatin counties, about one in five people receive them. And in Saline, Franklin and Hardin, its about one in four, according to U.S. Census data analyzed by the Daily Yonder, a publication of the Center for Rural Strategies, a nonprofit with offices in Tennessee and Kentucky that is focused on rural issues. 
Confronting stigma 
Stoelzle said that sometimes she feels self conscious about using her Illinois Link Card, which is how SNAP benefits are distributed, because of misconceptions about people who rely on social safety net programs. But she tries not to let it bother her. She knows how hard she's working to provide for her family, and how important it is that her girls have healthy meals. 
About two-thirds of the 40 million people who receive SNAP nationally are senior citizens or people who are disabled.  
But like Stoelzle, most working-age SNAP participants have jobs. However, they often face unstable work situations, according to a March 2018 report by the Center on Budget and Policy Priorities. Their jobs may be low pay, provide only part-time hours, have shifting and unpredictable schedules, and lack benefits such as health insurance or sick leave, the report noted.
While she was in school, Stoelzle had a paid fellowship working at the Paul Simon Public Policy Institute, a think tank at Southern Illinois University Carbondale. Since that ended, her sole income is her waitressing and bartending job at the Elks Lodge in Murphysboro. She makes about $400 a month. "People shouldn't judge those who take advantage of SNAP," she said. "It's not like they're not working. Look at me, I almost have my master's degree. I've worked most of the time since I've been out of my parents' house."
Generally speaking, SNAP-eligible families have a net monthly income less than or equal to the federal poverty level, which is about $1,732 monthly, or about $20,780 yearly for a three-person family in fiscal year 2019. Child care, high-cost housing and other qualified expenses can be deducted to determine eligibility, according to the Center on Budget and Policy Priorities.
Also, Congress has allowed states to decide whether families who make slightly more qualify based on their particular financial circumstances. In Illinois, a family of three that earns up to roughly $34,000 is eligible for a review to determine if they qualify for SNAP benefits.
The monthly amount received varies based on income, family size and other factors. But the national average benefit is just over $4 a person, per day.
Some people receive as little as $15 a month. But even for those receiving only the minimum amount, SNAP benefits can be the difference between making it through the month with adequate food to eat every day, or skipping meals to pay for other necessities such as rent and medicine, experts say.
"It's not meant to be the family's full food budget. It's meant to supplement their food budget," said Toni Kay Wright, a SNAP educator with the University of Illinois Extension, based in Marion. She helps families who receive SNAP benefits learn about ways to stretch their benefits and eat healthier. 
For instance, the Carbondale Farmer's market and Neighborhood Co-Op offer matching programs for SNAP recipients who use their benefits to purchase fresh fruits and vegetables. Some families also rely on food pantries to augment their grocery supply. Residents in small towns and rural areas without reliable transportation or a grocery store nearby may consider strategies such as purchasing food in bulk, and learning to make healthy meals from shelf-stable foods, she said.   
You have free articles remaining.
Indicator of rural economic instability 
SNAP is utilized by people everywhere — in large cities, small towns and rural areas. Unlike with federal housing subsidies, the wait lists for which can stretch for years and depend on availability in a particular market, anyone who is eligible for SNAP can access benefits. 
For that reason, SNAP usage tends to expand when the economy is poor and contract when its strong. Since the Great Recession, SNAP participation and spending have fallen significantly.
About 7 million fewer people received SNAP benefits in 2018 compared to 2013, a roughly 16% decline, according to the Center on Budget and Policy Priorities. Most of this is attributable to economic recovery, though a smaller factor is that benefits were temporarily expanded for certain beneficiaries during the recession era. 
But participation rates remain high across much of Southern Illinois. 
"You're not alone," said Tim Marema, the Knoxville, Tennessee, based editor of the Daily Yonder.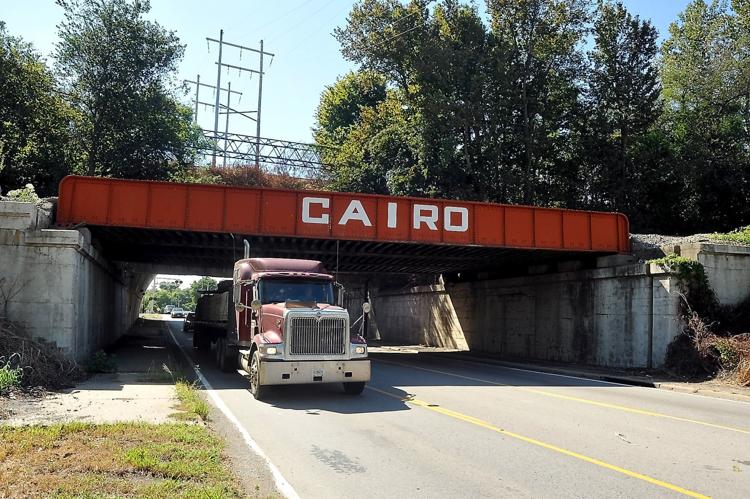 On a per-capita basis, rural citizens rely more heavily on SNAP benefits than city dwellers. Of the top 100 counties ranked by percentage of people who receive SNAP, the vast majority are considered rural or small metropolitan areas. Alexander County ranked No. 27 on that national list (it is classified as a metro area, though there are inconsistent government definitions for how rural and metro are defined). No other counties in Illinois made the list, but several in this region were not far behind.  
"Rural places are having a hard time and it's not because rural people don't care about where they live and aren't working hard and aren't smart enough," Marema said. "I think that's part of what some of this national discussion we're having is about. There are people who work hard and play by the rules, and they are not achieving what they expect of themselves.
"They may want to blame themselves for that, or their locality, but I just see these much larger things nationally that make it hard for all of rural America."
Job searching takes time 
Stoelzle is looking for a job that feels more like a career. Hopefully, she said, that will also be one that increases the family's budget. But job hunting is a time consuming process, particularly in her specialized field.
Double that challenge while raising girls ages 6 and 3. She walked across the graduation stage at Southern Illinois University Carbondale this May, and will receive her master's in math communication and media arts upon completion and acceptance of her final thesis paper. Ultimately, she hopes to make a living producing films about social justice issues specific to the Midwest.  
She's already proven she has the skills. In 2016, while a graduate student, her documentary "Tommy is America" — which chronicles a relationship between a high school dropout and a university graduate student, both of whom grew up in poverty — was selected to be shown at a prestigious event for new filmmakers in Los Angeles. Figuring out how to break into the business is more difficult.
There are only a few employers in the Midwest that do this type of work, so she'll need to move or go at it independently. Either option requires money or credit — and she's short on both.
While she's figuring out what's next, Stoelzle said SNAP benefits help ensure she can make healthy meals for her children, pay the rent and the electric bill and deal with other day-to-day challenges. 
"SNAP is not something I always hope to be on," she said. "I have goals to be able to make enough to not have to rely on the program anymore. However, life happens, and you never know." Stoelzle said it only takes one emergency to throw a fragile family budget off course. 
"I think that if there is a place our money should be going, it should be to the in-between, to the people trying to get to the next thing, and that we should be slow to judge what that path looks for somebody," she said. "Everybody has a different upbringing and background." 
Do you have a story to share about SNAP? Contact Reporter Molly Parker or email news@thesouthern.com.
Editor's Note: This story has been corrected to say that about 7 million fewer people received SNAP benefits in 2018 compared to 2013. An earlier version listed the two years in the wrong order. 
618-351-5079
On Twitter: @MollyParkerSI ​