It started, like most of their ideas do, in the middle of a run.
In between splashes of sweat and clangs of shoes against pavement, someone just blurted it out.
"We just kind of knew, all of the sudden, we need to pass this feeling along to girls who are younger, and don't think they can do it," said Christy Howerton, who remembers the collective "yes-es" when one particular dream came up in conversation.
Sole Sistas of the 618, a womens' running group known for wearing bright-pink T-shirts and love-hate relationships with exercise, wanted to do more than count miles.
"Our mission started to grow, and it happened really organically," said Howerton, who is one of the group's founders. "We knew what running had done for us, so we wanted to empower the younger generation to be the best they can be, and run along the way."
The result was "Sole Camp" — a free, six-week program filled with training and "soul-changing" activities for girls around Southern Illinois. 
Sixty-five girls, ranging from fourth to eighth grade, joined in for the inaugural camp.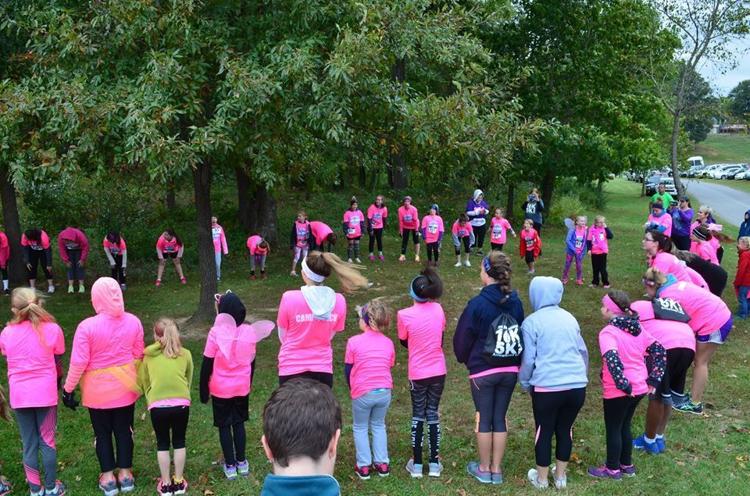 "We saw the unmet need that was out there," Howerton said. "By living in the community and having kids in school, we knew there were a lot of girls who wanted to run, but didn't have the option to do that."
She teamed up with Allison Hasler, a sole sista who works at the Illinois Department of Public Health. Hasler built a curriculum for coaches to follow, including lessons about bullying, team-building and self-esteem.
"We wanted it to be more than just going for a run, we have the opportunity to teach them things and advocate for them in a way that they have never experienced," Hasler said.
Howerton and Hasler, who both have full-time jobs of their own, served as the coaches for a few hours after school during camp. The crux of the practices hinged on the most basic message attached to running: "The beauty is that all you have to do is start," said Hasler.
You have free articles remaining.
For most that amble into the Sole Sistas group, running is an on-again-off-again kind of activity. When these women run, they feel strong and united and like, they're moving forward. When they don't run, they miss it.
"A lot of our personal stories were not built around being that collegiate athlete, we hem-hawed around with running or we took ten years off and it's always a struggle," Hasler said. That's why, the women welcome girls who have little or no running experience. They don't seek out the track stars or the super-skinny types.
"A lot of people are scared to death of it, they think they'll never be a runner because they didn't grow up being a runner," Howerton said. "Sometimes it's just saying, yes you can."
The origin story of Sole Sistas of the 618, follows that form. In 2012, Howerton asked one of her runner friends to help her get into the sport. She later lost more than 80 pounds.
"It was just like five of my friends who ran together so much that we wanted cute T-shirts to wear," Howerton said. "And then everyone started to want a T-shirt and to run with us, it was great."
In a span of a couple years, the group has swelled to 700 women around Southern Illinois.
And many of them huddled together for the Sole Challenge 5k on Oct. 3 to cheer on the 65 newest, and youngest, members of their running group.
The 5k served as the finish line of the group's Sole Camp, but signaled a fresh start for those young girls.
"At first, a lot of the girls didn't think they would be able to do it, they were nervous and intimidated," Howerton said. "As we watched them all finish something they never imagined they could do, it was the most amazing thing."
Howerton and Hasler hope to continue those lessons and long runs next year with another Sole Camp.
"We never thought it would grow to what it was," Hasler said. "But running, it kind of has a power of its own."